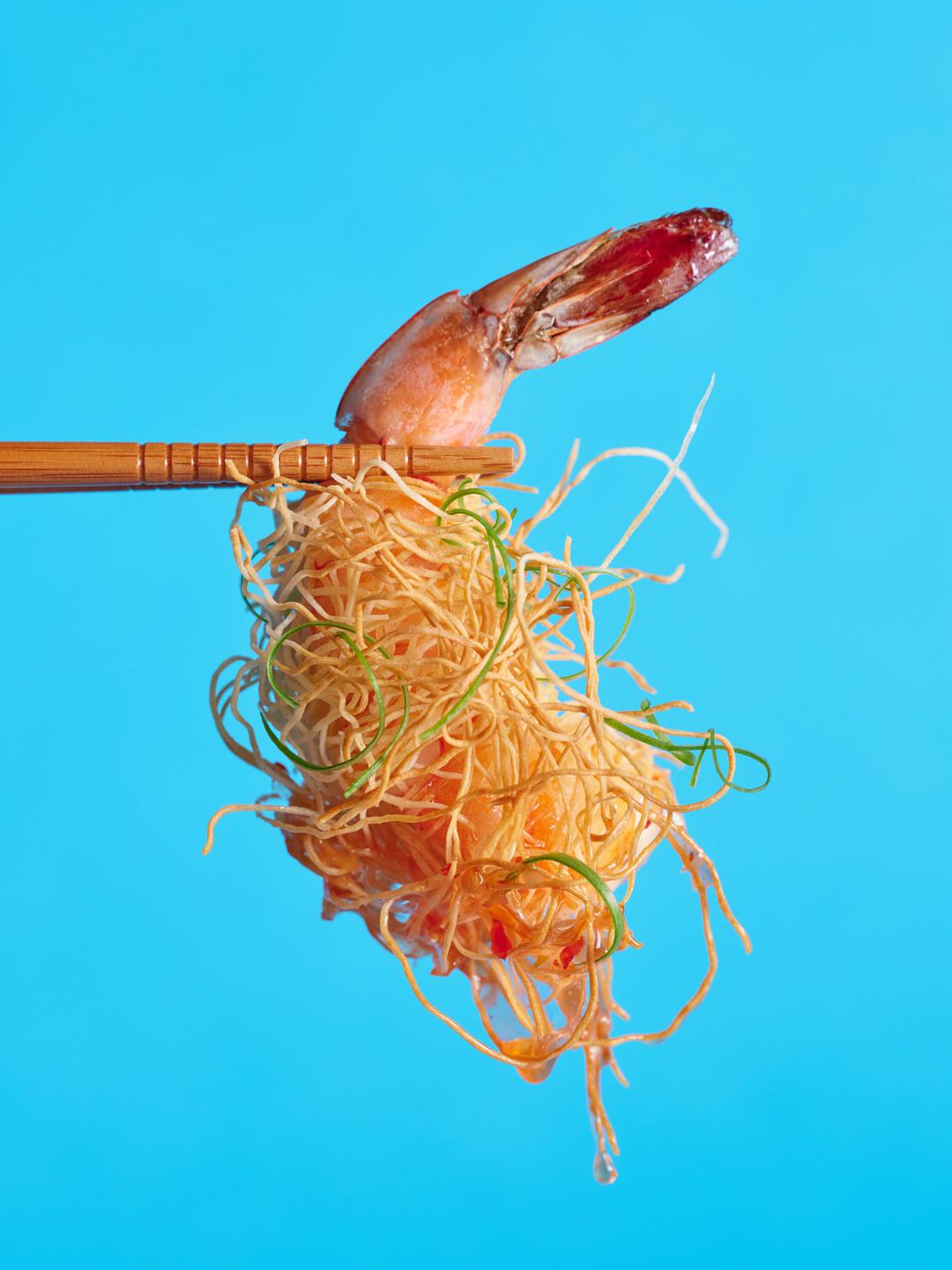 Air-Fried Crispy Phyllo Prawns
These prawns are even better than their deep-fried counterparts, with a crispy outside and perfectly cooked, succulent interior. The secret here is kataifi, a shredded phyllo dough, available from specialized Mediterranean and Middle Eastern markets. The vermicelli-like strands crisp up beautifully when air fried. The kataifi nests surrounding each garlic butter-dipped prawn insulate the prawn from the hot air. Paired with a lower air frying temperature, the dough has plenty of time to get beautifully golden brown and crisp without overcooking the prawns.
Ingredients
---
6 tbsp (3 oz) unsalted butter

chopped

2 cloves garlic

finely chopped
To serve:
Green onion

finely shredded
Instructions
1

Combine the butter and garlic in a small saucepan set over medium heat. Bring to a gentle simmer. Cook for 5 minutes until the garlic is softened. Reduce the temperature if needed to avoid browning the butter. Pour into a small heatproof bowl and set aside.

2

Peel and devein the prawns, leaving the tails intact. Place the prawns in a bowl, over crushed ice to keep them cold.

Tip: Reserve the prawn shells to make stock.

3

The oven will preheat.

4

Gently separate the kataifi dough and shape into mini "nests" for each prawn. Dip each prawn in the garlic butter, then wrap in the dough. Transfer to the air fry basket, leaving a little space between each prawn for optimal air circulation.

5

Once preheated, place the basket in rack position 3 and start the timer. Cook until the kataifi is golden brown.

Tip: Position one of the oven racks in the lower half of the oven (positions 7 or 8), and set the roasting pan on top. This will catch any excess butter drippings from falling onto the heating elements which can burn and cause smoke in the oven.

6

The prawns should be golden and crispy. If not, give them a bit more time.

7

Sprinkle these crispy prawns with green onion and serve with chili sauce and lime wedges.

Tip: Want to level up? Try a crispy, and easy shrimp "scampi." Reserve the remaining garlic butter that you used to dip the prawns. Bring to a boil over medium-high heat to cook out all remaining liquid until you're left with butterfat. Stir in chopped parsley, lemon zest, and black pepper. Serve as a dipping sauce or drizzle over the prawns.