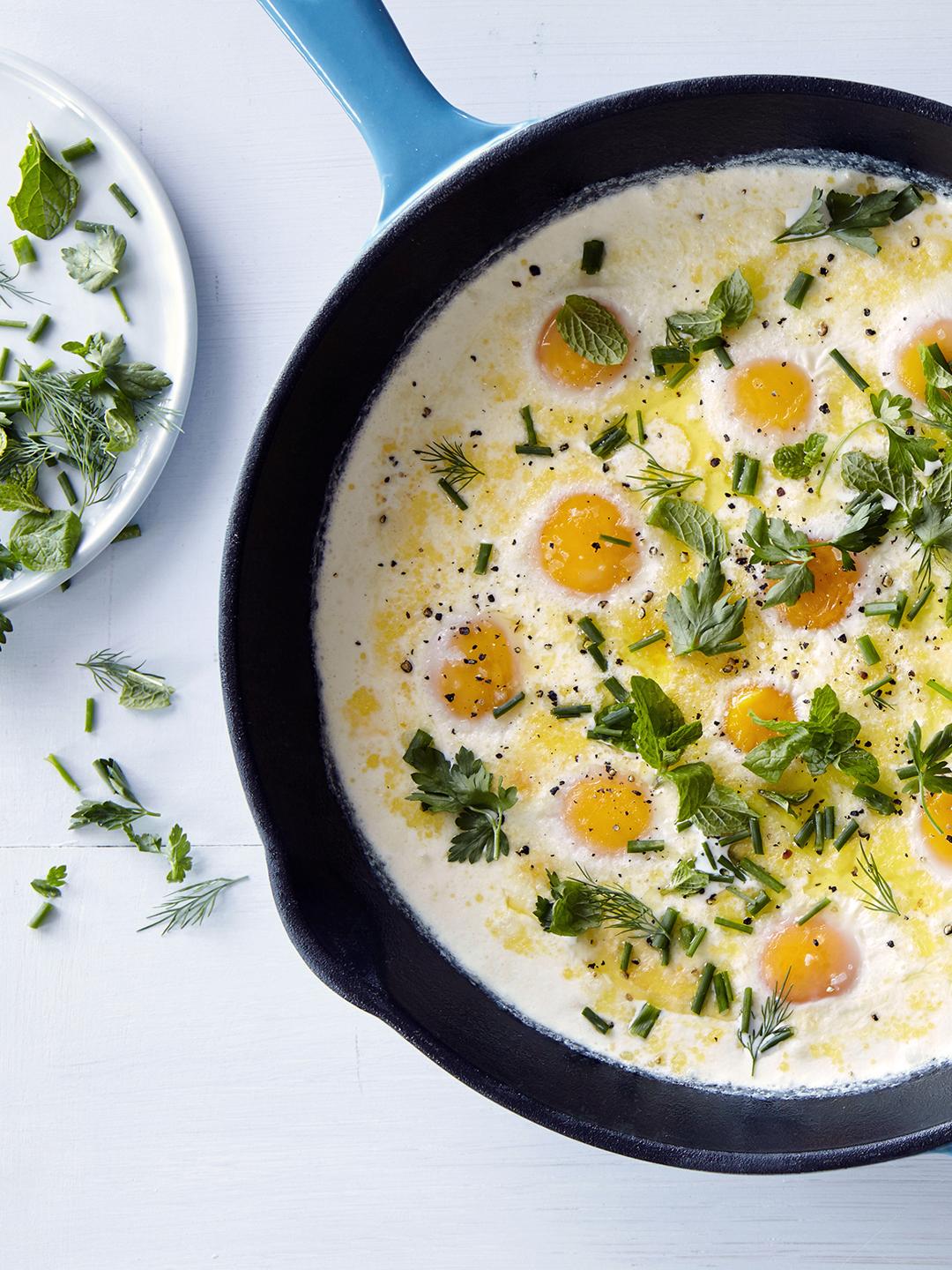 Baked Eggs for a Crowd
The French long ago mastered eggs en cocotte — slightly coddled eggs baked at high heat with butter and cream, which thicken to a gravy as it cooks. There's no finer way to enjoy an egg. To pull this off for a crowd, a large casserole dish coated with butter and partly filled with heavy cream acts as a bath in which to gently cook the eggs. To dress them up, add smoked salmon, a handful of kale or spinach leaves, thinly sliced ham, halved cherry tomatoes or sliced, cooked mushrooms to the mix before you crack in the eggs. Really anything goes here, but keep the accoutrements light and let the eggs take center stage. Finish with flaky sea salt (those large crystals melt on your tongue in just the right way) and any fresh herb you love.
Ingredients
---
2 tbsp butter

cut into small cubes, plus more for greasing the pan

1½ cups heavy cream

or half-and-half

12 eggs

to 16 (depending on your crowd)

½ tsp freshly grated nutmeg

(optional)

Flaky sea salt

such as Maldon

Freshly ground black pepper

⅓ cup mixed herbs

chopped, such as mint, parsley, dill, basil and chives

16 pieces toast

or 8 English muffins, halved and toasted
Instructions
1

Insert the wire rack into position 8 and set oven to 350°F Bake. While the oven heats, continue to the next step.

2

Butter a shallow 1 ½-quart shallow baking dish (square or round).

3

Pour cream in the prepared pan and sprinkle the cubed butter over the top. Add any cooked meat or vegetables, if using. Crack the eggs around the pan and season with nutmeg, salt and pepper.

4

Once the oven is preheated, place the pan in the oven and start the timer.

5

Bake until the whites are set and the yolks are still a bit runny. If not, give it a bit more time.

6

Remove from the heat, sprinkle with herbs and more flaky salt, and serve immediately, piping hot, with toasted bread or English muffins and shallow bowls. Drizzle the cream over the top.