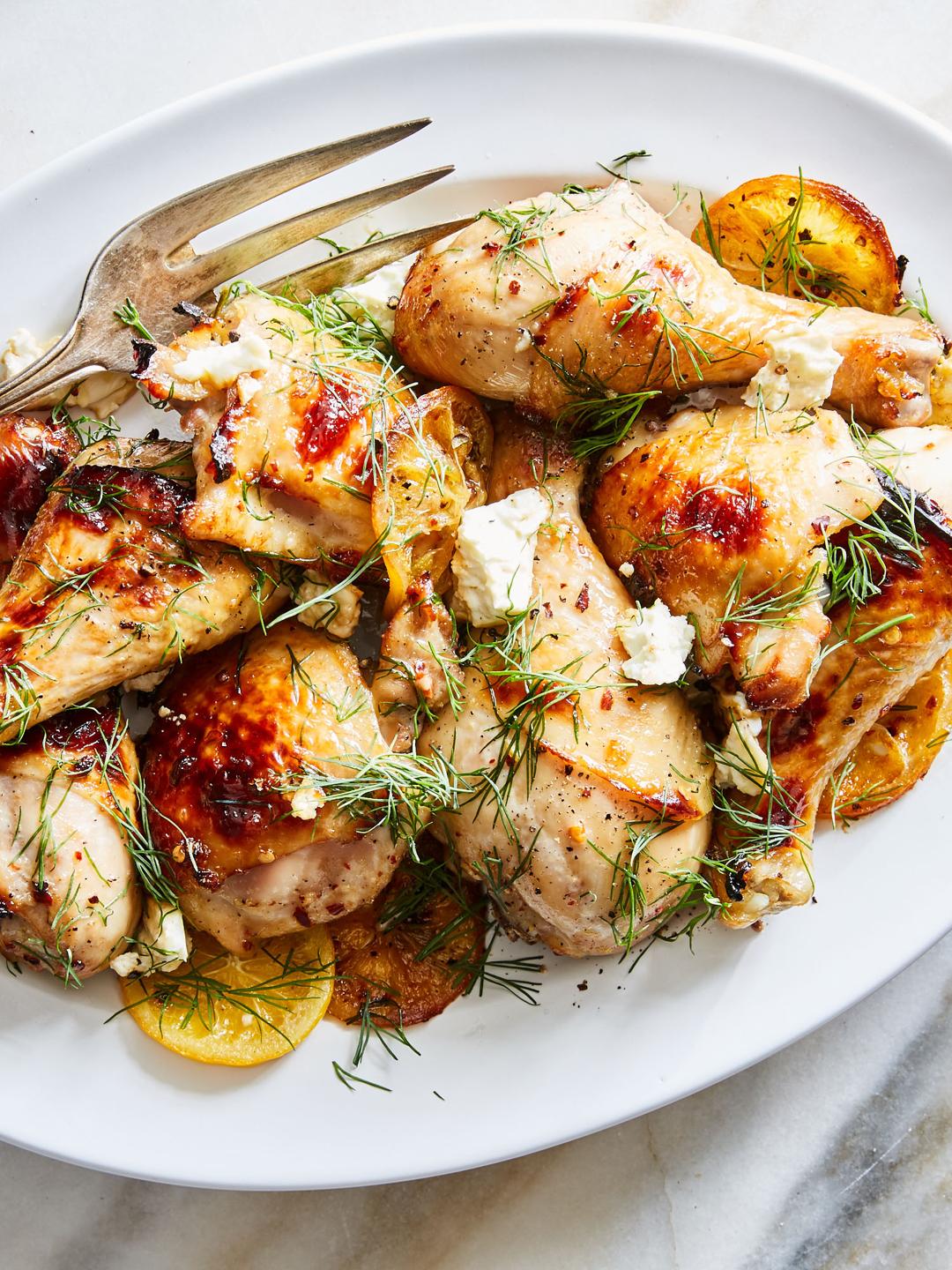 Chile-Roasted Chicken with Honey, Lemon and Feta
A little sweet, a little spicy and very citrusy, this easy chicken recipe hits all the right notes, making it the kind of weeknight dinner you'll put on repeat. The feta adds a creamy, salty bite that's softened by the lemon and honey, while rosemary and red-pepper flakes round out the flavors. Serve this with a loaf of crusty bread or flatbread for scooping up all the tangy pan juices. You won't want to leave a drop behind. Tip: To substitute white meat, use bone-in, skin-on breasts and roast them for 25 to 30 minutes. Add the feta at the beginning and do not turn the chicken.
Ingredients
---
3 lb bone-in, skin-on chicken thighs and drumsticks

2 large cloves garlic

finely grated or crushed to a paste

1 tbsp extra-virgin olive oil

plus more for drizzling

¼ tsp red-pepper flakes

plus more for serving

1 lemon

preferably a Meyer lemon, thinly sliced and seeded

2 oz feta

crumbled into large pieces (a heaping ½ cup)

Chopped mint

dill or parsley, for serving
Instructions
1

Season chicken all over with salt and pepper. In a large bowl, mix together garlic, honey, olive oil and ¼ teaspoon red-pepper flakes. Add chicken and toss well with your hands, spreading the garlic paste all over the chicken pieces. (Don't worry if the honey is a little clumpy.) Add rosemary sprigs and lemon slices and toss to combine. Let marinate at room temperature for 30 minutes, or up to 8 hours in the refrigerator.

2

Insert wire rack to position 6 and set oven to 425°F Roast. While the oven heats, continue to the next step.

3

Line a sheet pan with a silicone liner or parchment paper. Spread chicken and lemons across a single layer in the lined pan, tucking in the rosemary sprigs. Drizzle oil generously over everything.

4

Place the sheet pan in the preheated oven and start the timer. When the rotate remind signals, use tongs to turn over the chicken pieces, and give the lemons a stir. Sprinkle feta on top and continue roasting.

5

Roast until the chicken is deeply bronzed and cooked through, and an instant-read thermometer inserted into the thickest part of the thigh or drumstick registers 165 °F. If not, give it a bit more time.

6

Serve garnished with chopped herbs and more red-pepper flakes, if you like.