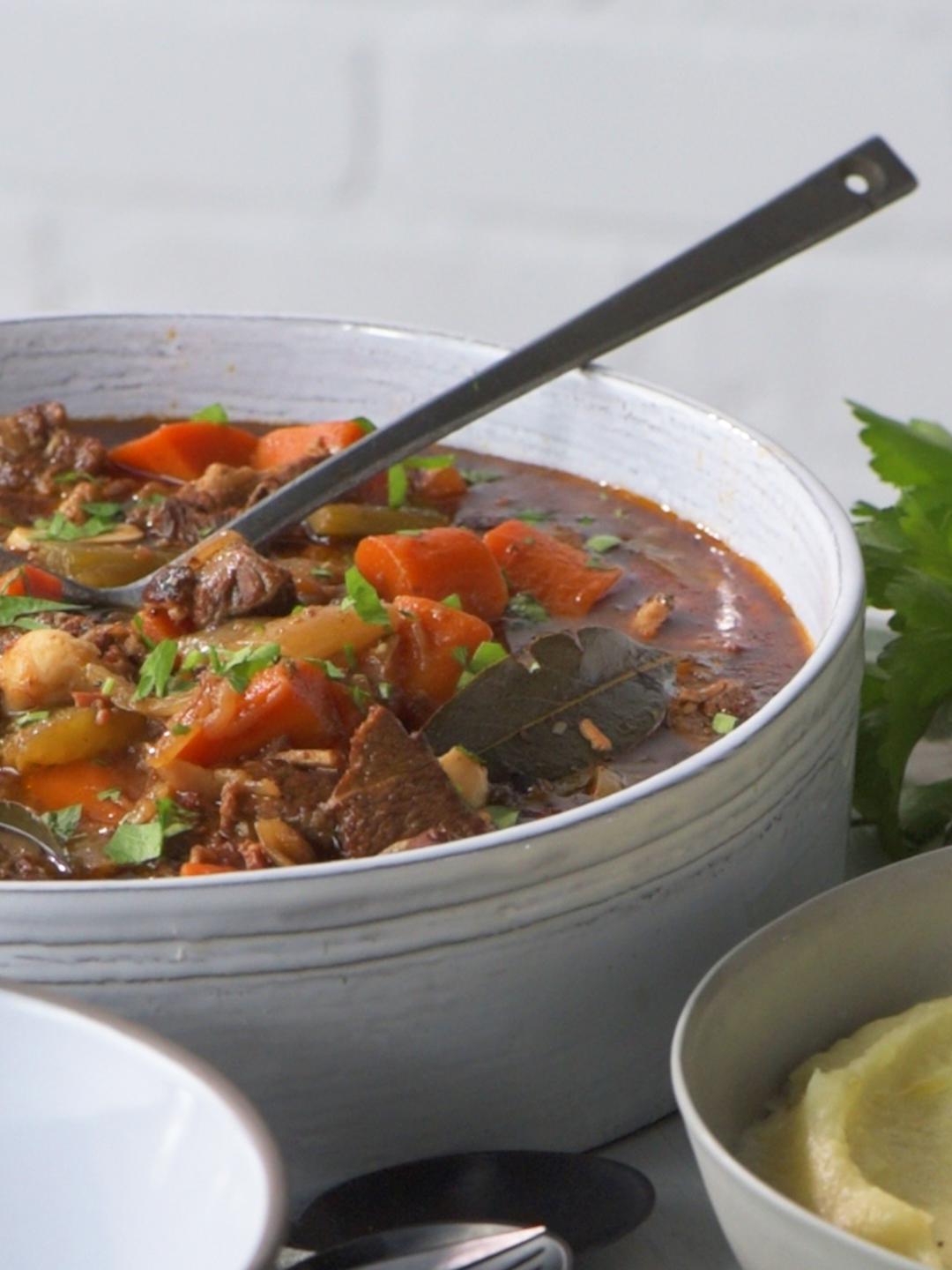 Classic Beef and Guinness Stew
The secret to the rich and robust flavor this classic stew is famous for, is browning the beef and deglazing the pan with Guinness. The alcohol evaporates during the long and slow cooking, producing an incredibly hearty stew.
Ingredients
---
3 lb beef chuck

cut into 1½-inch pieces

¼ cup (1 oz) all-purpose flour

6 oz bacon slices

cut into 1-inch pieces

2 onions

cut into ¾-inch pieces

2 carrots

cut into ¾-inch pieces

2 celery sticks

cut into ¾-inch pieces

4 cloves garlic

cut in half

1 tsp whole black or pink peppercorns

¼ cup (2½ oz) tomato paste

2 cups (16 fl oz) chicken or beef stock

¼ cup (¼ oz) flat-leaf parsley leaves

coarsely chopped
Instructions
1

Sprinkle beef with flour and salt and toss to coat.

2

Heat a 5½-quart (10-inch) Dutch oven over high heat. Add half the oil and half the beef and cook, stirring until browned. Remove and set aside. Repeat with remaining oil and remaining beef.

3

Add the oil and bacon and cook, stirring until the fat starts to render. Add the vegetables and the aromatics and cook for 2 minutes. Return the beef to the pot and stir.

4

Add the tomato paste and stir. Add the Guinness and stir, scraping the bottom of the pot to deglaze and to remove any browned bits. This also helps evaporate the alcohol. Add the stock, bring to a boil and cover.

5

Insert the wire rack into position 8. Place in the oven and start the timer.

6

The beef should be tender. If not, give it a bit more.

7

Remove from the oven and stand for 20 minutes to allow the meat to rest. Remove and discard the bay leaves and thyme stalks.

8

Sprinkle with parsley and serve with a side of mashed potato.