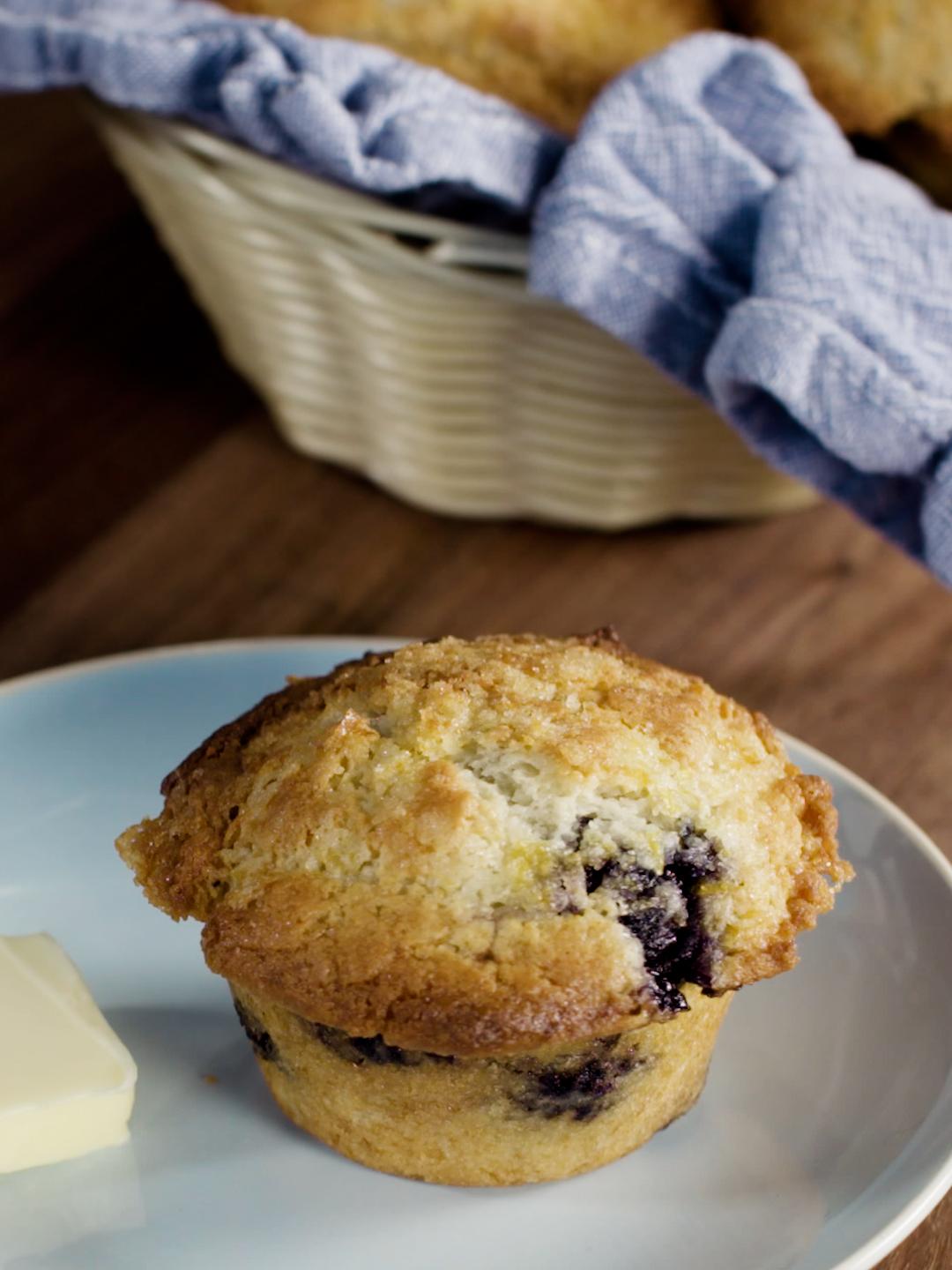 Lemon-Blueberry Muffins
We discovered that the key to making great blueberry muffins was adding lemon and sour cream. The addition of lemon zest in the batter contributed vibrant citrus flavor and enhanced the sweetness of the blueberries, while sour cream made the muffins' crumb more tender and enhanced the lemon tang. We sprinkled lemon sugar over top before baking; the sugar gently caramelized into a sweet, crackling shell.
Ingredients
---
¾ cup (5¼ oz) sugar

divided

2 tsp grated lemon zest

divided

1¼ cups (6¼ oz) all-purpose flour

3 tbsp unsalted butter

melted, divided

¾ cup (3¾ oz) frozen or fresh blueberries
Instructions
1

Insert wire rack into position 4. Meanwhile, continue to next step.

2

Generously spray 6-cup muffin tin, including top, with vegetable oil spray.

3

Combine 2 tablespoons sugar and 1 teaspoon lemon zest in bowl; set aside.

4

Whisk flour, baking powder, and salt together in bowl.

5

Whisk sour cream, 2 tablespoons melted butter, egg, remaining 10 tablespoons sugar, and remaining 1 teaspoon lemon zest together in large bowl.

6

Using rubber spatula, fold flour mixture into sour cream mixture until just combined.

7

Fold in blueberries until evenly distributed; do not overmix.

8

Using greased 1/3-cup dry measuring cup or #12 portion scoop, divide batter equally among prepared muffin cups; evenly distribute any remaining batter between muffin cups.

9

Brush batter with remaining 1 tablespoon melted butter and sprinkle with sugar-zest mixture (about 1 teaspoon per muffin cup).

10

Once preheated, place muffins in oven and start timer. When Rotate Remind signals, rotate muffin tin and continue cooking.

11

The muffins should be golden brown and toothpick inserted in center comes out with few crumbs attached. If not, give it a bit more.

12

Let muffins cool in muffin tin on wire rack for 10 minutes. Transfer muffins to rack and let cool slightly.

13

Serve warm or at room temperature.