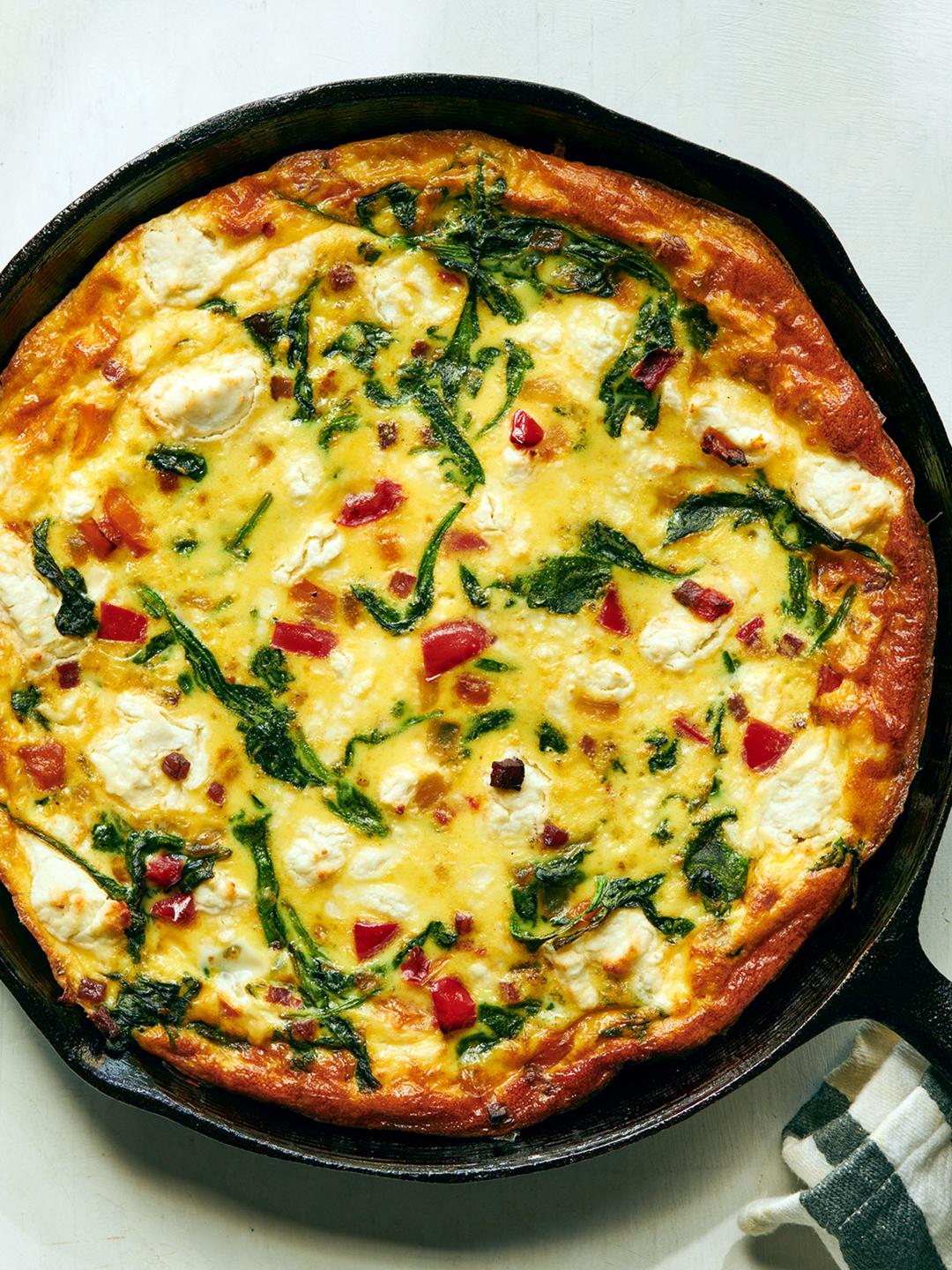 Loaded Baked Frittata
Sautéed onion, pepper and spinach lace this sturdy frittata that's as good warm out of the pan as it is cold. Bacon and goat cheese enrich the mix, which can be eaten alone or put in a sandwich (see tip below). This recipe is, of course, delicious as is, but you can also take a cue from one of our commenters, Joan, who made this with leftover peppers and onions, adding sliced roasted baby potatoes. Ready in 45 minutes, it lasts for up to three days in the refrigerator, so you can enjoy it as long as it lasts — which may not be very long.
Ingredients
---
1 cup diced onion

from 1 small onion

2 cups diced bell peppers

from 2 red or orange peppers
Instructions
1

Insert the wire rack into position 7 and set oven to 375°F Bake. While the oven heats, continue to the next step.

2

In a medium bowl, beat eggs, milk, 1 teaspoon salt and ½ teaspoon pepper until smooth. Set aside.

3

Put the bacon in a 10- to 12-inch cast-iron or oven-safe nonstick skillet. Set over medium heat and cook, stirring occasionally, until browned, 4 to 5 minutes.

4

Add onion, peppers, salt and pepper and cook, stirring often, until the onions are translucent, 6 to 7 minutes. Add the spinach a handful at time, stirring after each addition, to wilt.

5

Reduce heat to low and pour in the egg mixture. Stir well to evenly distribute the vegetables, then smooth the top. Drop small nuggets of goat cheese evenly on top.

6

Once the oven is preheated, place the pan in the oven and start the timer.

7

Bake until the top is golden brown and the eggs are set. When you shake the pan, the eggs shouldn't jiggle. If they do, give it a bit more time.

8

Cool on a rack for about 10 minutes.

9

Cut into wedges to serve warm or at room temperature.

10

Tip: To make into sandwiches, slide the frittata onto a cutting board. Cut to match the dimensions of your bread, trimming the rounded edges if needed. Sandwich between the bread and serve immediately or wrap tightly in foil, plastic wrap, or wax paper to pack for lunch. A sandwich assembled in the morning should be eaten by lunch.