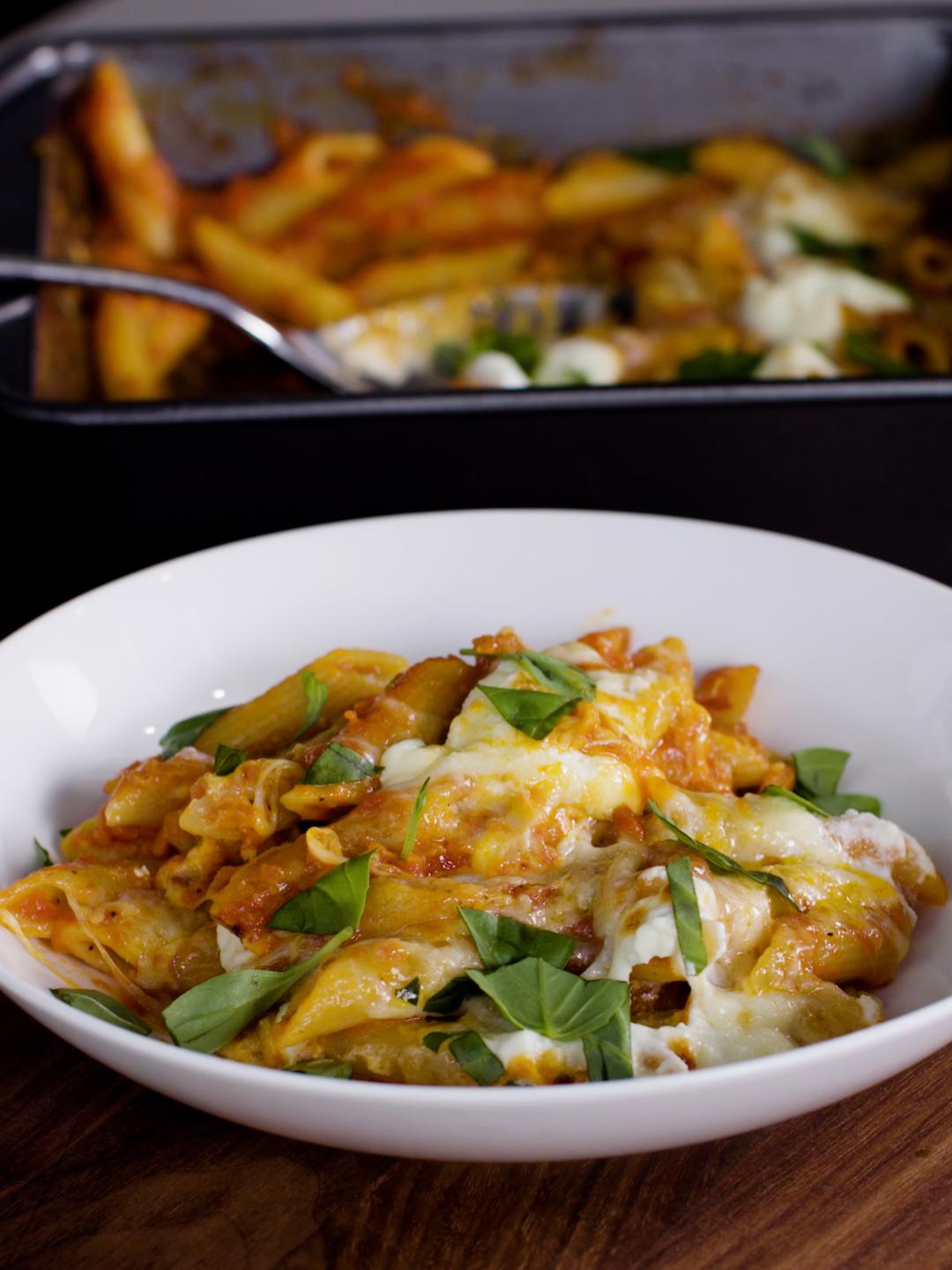 No-Boil Baked Pasta
This version of one of our favorite casseroles streamlines the usually multipot, stovetop affair by baking the pasta directly in marinara sauce, adding 1 cup of water to ensure there is enough liquid to cook the pasta. Since no baked pasta is complete without plenty of cheese, we stirred in mozzarella and parmesan. A topping of ricotta, mozzarella, and parmesan formed a bubbly crust under the broiler.
Ingredients
---
1½ cups (12 fl oz) marinara sauce

½ cup (2 oz) shredded whole-milk mozzarella cheese

divided

½ cup (1 oz) grated parmesan cheese

divided

¼ cup (2 oz) whole-milk ricotta

2 tbsp chopped fresh basil
Instructions
1

Insert wire rack into position 6. Meanwhile, continue to next step.

2

Grease 8-inch square broiler-safe baking dish or pan with vegetable oil spray.

3

Combine pasta, marinara sauce, water, and salt in prepared baking dish. Cover dish tightly with aluminum foil.

4

Once preheated, place dish in oven and start timer. When Rotate Remind signals rotate dish and continue cooking.

5

Remove dish from oven. The oven will adjust setting. It'll signal when ready. Meanwhile, continue to next step.

6

Remove foil from dish. Stir ¼ cup mozzarella and ¼ cup parmesan into pasta, scraping down sides and bottom of dish.

7

Dollop pasta with ricotta and sprinkle with remaining ¼ cup mozzarella and remaining ¼ cup parmesan.

8

When oven signals, return dish to oven and start Autopilot.

9

The cheese should be melted and beginning to brown around edges. If not, give it a bit more.

10

Remove dish from oven and let cool for 10 minutes.

11

Sprinkle with basil and serve.