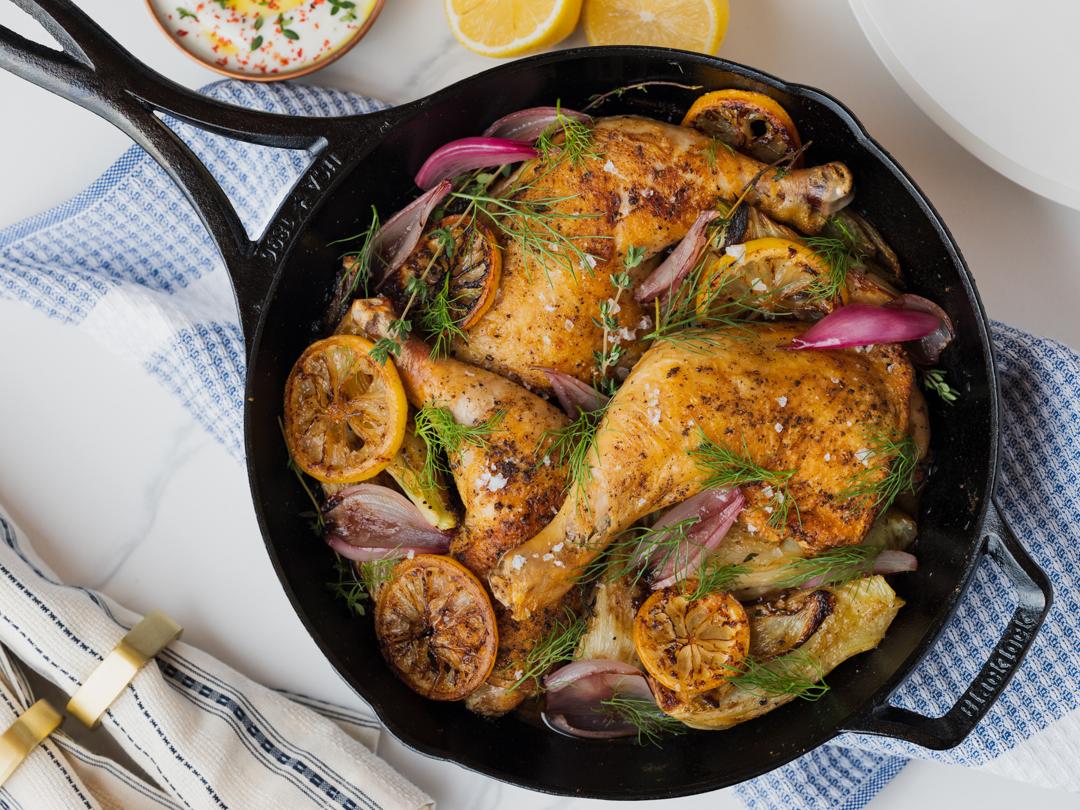 Roasted Chicken Legs with Fennel and Lemon
Roasted chicken with crisp skin and juicy meat makes a comforting dinner and fills your kitchen with wonderful aromas. Here, lemon and white wine add pops of acidity, while fennel lends freshness and a subtle anise flavor. We use a cast-iron fry pan, which sears the chicken skin beautifully. Before adding the legs to the pan, be sure to pat them thoroughly dry so they'll brown well.
Ingredients
---
3 whole bone-in chicken legs (drumstick and thigh)

Freshly ground black pepper

to season

2 fennel bulbs

trimmed, quartered and cored, fronds reserved for garnish

2 large shallots

peeled and quartered

¼ cup (2 fl oz) dry white wine

1 lemon

cut into ¼-inch slices

2 tbsp (1 oz) unsalted butter
Instructions
1

Insert the wire rack into position 6. Meanwhile, continue to the next step.

2

Pat the chicken dry with paper towels and season generously with the kosher salt and pepper.

3

Heat a large cast iron skillet over medium-high heat for 2 minutes. Pour in the oil and heat for 1 minute. Add the chicken, and sear for 3 minutes, until golden brown. Turn and sear the other side for 2 minutes. Transfer to a plate.

4

Add the fennel bulbs and shallots to the pan and cook, turning once, until lightly browned, about 1 minute per side.

5

Remove the pan from the heat, add the wine and stir to scrape any browned bits from the bottom of the pan.

6

Add the lemon slices and thyme, then the butter and swirl the pan to melt the butter. Return the chicken to the pan, nestling the pieces amongst the vegetables.

7

Once preheated, place in the oven and start the timer.

8

The chicken is ready when an instant-read thermometer inserted into thickest part of the meat, away from the bone registers 165°F. If not, give it a bit more.

9

Remove the pan from the oven. Garnish with fennel fronds and flaky sea salt. Taste the sauce and add a squeeze of lemon, if desired. Serve immediately.