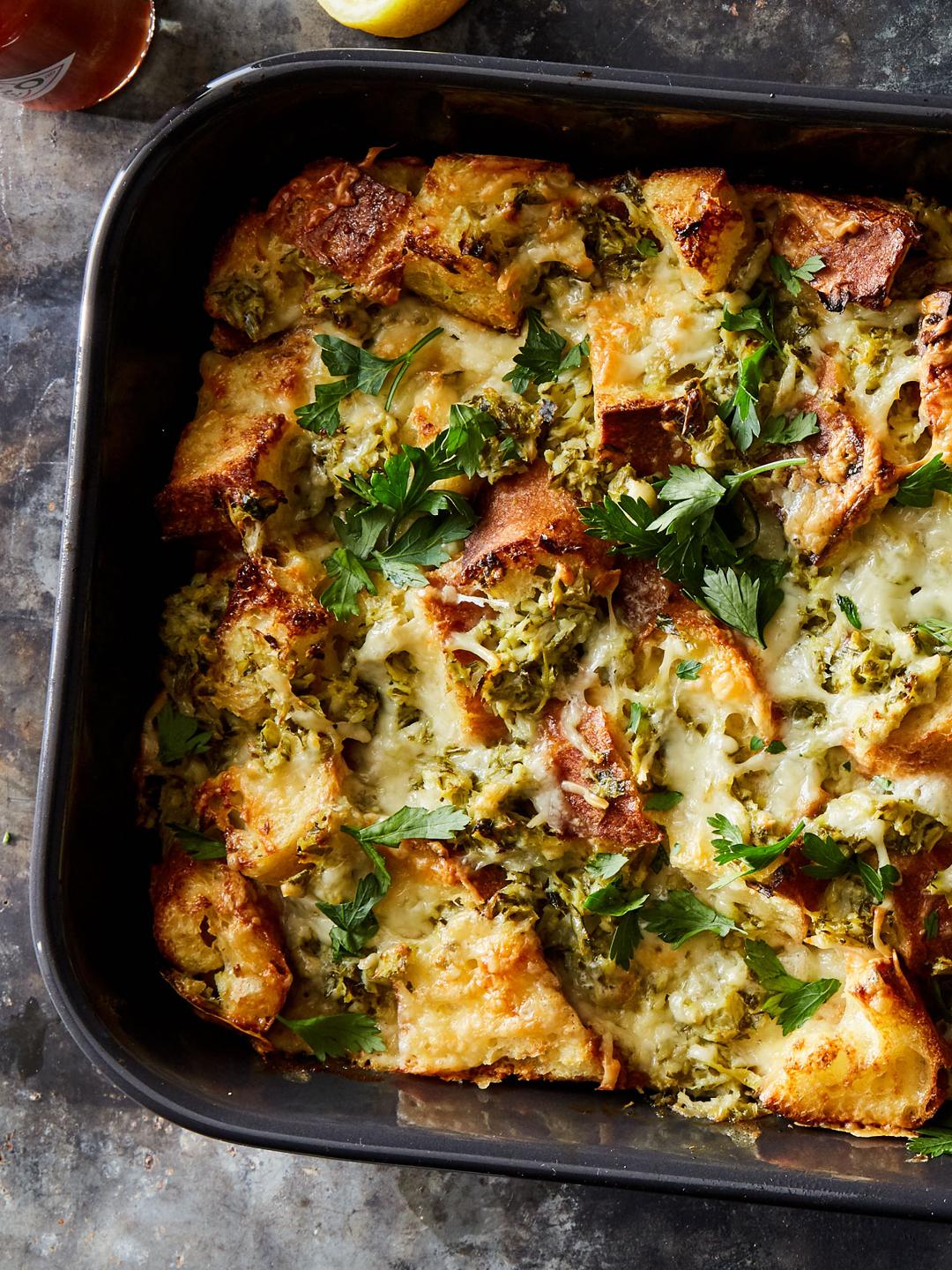 Savory Bread Pudding with Artichokes, Cheddar and Scallions
Tangy marinated artichokes star in this cheesy, golden-topped casserole, which is layered with scallions, Cheddar and baguette cubes that get crisp at the edges. Look for the best-quality marinated artichoke hearts, then taste them before using. If they seem very acidic, give them a rinse and pat them dry before proceeding.
Ingredients
---
Unsalted butter

for greasing the pan and foil

1 large baguette (10 to 12 ounces)

cut into 1-inch cubes

12 oz marinated artichoke

drained (2 cups) and rinsed, if needed to decrease acidity

6 scallions

trimmed and cut into 2-inch lengths

¾ cup packed parsley leaves

plus more for serving

1 large clove garlic

finely grated or minced

1 tsp Tabasco sauce

or other hot sauce, plus more for serving

8 oz grated cheddar cheese

(2 cups)
Instructions
1

Insert the wire rack into position 6 and set oven to 400°F Bake. While the oven heats, continue to the next step.

2

Generously butter a 2-quart shallow casserole or gratin dish. Butter one side of a piece of foil large enough to cover the dish during baking.

3

In a large bowl, whisk together milk, eggs and ¾ teaspoon salt. Gently toss in baguette cubes, and let the mixture sit while you prepare the remaining ingredients, stirring it occasionally.

4

In a food processor, pulse together the artichokes, scallions, parsley, garlic, hot sauce and remaining ¼ teaspoon salt until finely chopped. (Alternatively, you can chop everything finely by hand.)

5

Scoop half the soaked bread into the casserole dish and arrange in an even layer. Top with half the artichoke mixture and half the cheese. Repeat layers of bread, artichokes and cheese. Cover with aluminum foil, buttered-side down.

6

Once preheated, place the casserole dish in the oven and start the timer.

7

Remove foil, place the dish back in the oven and continue and start the timer.

8

Bake until golden at the edges and springy in the middle. If not, give it a bit more time.

9

Cool for 10 minutes before serving.

10

Squeeze a lemon wedge over the top and sprinkle with parsley. Serve with more hot sauce on the side.