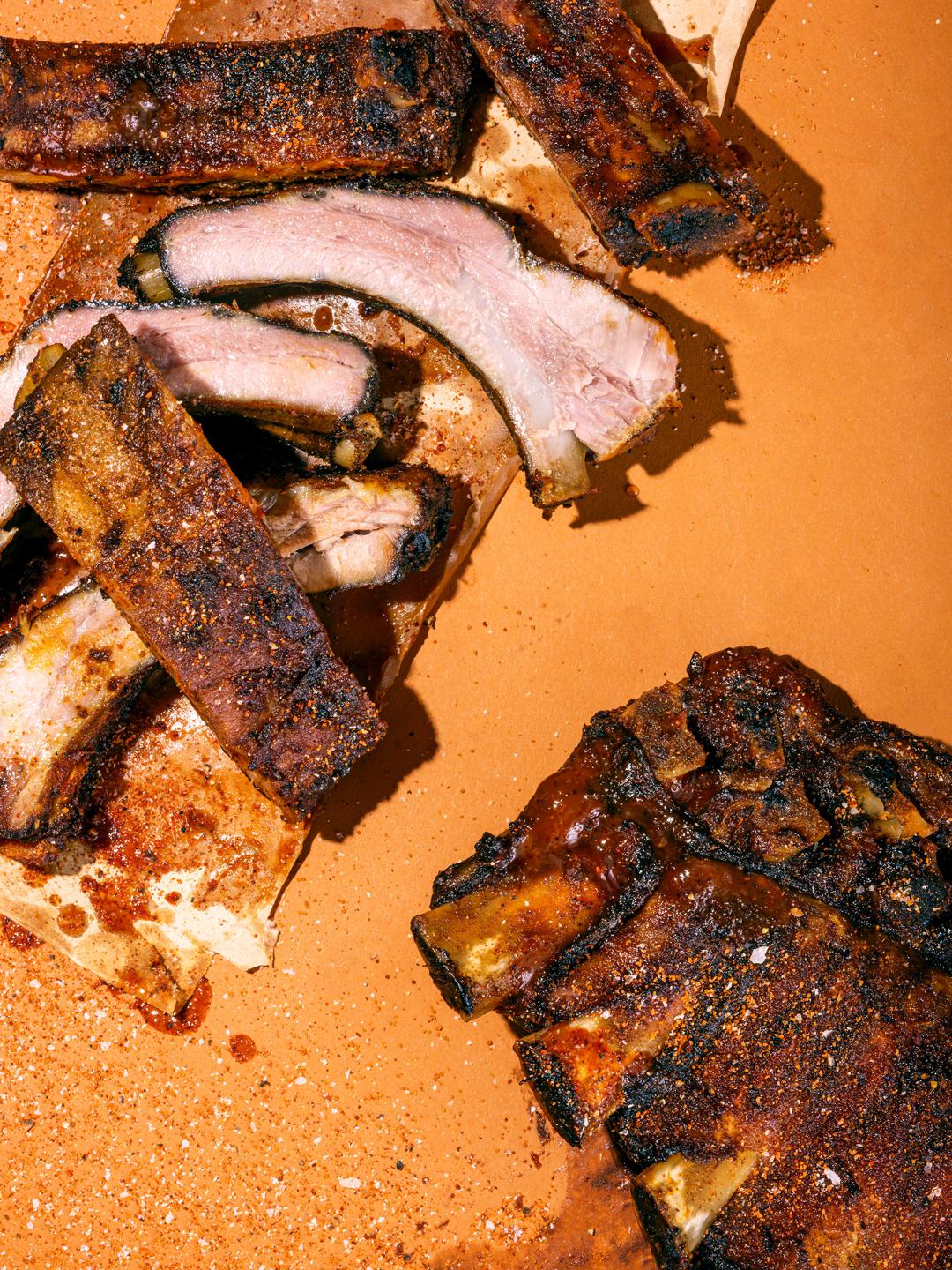 Smokerless Smoked Ribs
No barbecue or special smoker required to get epic fall-off-the-bone tender, classic, tender, and flavorful smoky ribs. With Autopilot, the oven helps replicate the results of a traditional barbecue by cycling between high and low temps for succulent meat and that desired bark-like crust.
Ingredients
---
2.2 lb baby back pork rib rack

about 11 bones

2 tbsp (1 fl oz) liquid smoke

¾ cup (2 oz) light brown sugar

2 tsp (½ oz) freshly ground black pepper

1½ tbsp (¾ oz) kosher salt

1 tsp (¼ oz) garlic powder

1 tsp (¼ oz) onion powder
Instructions
1

Combine the molasses and liquid smoke in a bowl. The glaze will lock in moisture and help the dry rub adhere to the ribs for max flavor and texture.

2

Remove the thin translucent membrane, known as the silver skin, from the underside of the ribs. It doesn't break down during cooking and ends up tough and rubbery. Cut the ribs in half to make it easier to fit in the oven. Place the ribs on the broiling rack in the roasting pan.

Tip: For better grip, use a towel to remove the silver skin.

3

Combine all the dry rub ingredients listed below.

4

Brush the ribs all over with the glaze and sprinkle evenly with the rub. For the ultimate flavor and crust, repeat to double the layers of glaze and rub.

5

Pour the water into the roasting pan. Cover with two layers of parchment paper and wrap tightly with foil.

6

Insert the wire rack into position 4.

7

Place the ribs in the oven and start Autopilot. The water will create steam to help slowly cook the ribs without drying out the skin so the meat is succulent and oh-so-tender. The oven starts with a high temp to get that steam going, then transitions to a low-and-slow cruising temp.

8

The ribs should be browned and tender. If not, give them a bit more for another 30 minutes.

9

The ribs are ready to enjoy. BUT, if you want to level up your ribs with a bark, remove the foil and parchment paper and return to the oven. Press start to broil and you're almost there.

10

Hit A Bit More for 2 more minutes under the broiler.

11

Slice the ribs or tear 'em apart and enjoy the smokerless smoked deliciousness.