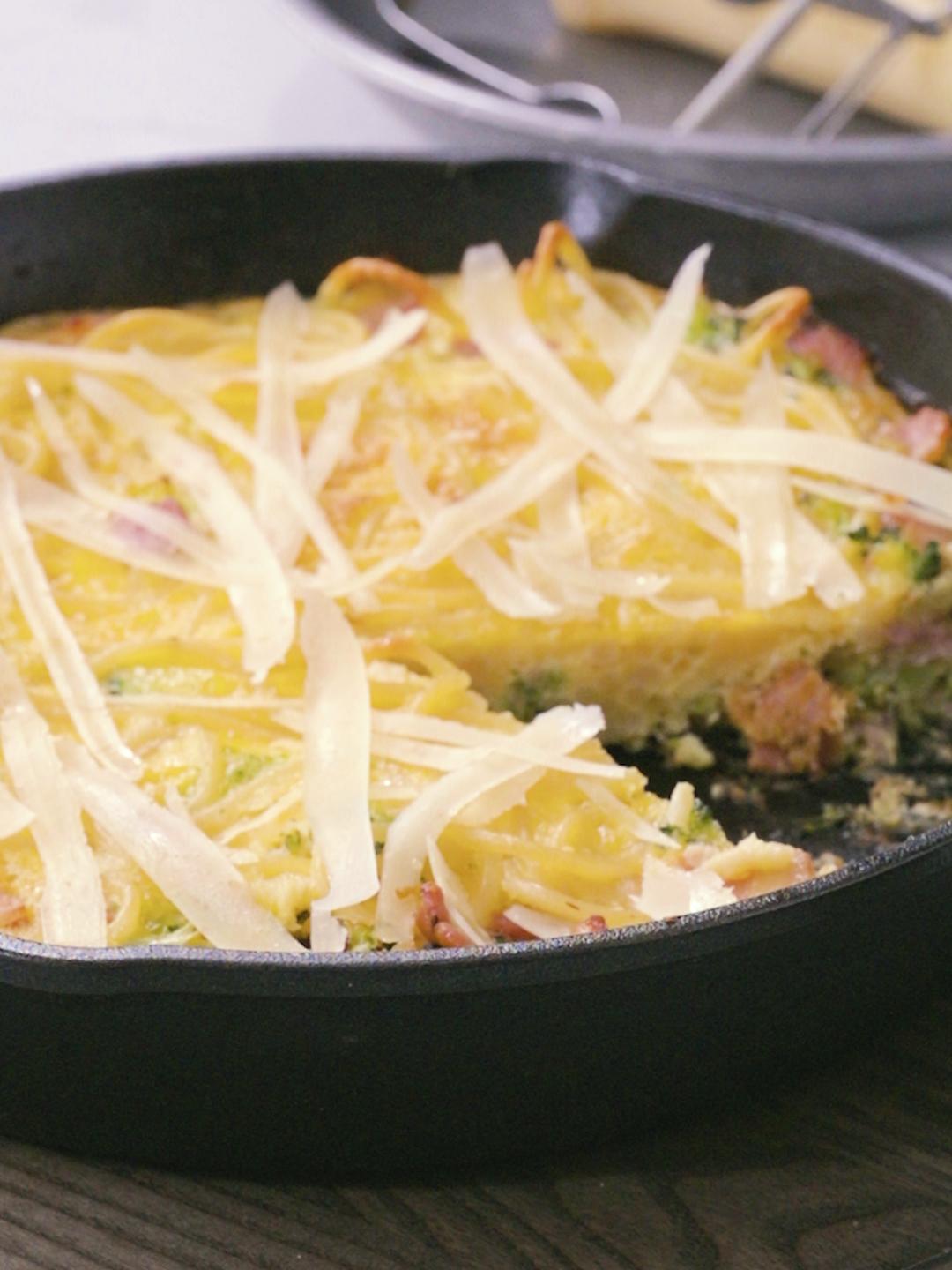 Spaghetti, Bacon and Broccoli Skillet Frittata
Frittata is a great way to use up leftovers, and that includes pasta to add texture. Any type of pasta can be used. Get creative and use this recipe to customize your own creation. Serve it warm or cooled for lunch or brunch, it also travels well in lunchboxes.
Ingredients
---
1 tsp kosher salt

plus extra to season

1½ cups (4¼ oz) grated parmesan cheese

Freshly ground black pepper

to season

1 yellow onion

finely chopped

8 oz bacon slices

cut into ½-inch strips
Instructions
1

Bring a large pot of water to a boil over high heat and season well with salt. Add the pasta and cook according to the package instructions. Meanwhile, continue to the next step. Once the pasta is ready, drain. Rinse under cold water to cool and drain well.

2

Cut the broccoli into small florets. Trim the stalks into approximately ¼-inch pieces and set aside.

3

Insert the wire rack into position 6. Meanwhile, continue to the next step.

4

Whisk the eggs in a large bowl, add the parmesan, salt and pepper and whisk to combine. Add the pasta and stir.

5

Place a 10-inch cast iron skillet over high heat. Add the oil and swirl to coat the base and side. Add the onion and cook, stirring for 2 minutes, or until the onion starts to soften. Add the bacon and broccoli and cook, stirring for 2 minutes, or until the bacon begins to render.

6

Pour the spaghetti mixture into the skillet, spreading out. Cook, without stirring, for 2 minutes, or until the egg starts to set.

7

Place the skillet in the oven and start Autopilot.

8

The frittata should be golden and set. If not, give it a bit more.

9

Transfer the skillet to a wire rack to cool for 5 minutes.

10

Top with parmesan and serve.