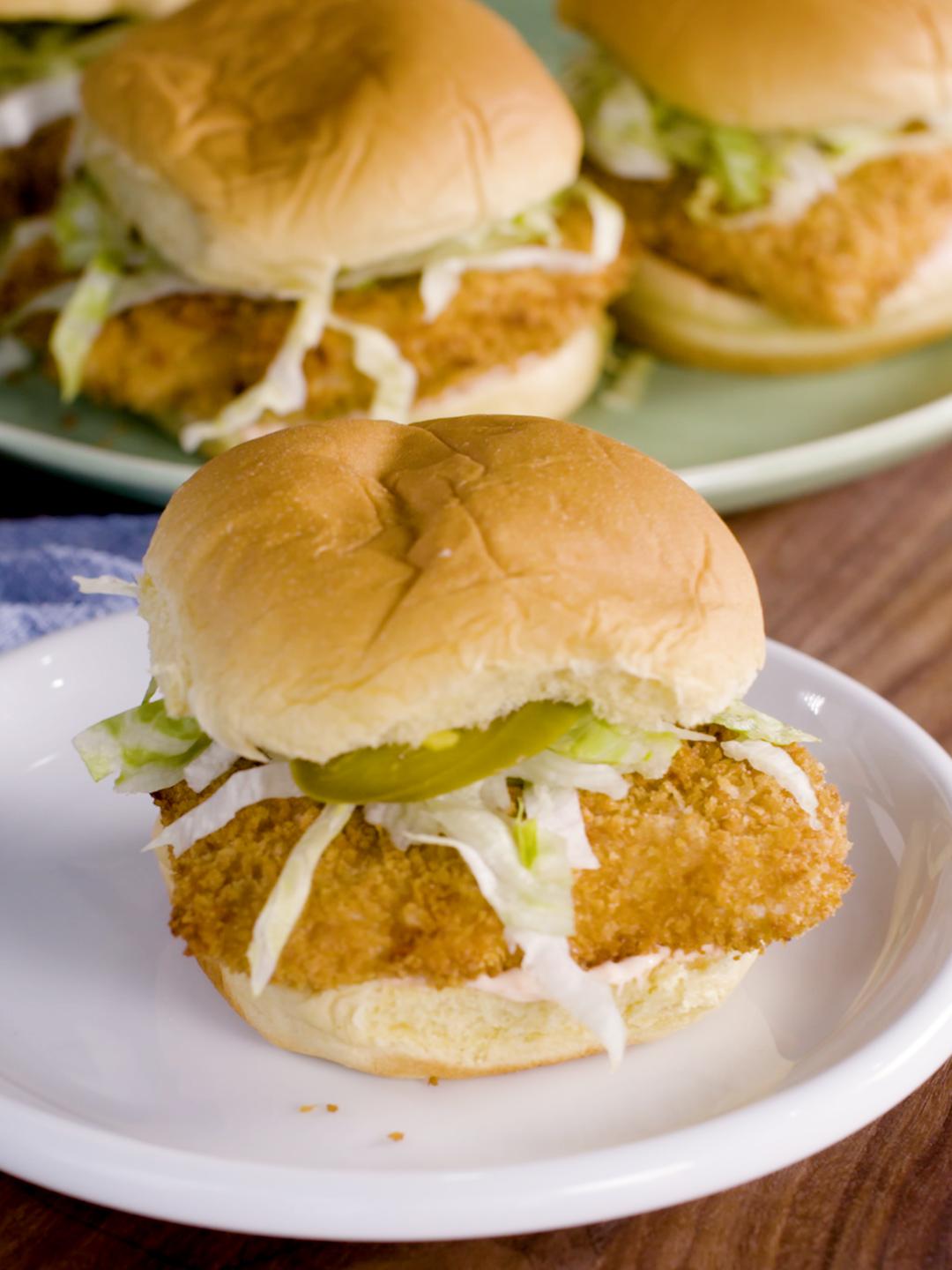 Spicy Air-Fried Chicken Sandwiches
We toasted the breadcrumbs with oil in the toaster oven before coating the chicken, and then used the air-fry setting and basket to produce a crispy coating and evenly cooked chicken. For a truly spicy kick, we added heat in three ways: hot sauce that we whisked directly into the dredging, then spicy mayo and pickled jalapeño to top the chicken. Shredded iceberg lettuce provided crisp, fresh texture.
Ingredients
---
1¼ cups (2½ oz) panko breadcrumbs

2 tbsp extra-virgin olive oil

1 large egg

lightly whisked

1/8 tsp plus ¼ teaspoon table salt

divided

2 x 6-8 oz boneless and skinless chicken breasts

trimmed

4 hamburger buns

cut in half horizontally, toasted if desired

2 cups shredded iceberg lettuce

¼ cup jarred sliced jalapeños
Instructions
1

Insert wire rack into position 4. Meanwhile, continue to next step.

2

Toss panko with oil in bowl until evenly coated. Transfer to roasting pan and spread in an even layer.

3

Once preheated, place pan in oven and start timer. When Rotate Remind signals, stir crumbs and continue cooking.

4

Panko should be light golden brown. If not, give it a bit more. Transfer to shallow dish and let cool slightly. Wipe out roasting pan.

5

Move wire rack to position 8. The oven will adjust the setting to cook chicken. It'll signal when ready. Meanwhile, continue to next step.

6

Whisk egg, 1 tablespoon hot sauce, flour, garlic powder, and 1/8 teaspoon salt together in second shallow dish.

7

Halve each breast crosswise and pound between 2 sheets of plastic wrap to uniform ½-inch thickness.

8

Pat chicken dry with paper towels and sprinkle with remaining ¼ teaspoon salt.

9

Working with 1 piece of chicken at a time, dredge in egg mixture, letting excess drip off, then coat with panko mixture, pressing gently to adhere. Arrange chicken pieces in air fry basket, spaced evenly apart.

10

When oven signals, place roasting pan on rack to catch any drips during cooking. Place basket in rack position 3 and start timer. Meanwhile, make spicy mayonnaise.

11

Combine mayonnaise and remaining 1 tablespoon hot sauce in small bowl.

12

Chicken should be crispy and registers 160°F. If not, give it a bit more.

13

Spread mayonnaise mixture evenly over bun bottoms, then top with 1 piece chicken, lettuce, jalapeños, and bun tops. Serve.