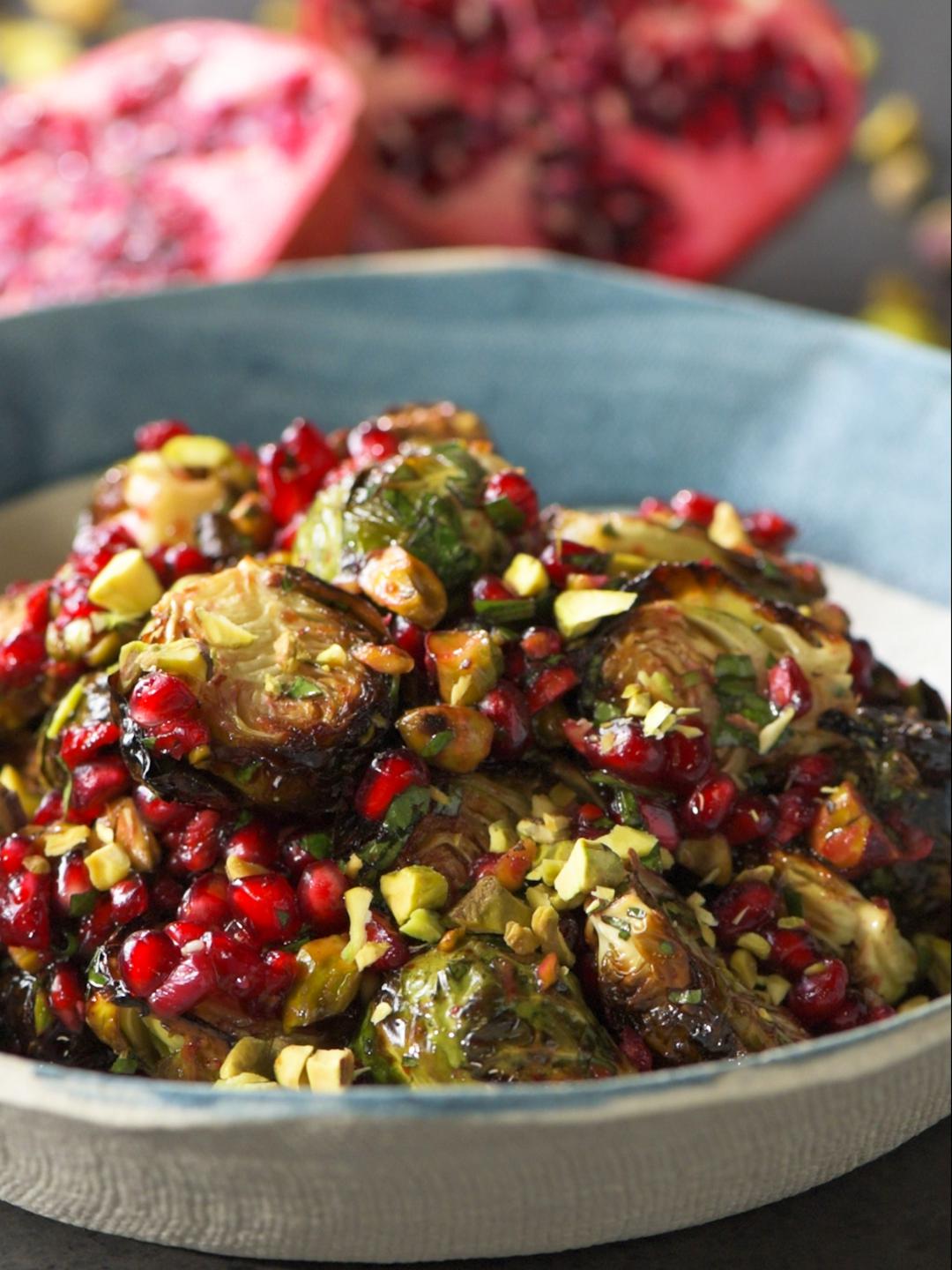 Air-Fried Brussels Sprouts with Pomegranate Dressing
Pomegranate molasses is a thick syrup-like sauce that imparts an intense sweet and sour taste to the dressing that is perfectly paired with the slightly bitter taste of Brussels sprouts.
Ingredients
---
2 tbsp extra-virgin olive oil

Freshly ground black pepper

to season

¼ cup (¼ oz) flat-leaf parsley leaves

coarsely chopped

¼ cup (1 oz) shelled pistachios

coarsely chopped, divided
For the dressing:
2 tbsp pomegranate molasses

3 tbsp extra-virgin olive oil
Instructions
1

The oven will preheat. Meanwhile, continue to the next step.

2

Trim the base and cut the larger ones in half. Remove any tough outer leaves. Combine with the oil, salt and pepper and toss to coat. Place in a single layer in the air fry basket, ensuring they are not touching.

3

Once preheated, place the basket in rack position 3 and start the timer. Meanwhile, prepare the pomegranate and make the dressing.

4

Cut in half, hold the cut side in your hand over a large bowl to catch the juice and seeds, and firmly tap with a rolling pin or large spoon to loosen and release the seeds. Squeeze the pomegranate to extract as much juice as possible. Pick through the seeds to remove any white membrane.

5

Add the molasses and oil to the pomegranate and stir.

6

The Brussels sprouts should be browned and tender. If not, give it a bit more.

7

Add the Brussels sprouts, parsley and pistachios to the pomegranate dressing, and stir to combine.

8

Sprinkle with the remaining pistachios.