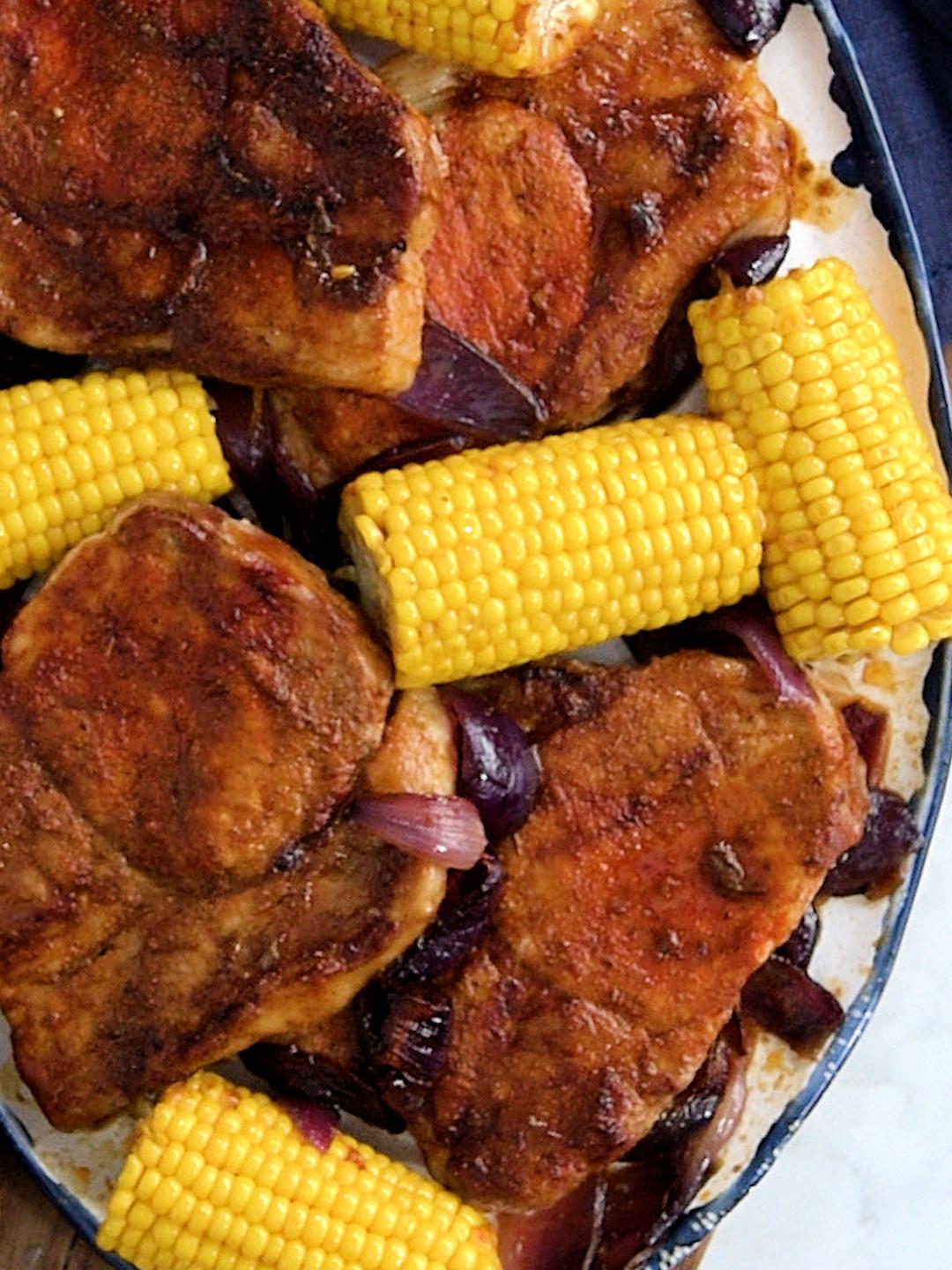 Air-Fried Cajun Pork Chops with Corn on the Cob
This is a simple, no-nonsense, one-pan dish, packed full of flavor! Juicy pork chops rolled in smoky spice and roasted on the bone, served alongside sweet corn cobs and charred red onions. This is one Southern hug you won't want to miss!
Ingredients
---
For the Cajun seasoning:
½ tsp cayenne pepper (optional)
For the pork:
4 x 10½ oz pork loin chop bone in

2 red onions

each cut into 6 wedges

4 ears of corn on the cob

husks and silk removed, cut in half
Instructions
1

Place all the ingredients listed below in a bowl and stir to combine.

2

Insert the wire rack into position 4. Meanwhile, continue to the next step.

3

Brush the pork with 1 tablespoon oil, sprinkle with half the Cajun seasoning and press to coat. Turn the pork over and repeat.

4

Place the onions in a bowl, add ½ teaspoon salt and 1 tablespoon oil and toss to coat. Add the onions to the pan.

5

Once preheated, place the pan in the oven and start Autopilot. Meanwhile, continue to the next step.

6

Place the corn in the emptied onion bowl, add the remaining salt and oil. Turn to coat and set aside.

7

The pork is ready when a meat thermometer inserted into the thickest part reads 165°F. If not, give it a bit more.

8

Remove the pork from the pan and loosely cover with foil. Stand in a warm place while the corn is cooking. Add the corn to the pan with the onions.

9

Return the pan to the oven and start the timer.

10

The corn kernels should be tender when pierced with a knife. If not, give it a bit more.

11

Generously squeeze over lime juice and serve.