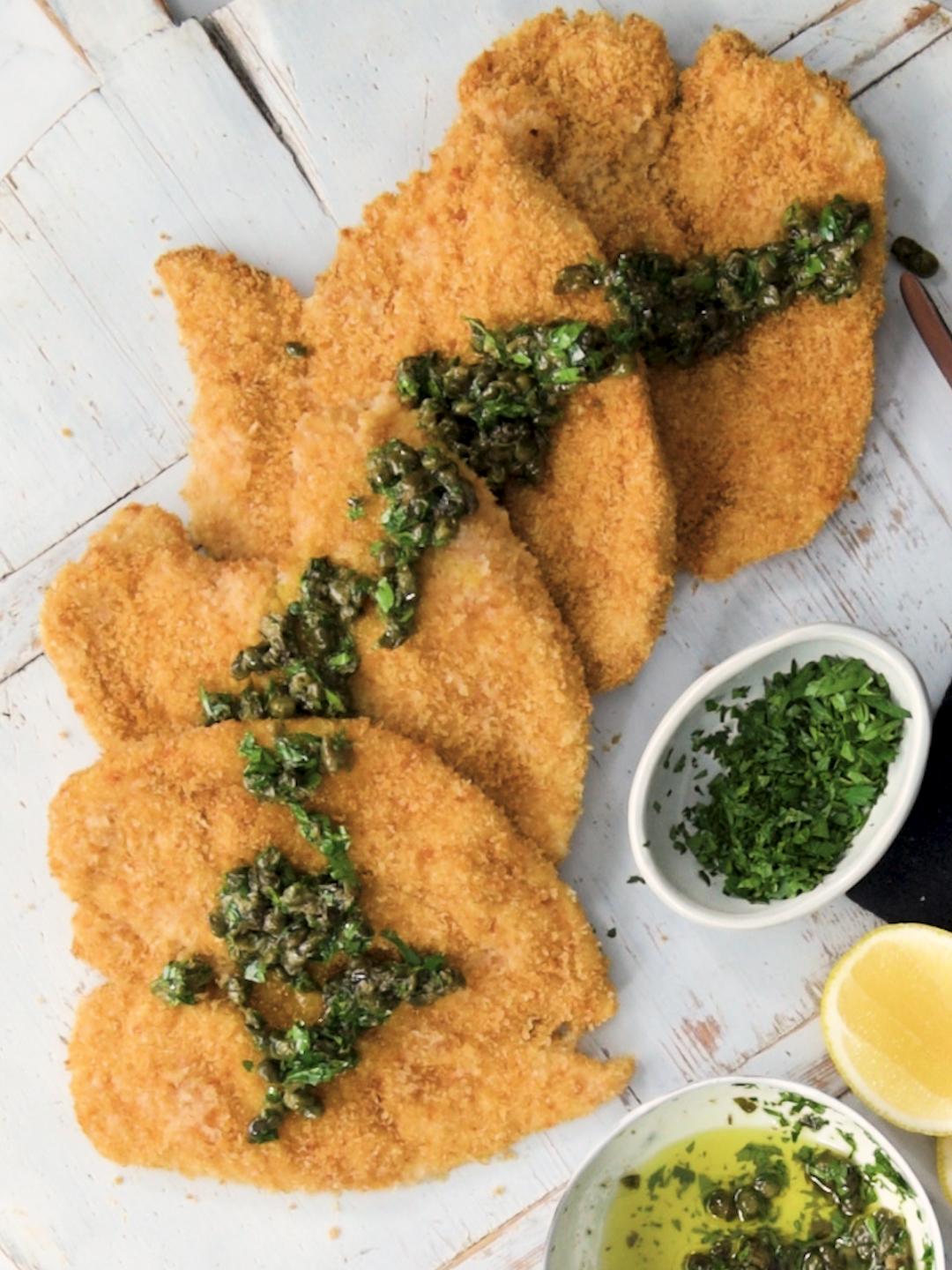 Air-Fried Chicken Schnitzel with Capers and Lemon
This healthier version of the Austrian classic, combines a golden crisp crumb with capers and zesty lemon. It's sure to become a family favorite and a staple in your weeknight meal collection.
Ingredients
---
For the schnitzels:
2½ cups (5¼ oz) panko breadcrumbs

¼ cup (2 fl oz) olive oil

4 x 12 oz boneless and skinless chicken breasts

fat trimmed

½ cup (2½ oz) all-purpose flour

Freshly ground black pepper

to season
For the capers and lemon:
⅓ cup (2¾ fl oz) extra-virgin olive oil

½ cup (2½ oz) capers

well drained

2 tbsp finely chopped flat-leaf parsley
Instructions
1

Insert the wire rack into position 6. Meanwhile, continue to the next step.

2

Combine the crumbs and oil and rub together. Spread evenly in the roasting pan.

3

Once preheated, place the pan in the oven and start the timer. When the Rotate Remind signals, stir the crumbs and continue cooking. Meanwhile, continue to the next step.

4

Butterfly the chicken by slicing the breast in half horizontally, without cutting all the way through and open out. Place the chicken on a piece of plastic wrap and place another piece on top. Using a mallet, flatten the chicken to ½-inch thick. Set aside.

5

The crumbs should be golden brown. If not, shake the pan and give it a bit more. Transfer the crumbs to a plate to cool. Move the wire rack to position 8.

6

The oven will adjust the setting to cook the schnitzels. It'll signal when ready. Meanwhile, continue to the next step.

7

Place the flour, salt and pepper on a plate and mix to combine. Place the eggs in a bowl with the milk and whisk to combine.

8

Coat each piece of chicken in the flour, shaking off the excess. Dip in the egg wash and allow to drain. Coat in the crumbs, shaking off the excess. Place in a single layer in the air fry basket.

9

Once preheated, place the roasting pan on the wire rack to collect any drips during cooking. Place the basket in rack position 3 and start the timer. Meanwhile, continue to the next step.

10

Heat the oil in a small saucepan over high heat for 30 seconds. Add the capers and cook, gently swirling the pan, for 1 minute. Add the lemon juice and remove from the heat.

11

The schnitzels are ready when a meat thermometer inserted into the thickest part reads a minimum of 165°F. If not, give it a bit more.

12

Mix the parsley into the capers and lemon and drizzle over the schnitzels.