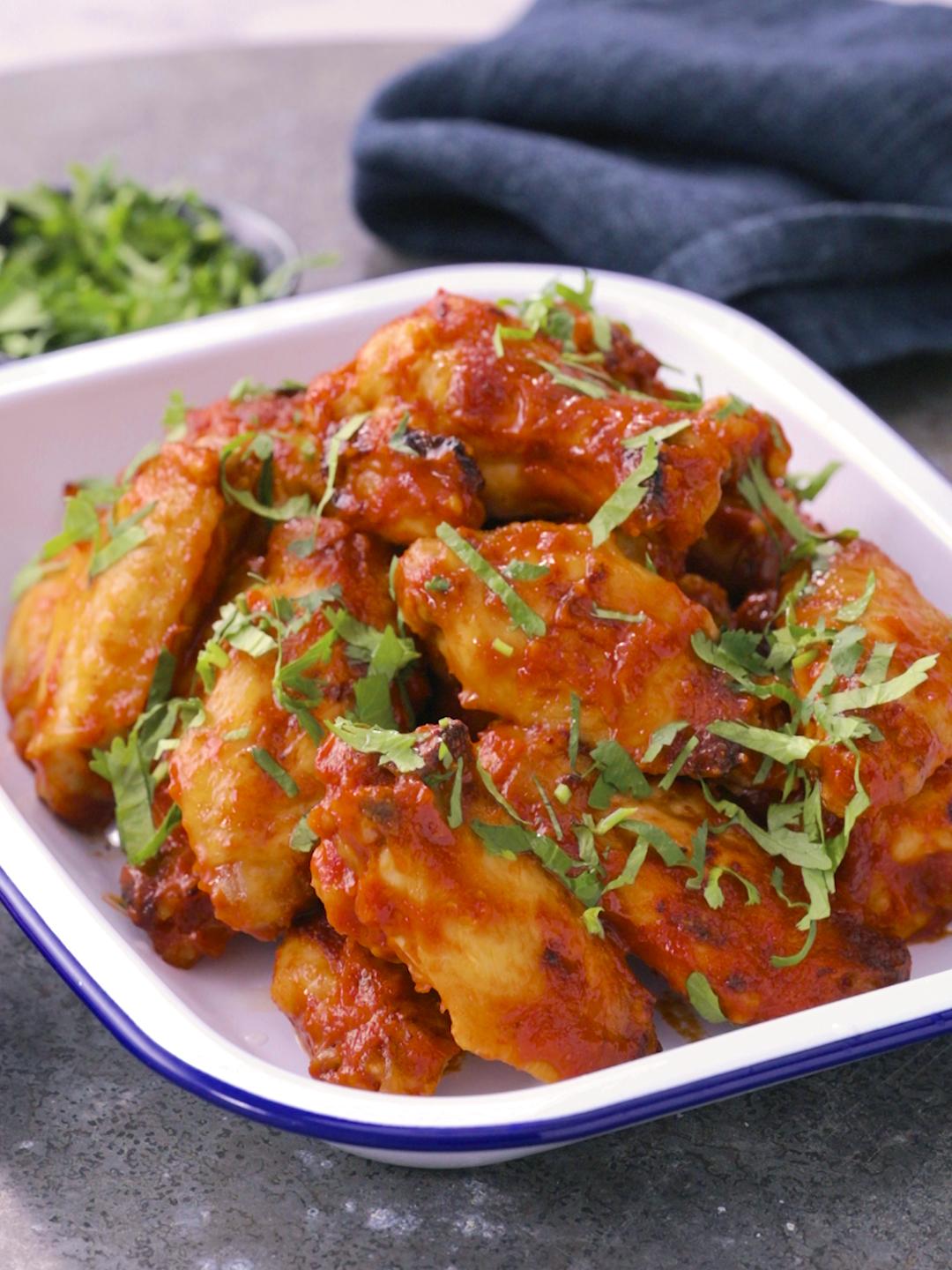 Air-Fried Chicken Wings with Chipotle Barbecue Sauce
These air-fried wings are a game changer. They take less than 20 minutes to cook and are smothered in a finger lickin' sweet and smoky sauce. What's not to love!
Ingredients
---
For the chipotle barbecue sauce:
1 yellow onion

thinly sliced

2 cloves garlic

thinly sliced

3½ oz can chipotle peppers in adobo sauce

14½ oz can diced tomatoes

⅓ cup (3¼ oz) tomato paste

¾ cup (6 fl oz) apple cider vinegar

¾ cup (5¼ oz) demerara sugar

2 tsp Worcestershire sauce
For the chicken wings:
3 lb chicken wing drumettes and flats (party wings)

Coarsely chopped cilantro

to serve
Instructions
1

Heat the oil in a saucepan over medium heat. Add the onion and cook, stirring occasionally for 3 minutes, or until softened. Add the garlic and cook, stirring for 1 minute, or until fragrant.

2

Add the chipotle and spices and cook, stirring, for 3 minutes. Add the tomatoes, tomato paste, vinegar, sugar, honey, Worcestershire sauce and salt. Bring to a boil then reduce the heat to low and simmer, stirring occasionally for 20 minutes, or until reduced by a quarter. Cool for 10 minutes. Meanwhile, continue to the next step.

3

Insert the wire rack into position 7, place the roasting pan on the rack so it sits beneath the basket to catch any drips during cooking. Place the air fry basket into rack position 3. Meanwhile, continue to the next step.

4

Place the wings on paper towels and pat dry to remove any excess moisture.

5

Place the milk powder, salt and oil in a large bowl and whisk to combine. Add the wings and toss to coat.

6

Once preheated, carefully place the wings in the basket, evenly spaced apart and start Autopilot. Meanwhile, continue to the next step.

7

Blend the sauce until smooth.

Tip: If your blender lid doesn't have safety clips, firmly hold the lid down with a tea towel when turning on. Sauce can be made a day ahead, store covered, in the refrigerator. Makes about 4 cups (32 fl oz)

8

The wings should be browned and cooked through. If not, give it a bit more.

9

Transfer the wings to a large bowl. Pour over approximately half the sauce and stir to coat.

10

Transfer the wings to a platter, sprinkle with cilantro and serve with some of the remaining sauce.

Tip: Any leftover chipotle barbecue sauce can be cooled and stored in an airtight container in the refrigerator for up to 5 days. The sauce goes great with pulled beef!