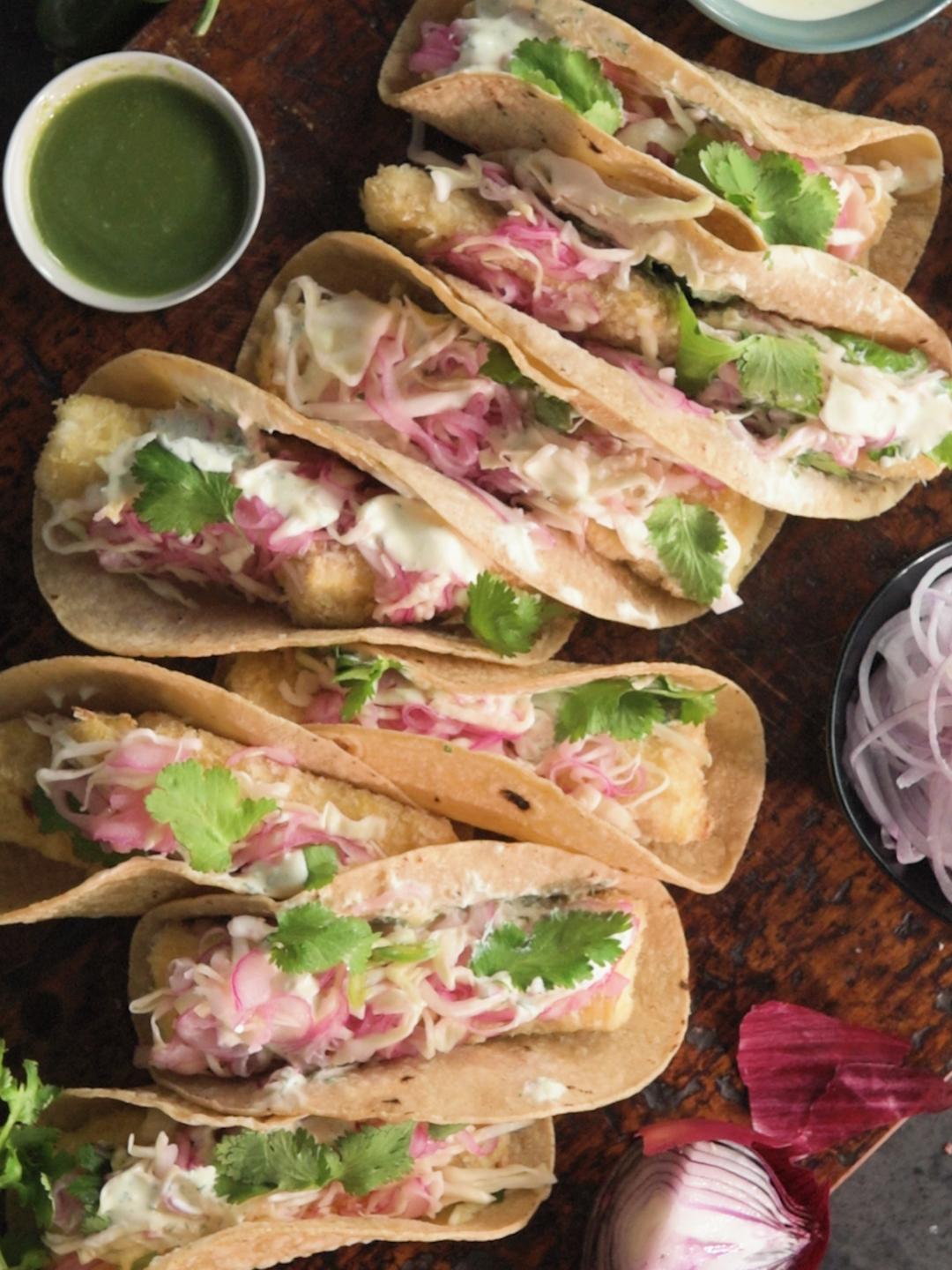 Air-Fried Fish Tacos with Pickled Slaw and Cilantro Lime Sauce
A fun mid-week meal of crispy air-fried fish, lime and cilantro flavored mayo in a soft corn tortilla with pickled slaw spiced up with jalapeño pepper. If you're in a hurry, the slaw can be pickled for as little as 30 minutes but tastes even better if pickled overnight.
Ingredients
---
For the pickled slaw:
3 cups (7 oz) finely shredded green cabbage

1 small red onion

thinly sliced

½ cup (4 fl oz) apple cider vinegar

⅓ cup (½ oz) cilantro leaves
For the fish:
1½ lb mahi mahi fillets

no skin

⅓ cup (1¾ oz) all-purpose flour

1¼ cups (2½ oz) panko breadcrumbs
For the cilantro and lime sauce:
Instructions
1

Combine the slaw ingredients listed below. Allow to pickle for 30 minutes to 2 hours on the countertop or overnight in the refrigerator. The longer the pickling time the better the flavor.

2

Whisk all the sauce ingredients listed below until smooth. Set aside.

3

Cut into 16 pieces approximately 3-inch long and ¾-inch wide.

4

Place the flour and salt in a shallow dish. Whisk the eggs and water in a second dish. Place the breadcrumbs in a third dish.

5

The oven will preheat. Meanwhile, continue to the next step.

6

Working with one piece at a time, toss the fish, in the flour, eggs and then breadcrumbs, shaking off the excess.

7

Place the fish in the air fry basket, ensuring they are not touching and generously spray both sides with cooking spray.

8

Once preheated, place the basket into rack position 3 and start the timer. Meanwhile, heat the tortillas.

9

Heat a cast iron skillet over high heat and warm the tortillas, in batches, for 30 seconds on each side. Place them on a plate and cover with foil to keep warm.

10

The fish should be golden and crisp. If not, give it a bit more.

11

Just before serving, drain the liquid from the slaw, remove and discard the jalapeño. Add the cilantro.

12

Place 2 pieces of fish on each tortilla, top with the pickled slaw and sauce.