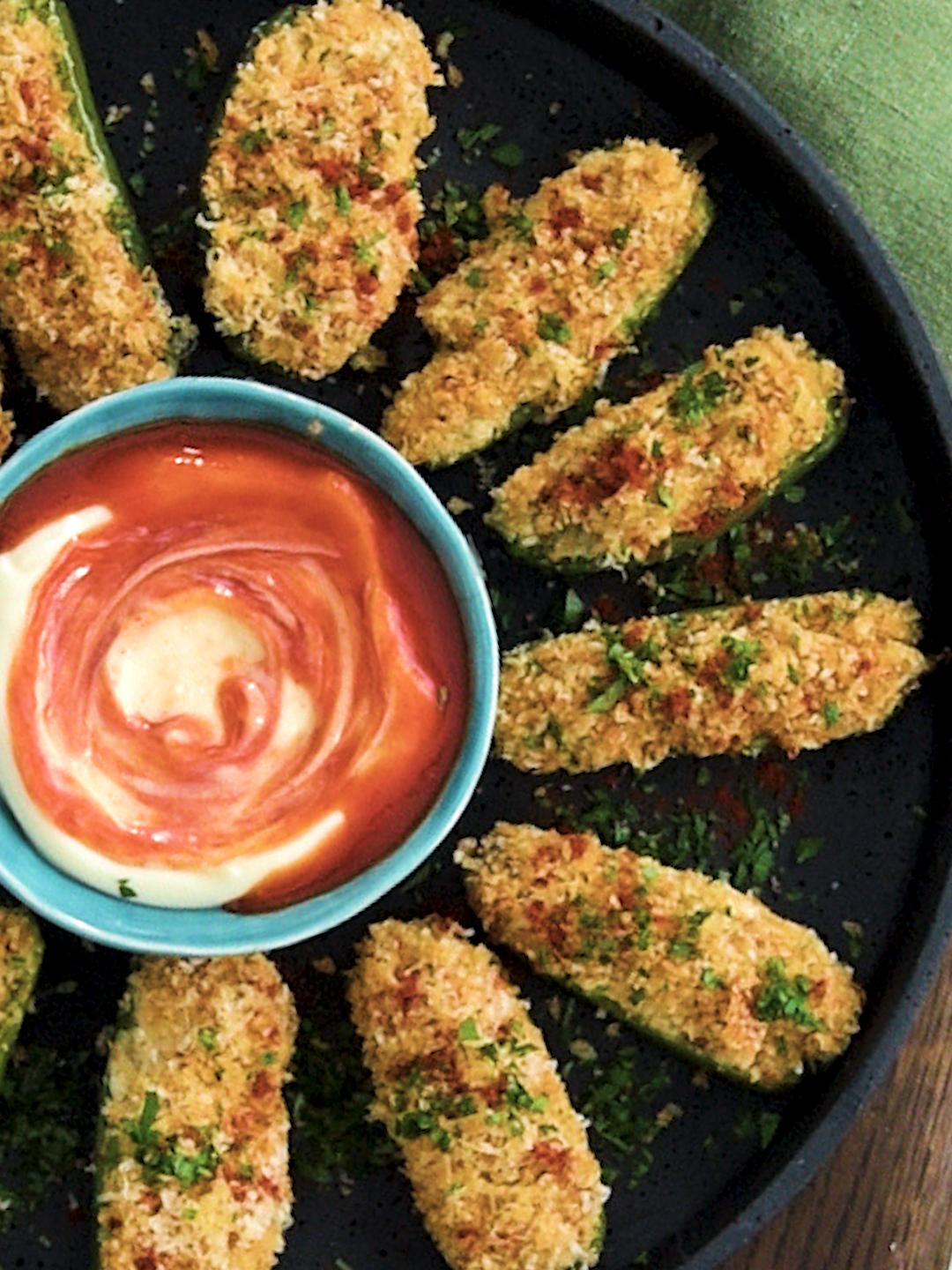 Air-Fried Jalapeño Poppers
These cheeky poppers are a party in the mouth! Creamy bacon and chive filling topped with crisp, golden crumbs, all nestled in a roasted jalapeño. The perfect appetizer, side or finger food. You won't be able to stop at one.
Ingredients
---
½ cup (1 oz) panko breadcrumbs

1 tbsp finely chopped flat-leaf parsley
For the filling:
5 oz bacon slices

coarsely chopped

8 oz cream cheese

at room temperature
Instructions
1

Insert the wire rack into position 4. Meanwhile, continue to the next step.

2

Combine the crumbs and oil and rub together. Spread evenly over the base of the roasting pan.

3

Once preheated, place the pan in the oven and start the timer. When the Rotate Remind signals, stir the crumbs and continue cooking. Meanwhile, continue to the next step.

4

Place a frying pan over medium-high heat, add the bacon, and cook, stirring occasionally for 8 minutes to render the fat. Reduce the heat to medium-low and cook stirring for a further 5 minutes, or until crisp.

5

The crumbs should be golden. If not, stir and give it a bit more. Transfer the crumbs to a bowl and set aside to cool.

6

Place the bacon and all the ingredients listed below in a food processor and process, scraping down the side occasionally, until well combined.

7

Slice the jalapeños in half and remove the seeds.

8

Using a teaspoon, fill the jalapeño halves with the cream cheese mixture, forming small mounds.

Tip: Any leftover filling can be used as a dip or spread over sourdough toast.

9

Dip the cream cheese side into the crumbs and place on the pizza pan. Using a microplane, grate the parmesan over the poppers.

10

Move the wire rack to position 5. Place the poppers in the oven and start Autopilot.

11

The poppers should be golden and crisp. If not, give it a bit more.

12

Swirl the hot sauce through the mayonnaise. Sprinkle the poppers with the parsley and paprika and serve with the mayonnaise.