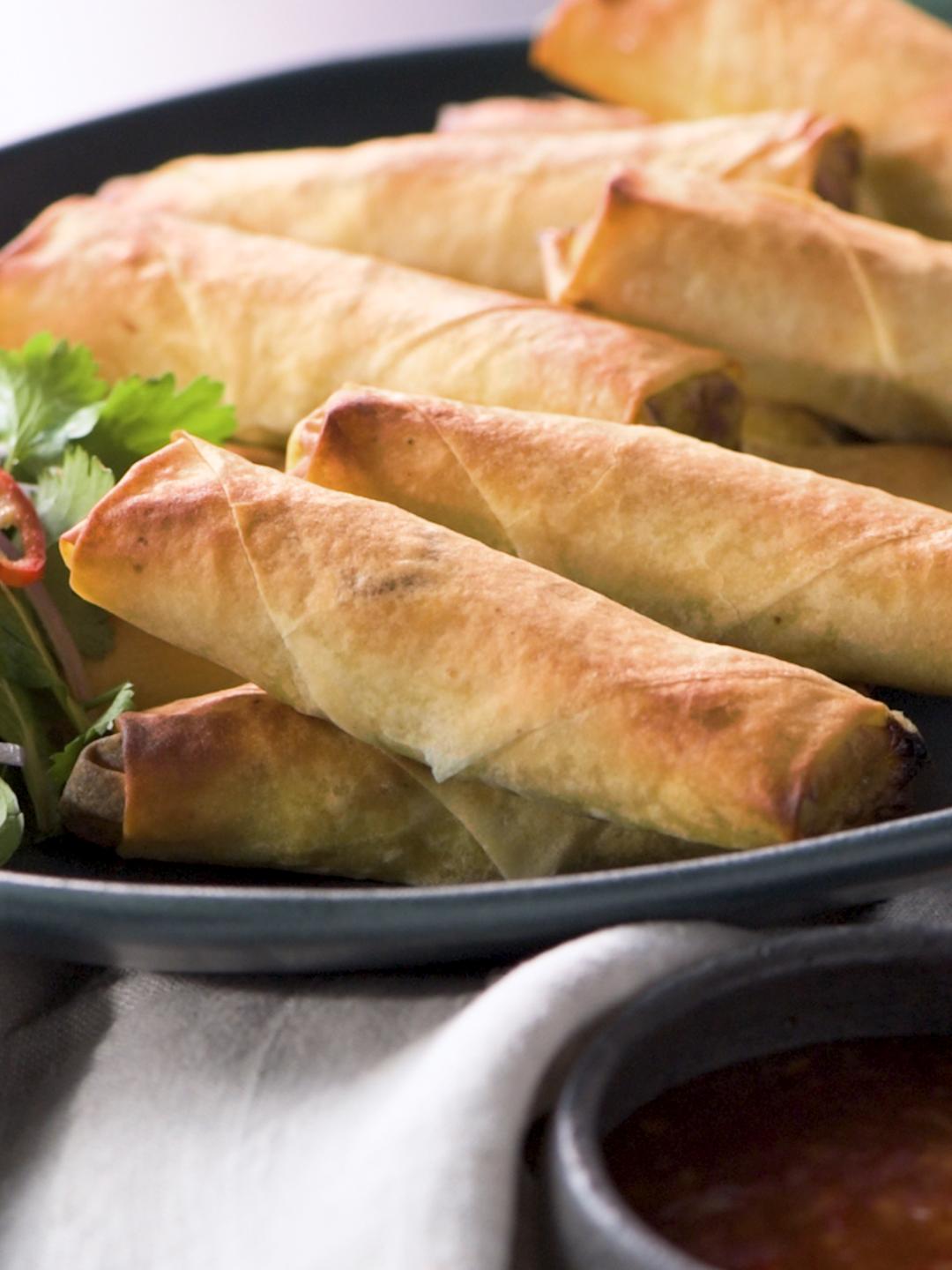 Air-Fried Pork and Cabbage Spring Rolls with Sweet Chili Sauce
Cooked to perfection in under 15 minutes, these spring rolls are filled with pork and healthy vegetables, not only crunchy and tasty, they're good for you too.
Ingredients
---
For the spring rolls:
2 tsp finely grated fresh ginger

2 cups (5 oz) shredded green cabbage

1 green onion

thinly sliced
For the sweet chili sauce:
½ cup (4 fl oz) sweet chili sauce

2 tsp finely grated fresh ginger
Instructions
1

Heat the sesame oil in a saucepan over medium heat. Add the ginger and garlic and cook stirring for 30 seconds, or until fragrant. Add the cabbage, carrot and onion and cook, for 3 minutes, or until soft.

2

Add the pork and cook, stirring, for 2 minutes, breaking up the lumps, until just cooked. Add the soy and oyster sauce.

3

Spread the filling in a shallow dish and refrigerate for 30 minutes. A cold filling will stop the wrappers going soggy.

4

Mix the cornstarch and water together.

5

Cover the wrappers with a damp towel to prevent them from drying out. Working with one wrapper at a time, spoon 3 tablespoons of the filling on the wrapper, just below the halfway line. Fold in the bottom then sides and roll to enclose the filling. Brush a little cornstarch mixture along the top edge and roll up tightly to seal.

6

Repeat with the remaining wrappers and filling. Keep the spring rolls covered to prevent them from drying out.

7

The oven will preheat. Meanwhile, continue to the next step.

8

Generously brush the spring rolls all over with the oil so they can crisp. Place them evenly spaced apart in the air fry basket.

9

Once preheated, place the basket in rack position 3 and start the timer. When the Rotate Remind signals, rotate the basket. Meanwhile, make the sauce.

10

Combine all the sauce ingredients listed below.

11

The spring rolls should be golden and crisp. If not, give it a bit more.

12

Serve with the sauce.