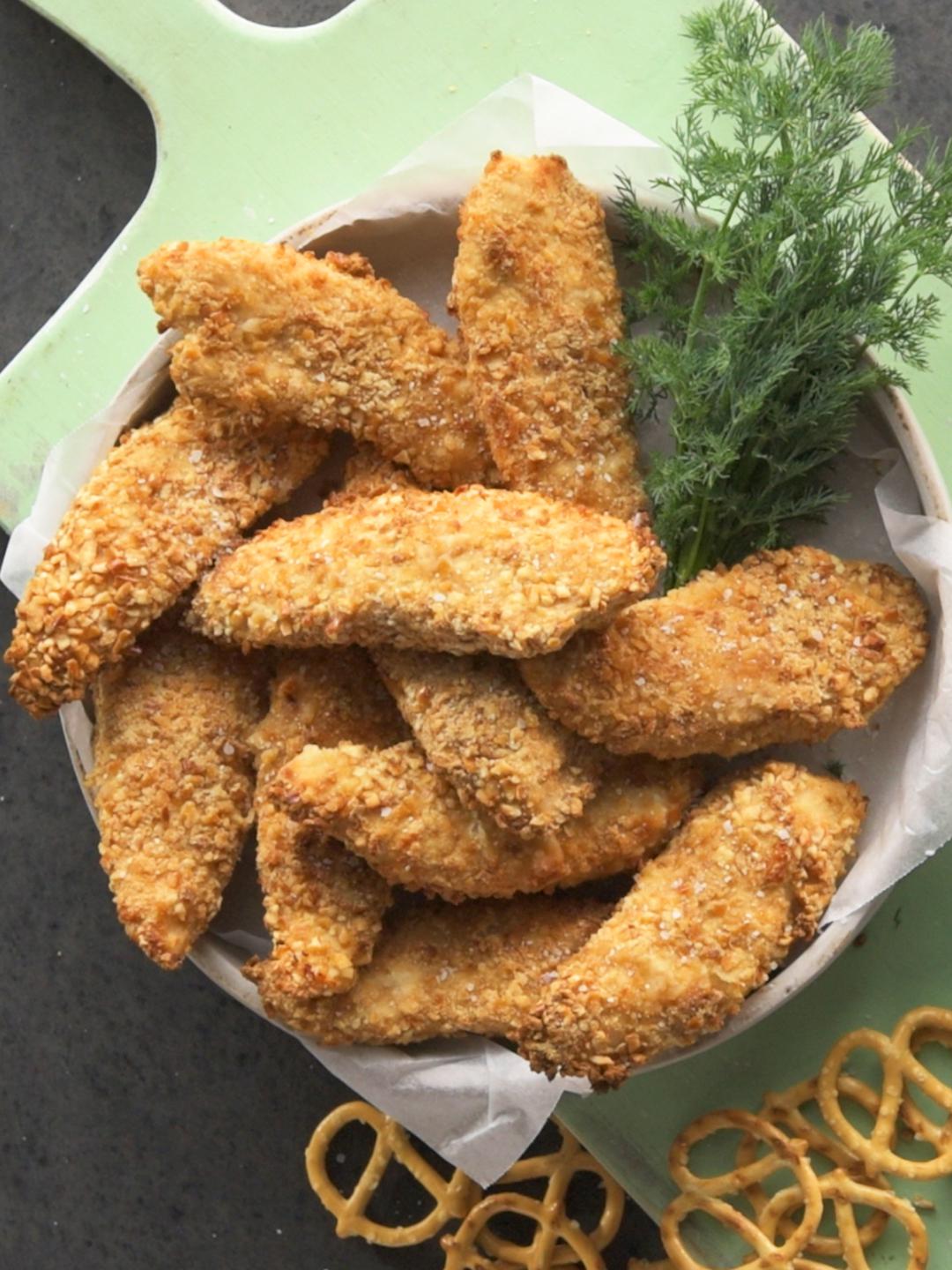 Air-Fried Pretzel Chicken Tenders with Ranch Dressing
These pretzel crusted chicken tenders are air fried to perfection. Deliciously moist on the inside, crisp and crunchy on the outside.
Ingredients
---
½ cup (2½ oz) all-purpose flour
For the ranch dressing:
1 tbsp finely chopped dill

2 tsp thinly sliced chives
Instructions
1

Process the pretzels to form coarse crumbs. Transfer to a bowl.

Tip: They can also be ground using a mortar and pestle.

2

Combine the flour and salt. Whisk the eggs in a separate bowl.

3

Working with one piece at a time, place the chicken in the flour and toss to coat. Dip in the eggs then coat in the crumbs.

4

Cover and refrigerate for 1 hour to allow the crust to set and prevent it falling off. Meanwhile, make the dressing.

5

Whisk the mayonnaise, sour cream, vinegar, mustard, salt and garlic until smooth. Add the herbs. Cover and refrigerate until required.

6

The oven will preheat. Meanwhile, continue to the next step.

7

Generously spray the chicken with cooking spray. Place, sprayed side down, in a single layer, in the air fry basket, ensuring they are not touching. Spray the top to coat.

8

Once preheated, place the basket in rack position 3 and start the timer. When the Rotate Remind signals, turn over and continue cooking.

9

The chicken should be golden and crisp and cooked through. If not, give it a bit more.

10

Sprinkle with sea salt and serve with the ranch dressing.