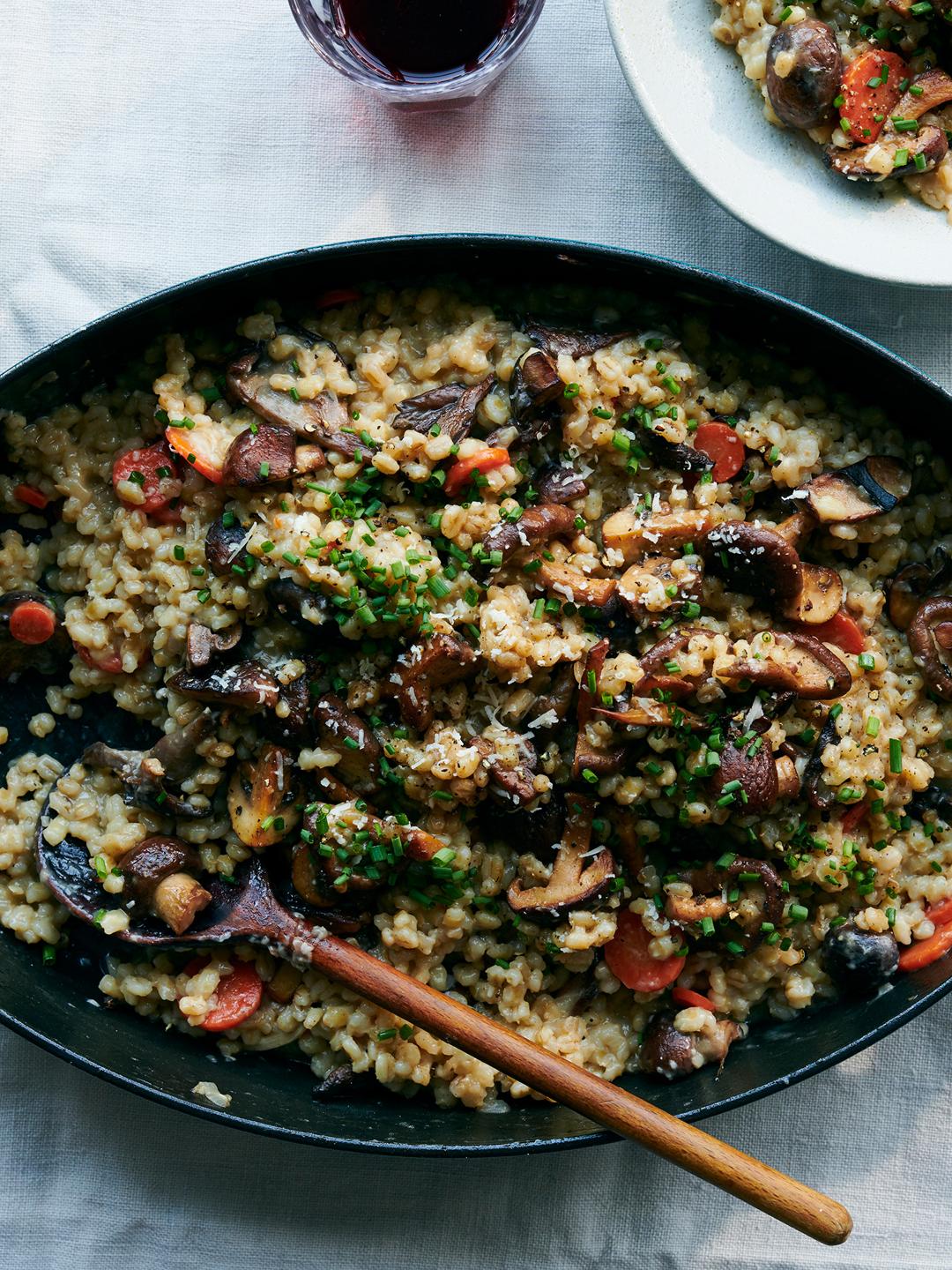 Baked Barley Risotto with Mushrooms and Carrots
Wholesome and nutty, barley is a superb alternative to arborio rice in this risotto, since it's naturally plump and chewy when cooked. The grated Parmesan and butter stirred in at the end release the barley's starches, creating a silky, creamy texture. Make sure to use pearl barley, not hulled, since it cooks much faster and is more tender. As for the mushrooms, white button, cremini and earthy shiitakes are a tasty, accessible mix, though any combination of oyster, king trumpet and maitake would raise the bar. Still, the best thing about this risotto, which is a satisfying vegetarian weeknight dinner (or side to any large roast or fish) is that it's baked, taking away the pressure of constant stirring at the stove.
Ingredients
---
3 tbsp extra-virgin olive oil

½ small white onion

or yellow onion, finely chopped (about ½ cup)

5 cloves garlic

thinly sliced

1 lb mixed mushrooms, such as white button, cremini and shiitakes

halved if small, quartered if large (about 7 cups total)

Freshly ground black pepper

10 oz pearl barley

(about 1½ cup)

1 medium carrot

very thinly sliced into rounds (about 1 cup)

2 oz grated parmesan cheese

(about ½ cup), plus more for serving
Instructions
1

Insert the wire rack into position 7 and set oven to 425°F Bake. While the oven heats, continue to the next step.

2

In a large Dutch oven or heavy pot, heat 2 tablespoons oil over medium. Add onion and garlic, and cook, stirring occasionally, until softened, about 3 minutes.

3

Add mushrooms and remaining 1 tablespoon oil, and season with salt and pepper. Cook, stirring occasionally, until mushrooms start to soften, about 3 minutes.

4

Stir in barley, carrot and 4½ cups of water, and bring to a boil over high heat.

5

Once the oven is preheated, cover the Dutch oven, transfer to the oven and start the timer.

6

Bake until barley is tender and chewy and almost all of the liquid is absorbed. If not, give it a bit more time.

7

Stir in Parmesan and the butter until slightly thickened and creamy. Season with salt and pepper.

8

Divide among shallow bowls. Sprinkle with chives and more Parmesan, to taste.