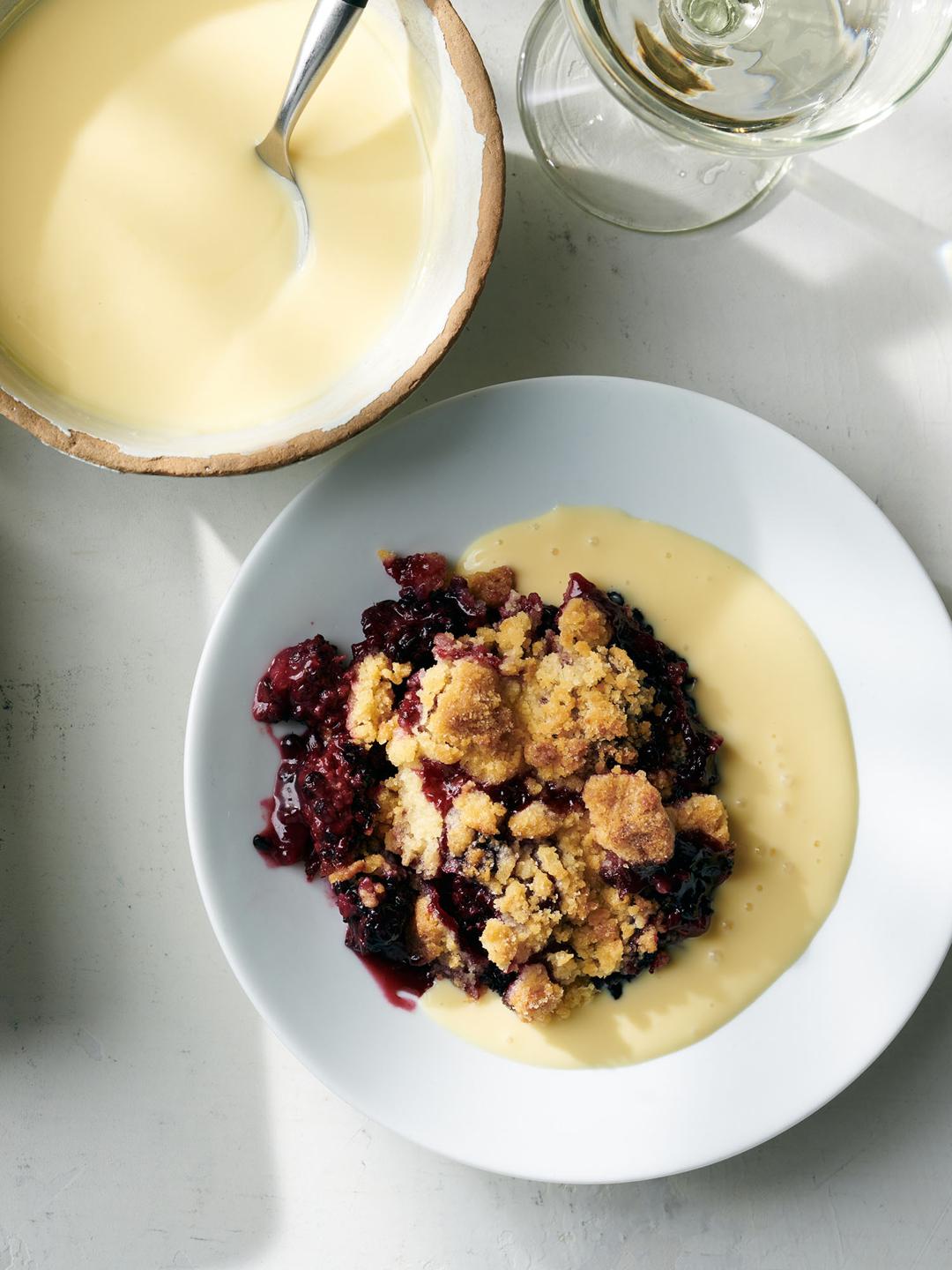 Blackberry Crisp with Cardamom Custard Sauce
You could use a combination of berries (raspberries, blueberries and blackberries in equal parts) in this crisp, but it especially sings with just blackberries. (Wild blackberries, if you can find them, are even better.) Cardamom perfumes the accompanying rich custard sauce. The warm, musky spice adds a flavor that's perfect with berries. The crisp needn't be served piping hot straight from the oven; it's delicious served at room temperature or just slightly warm.
Ingredients
---
For Topping:
½ cup salted butter

cold and thinly sliced
For the Sauce:
1 tbsp cardamom seeds

or 6 green cardamom pods, smashed
Instructions
1

Insert wire rack to position 6 and set oven to 400°F Bake. While the oven heats, continue to the next step.

2

Put flour, sugar, butter and ground cardamom in a medium bowl. Using your fingertips, work ingredients together until the mixture resembles wet sand with a few stray pebbles. (The topping can be made in advance and refrigerated for 1 week or frozen for up to 2 months.)

3

Toss the blackberries with ½ cup sugar.

4

Transfer the mixture to an 8-inch square baking dish. Sprinkle topping over the berries loosely.

5

Place the pan in the preheated oven and start the timer.

6

While the crisp bakes, make the custard sauce: Put half-and-half and sugar in a small saucepan over medium-high heat. Add the cardamom seeds and bring to just under a simmer, stirring.

7

Put yolks in a bowl and whisk until smooth, then whisk in 1 cup of hot half-and-half mixture. Pour the contents of the bowl back into the saucepan and cook, whisking, on a very low flame until the mixture barely thickens, about 5 minutes. Strain through a fine-mesh sieve. Serve sauce hot, or let cool and refrigerate until ready to use. (Sauce can be made up to 2 days in advance.)

8

Bake crisp until the topping is well browned. If not, give it a bit more time.

9

To serve, scoop large spoonfuls of crisp into individual shallow bowls. Ladle the sauce around each serving or pass the sauce at the table.