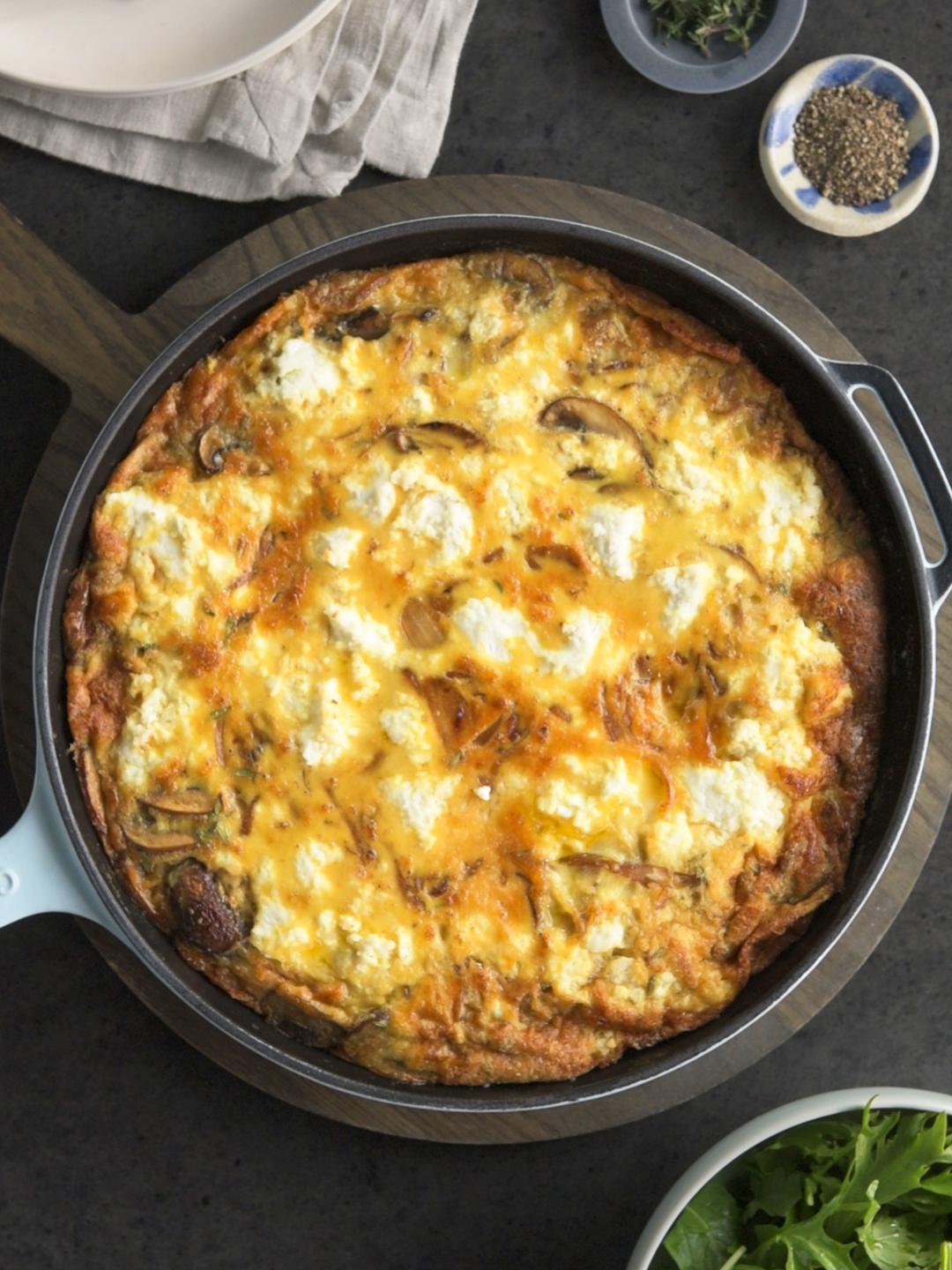 Caramelized Onion, Mushroom and Ricotta Skillet Frittata
Balsamic vinegar is the secret ingredient in the caramelized onions, it adds a richness that compliments the sweetness. Dotted with ricotta, the frittata is perfect for a light lunch.
Ingredients
---
4 tbsp (2 oz) unsalted butter

divided

3 yellow onions

thinly sliced

8 oz baby bella mushrooms

sliced

1 cup (8 fl oz) heavy cream

Freshly ground black pepper

to season
Instructions
1

Before you start, check that your 11-inch cast iron skillet fits in the oven. Melt the butter in the skillet over medium heat. Add the onions and salt and cook, stirring occasionally, for 10 minutes, or until starting to brown. The salt helps draw moisture out of the onions.

2

Add the sugar and vinegar and cook, stirring occasionally, for 3 minutes.

3

Cook, stirring occasionally, for 5 minutes, or until softened. Set aside in a bowl to cool slightly. Wash and dry the skillet.

4

Then add the remaining salt, pepper, thyme and onion mixture and stir to combine.

5

Insert the wire rack into position 6. Meanwhile, continue to the next step.

6

Place the skillet over medium-high heat and add the remaining butter. Swirl to coat the base and side, this prevents the frittata from sticking.

7

Pour the egg mixture into the skillet and crumble the ricotta over the top.

8

Once preheated, place the skillet in the oven and start the timer.

9

The frittata should be golden brown. If not, give it a bit more.

10

Stand for 10 minutes.

11

With a salad.