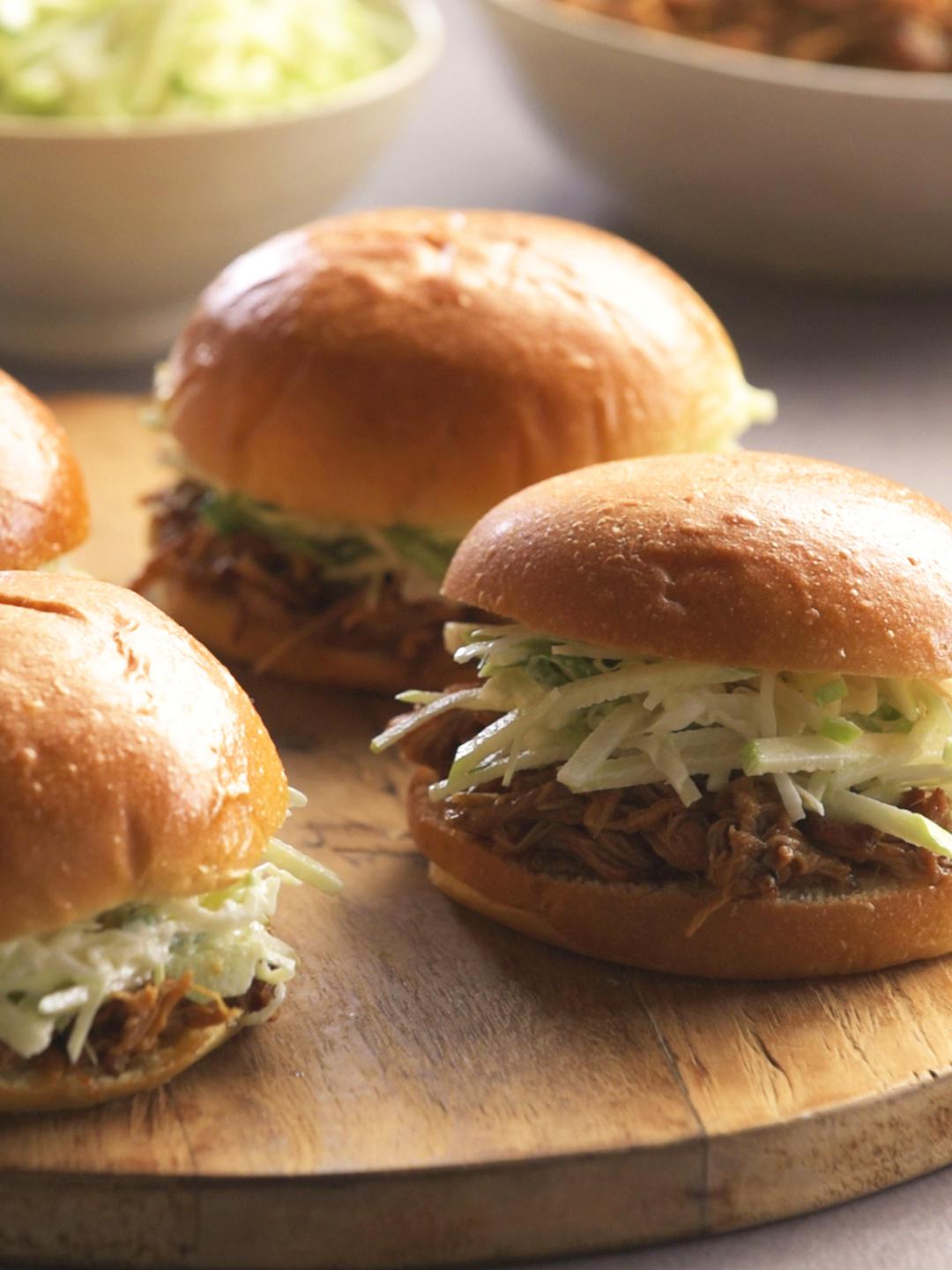 Carolina Pulled Pork Sandwiches
Pork shoulder is the ideal cut of meat for low and slow cooking, the flavor intensifies and guarantees the meat will be super tender and moist. Any leftover pork is perfect to have the next day.
Ingredients
---
⅓ cup (2 oz) dark brown sugar

2 tbsp coarse black pepper

4 lb boneless pork shoulder

cut into 4 pieces

1 cup (8 fl oz) apple cider vinegar

2 tbsp Worcestershire sauce
For the coleslaw:
2 cups (5 oz) finely shredded green cabbage

2 Granny Smith apples

julienned

4 green onions

thinly sliced
Instructions
1

Combine the sugar and spices and rub all over the pork. Place in a 5½-quart (10-inch) Dutch oven. A Dutch oven allows the sauce to reduce while cooking.

2

Whisk the vinegar, water, Worcestershire sauce and tomato paste together, pour over the pork and cover.

3

Insert the wire rack into position 8. Place the pork in the oven and start the timer.

4

The pork should be very tender and falling apart. If not, give it a bit more.

5

Transfer the pork to a bowl and skim off the fat to make a leaner and cleaner tasting sauce.

6

Boil for 7 to 8 minutes or until the liquid reduces slightly so that it can coat and bind the pork.

7

Pull the pork apart. Return to the Dutch oven and turn to coat in the sauce to enhance the flavor and keep it moist.

8

Combine the cabbage, apples and onions. Add the mayonnaise and stir to coat. The creaminess of the mayonnaise and sourness from the apples balance the flavor of the pork.

9

Serve the pork and coleslaw on the brioche buns.

Tip: Leftover pork can be stored in the refrigerator for up to 3 days and is great served with pickled onions.