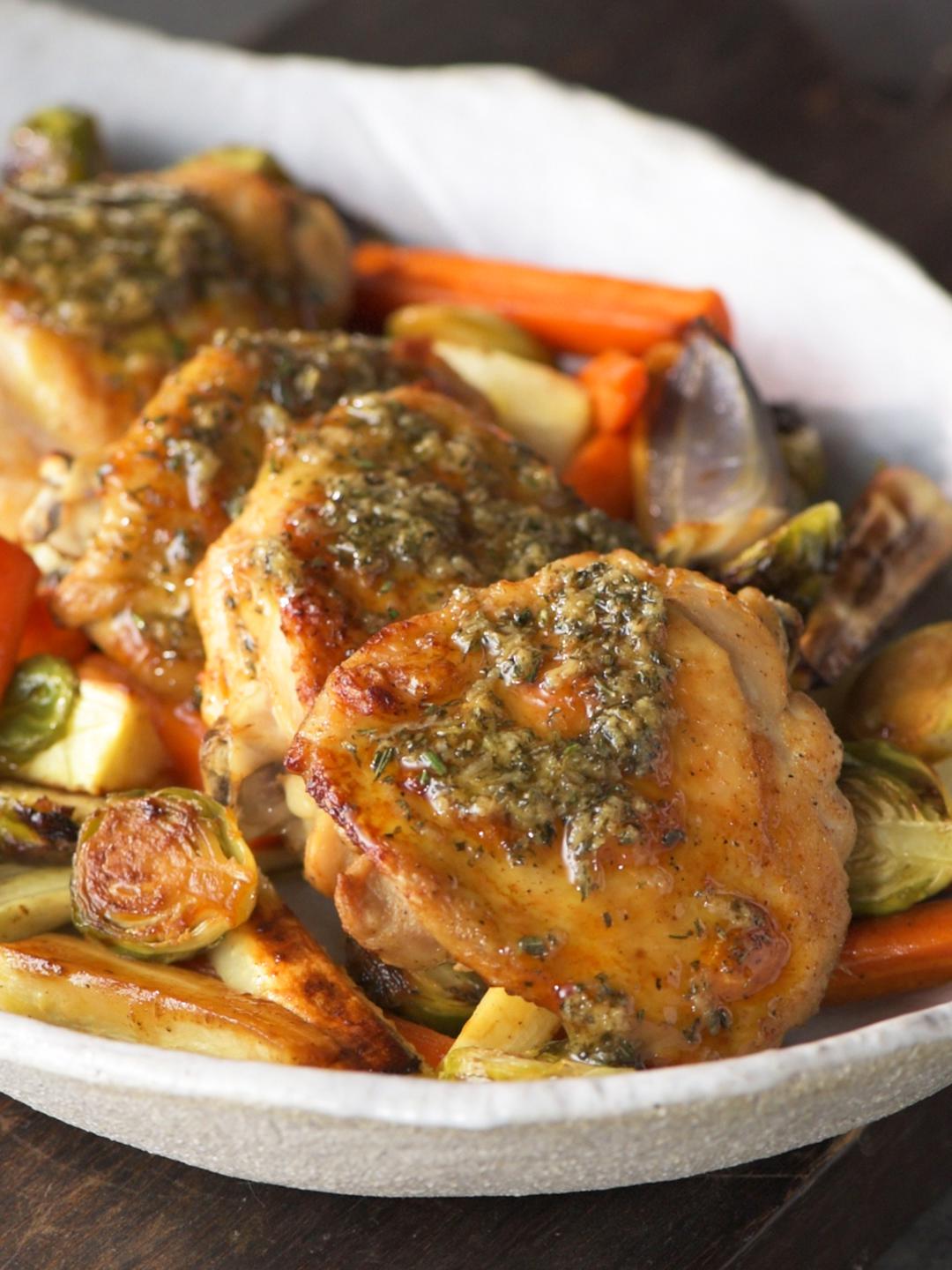 Chicken Sheet Pan Dinner with Lemon and Rosemary
Loaded with vegetables and topped with chicken, the flavor is enhanced with a drizzle of a warm rosemary, garlic and lemon infused dressing.
Ingredients
---
For the chicken:
¼ tsp freshly ground black pepper

4 x 8 oz bone-in and skin-on chicken thighs
For the vegetables:
Freshly ground black pepper

to season
For the dressing:
1 tbsp finely chopped rosemary
Instructions
1

Insert the wire rack into position 6 and place the roasting pan in the oven to heat. The burst of heat from the hot pan crisps the chicken skin and stops it sticking to the pan. Meanwhile, continue to the next step.

2

Combine the salt, mustard, paprika and pepper. Drizzle the chicken with the lemon juice, spice mixture and oil, turn to coat between each addition.

3

Once preheated, place the chicken, skin side down, in the hot pan and start the timer. When the Rotate Remind signals, rotate the pan and turn the chicken over and continue cooking. Meanwhile, prepare the vegetables.

4

Cut the carrots and parsnips into 3-inch long and ¾-inch wide wedges and place in a bowl. Cut the onion into ¾-inch wedges, leaving the core intact so they hold their shape. Cut the Brussels sprouts in half and add to the bowl. Add the oil, salt and season with pepper and toss.

5

To test if the chicken is ready, insert a meat thermometer into the thickest part, away from the bone, it should read a minimum of 167°F. If not, give it a bit more.

6

Transfer the chicken to a dish, skin side up, and keep warm. Drain off the excess fat from the pan. Add the vegetables to the pan and toss.

7

Place the vegetables in the oven and start the timer. Meanwhile, make the dressing.

8

Heat the oil in a saucepan over medium heat. Add the garlic and cook, stirring for 1 minute, or until lightly browned. Add the rosemary, lemon zest and juice and salt, stir and immediately remove from the heat. Heating the oil brings out the flavors and infuses the dressing.

9

Pierce the vegetables with a knife, the knife should slide easily in without any resistance. If not, give it a bit more.

10

Place the chicken, skin side up, on top of the vegetables, and pour any juice from the chicken over the vegetables. Move the wire rack to position 4.

11

Start the timer and broil.

12

The chicken should be browned and crisp. If not, give it a bit more.

13

Drizzle with the dressing.