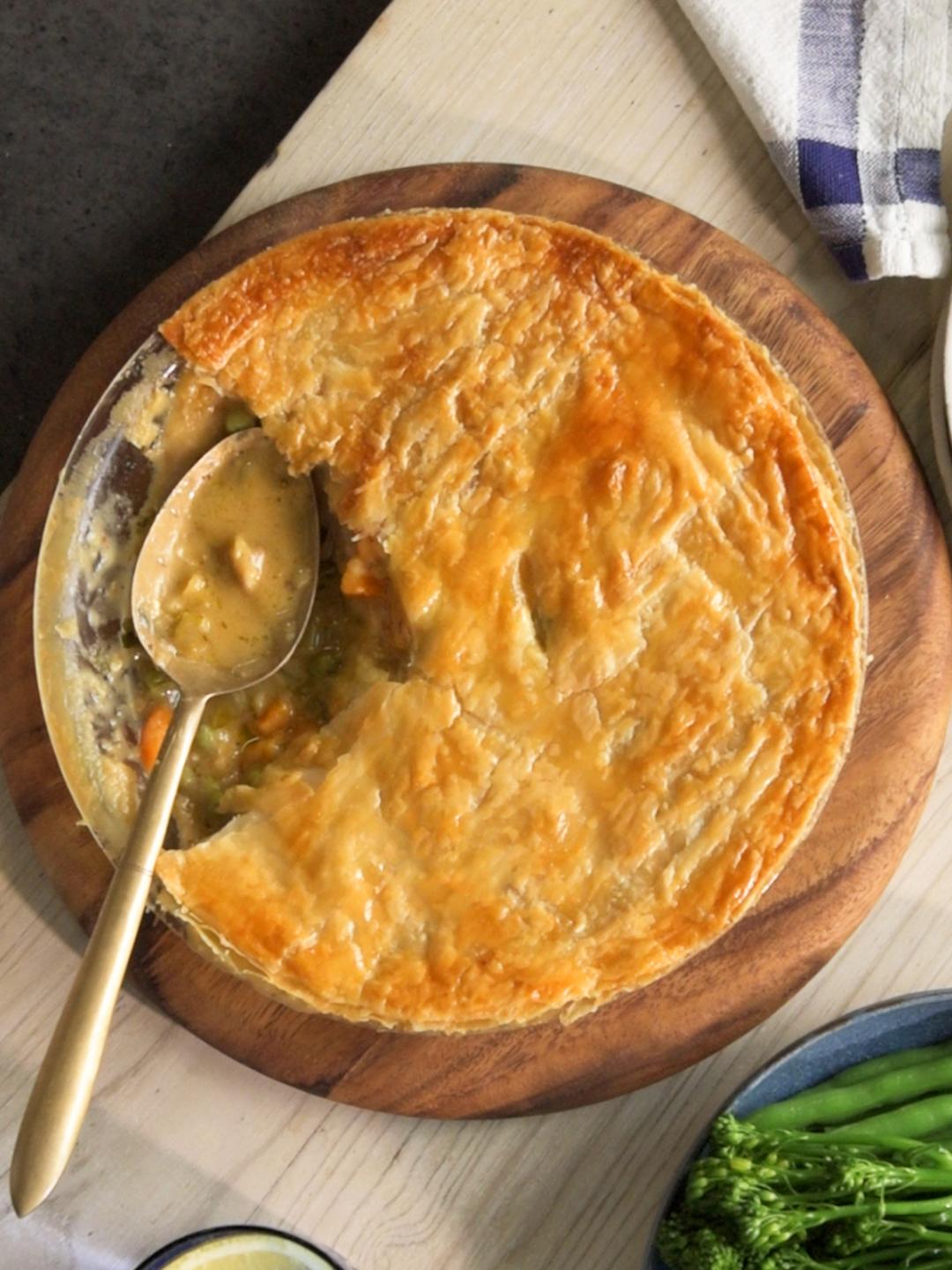 Classic Chicken Pot Pie
Chicken and vegetables in a creamy sauce, topped with pastry, this is a quintessential family favorite that works just as well in individual ramekins as it does in the pie dish. Once the filling is topped with the pastry, you'll need to work quickly to get it in the oven so the pastry doesn't melt. If time permits cool the filling before topping with the pastry.
Ingredients
---
1 lb boneless and skinless chicken thighs

thinly sliced

1 small white onion

finely chopped

1 celery stalk

finely chopped

⅓ cup (1¼ oz) all-purpose flour

1 cup (8 fl oz) chicken stock

½ cup (4 fl oz) heavy cream

⅓ cup (1¾ oz) frozen peas

Freshly ground black pepper

to season

1 sheet frozen puff pastry (9 1/2-inch square)
Instructions
1

Melt the butter in a deep frying pan over medium heat. Add the chicken and cook, stirring for 3 minutes. Use a slotted spoon to remove the chicken from the pan. Add the onion and cook stirring for 2 minutes. Add the garlic, carrot and celery and cook, stirring, for 5 minutes, or until softened. Reduce the heat to medium-low.

2

Add the flour and cook, stirring for 2 minutes. Stir in the stock and cream then add the chicken, peas, tarragon, salt and pepper. Cook stirring until the mixture comes to a boil. Reduce the heat to low and simmer, stirring for 2 minutes, or until thickened. Remove from the heat and let stand for 10 minutes to thicken further and cool slightly.

3

For easy handling the pastry is best thawed just before using. Remove from the freezer and thaw for 5 minutes. Meanwhile, continue to the next step.

4

Insert the wire rack into position 6. Meanwhile, continue to the next step.

5

Pour the filling into a 9-inch pie dish and level the surface.

6

Place the pastry on top of the dish and gently stretch and press the edge to seal. This avoids the filling bubbling out during cooking. Trim the edge. Brush with some of the egg. Using the tip of a sharp knife, cut 2 slits into the pastry to allow the steam to escape.

7

Once preheated, place in the oven and start the timer.

8

The pie should be golden brown. If not, give it a bit more.

9

Stand for 5 minutes before serving to allow the filling to cool slightly and thicken further.

10

Spoon the pie onto serving plates and serve.