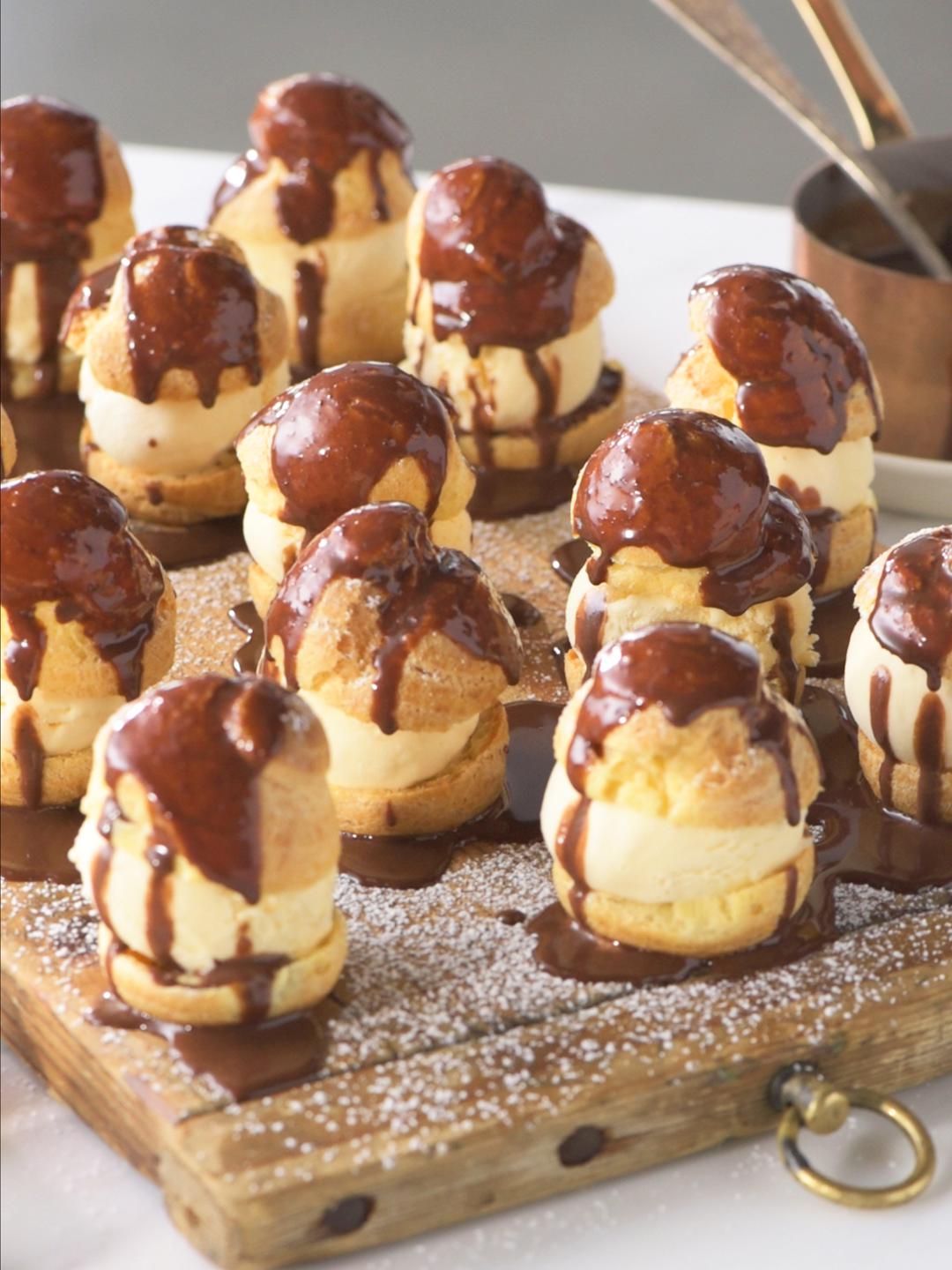 Classic Profiteroles with Warm Chocolate Sauce
Light and airy, these crispy little balls of choux delight are filled with vanilla bean ice cream and served drizzled with a warm chocolate sauce.
Ingredients
---
For the profiteroles:
⅔ cup (3½ oz) all-purpose flour

5 tbsp (2½ oz) unsalted butter

3 large eggs

at room temperature

18 oz vanilla bean ice cream

Powdered sugar

for dusting
For the chocolate sauce:
¼ cup (2 fl oz) heavy cream

4 oz 70% dark chocolate

coarsely chopped
Instructions
1

Place the flour, salt and sugar in a bowl.

2

Place the butter, milk and water in a medium saucepan over medium heat and bring to a boil. Once boiling, immediately add the flour mixture all at once and stir vigorously for 3 minutes, or until the mixture comes away from the side of the pan and starts to form a ball.

3

Transfer the mixture to the bowl of a stand mixer and let it stand for 2 minutes to cool slightly. Start mixing on medium speed and add the eggs one at a time, beat for 3 minutes, or until smooth and glossy.

4

Insert the wire rack into position 6. Meanwhile, continue to the next step.

5

Fitted with a ½-inch piping tube.

6

Spray the pizza pan with the cooking spray. Pipe into 1½-inch rounds, about 1-inch high and about 1-inch apart.

7

Lightly press the tip of each profiterole with a wet finger to flatten the peak. Spray with cooking spray to give them a shine.

8

Once preheated, place the pan in the oven and start Autopilot.

9

The profiteroles should crisp on the outside and dry in the center. If not, give it a bit more. Cool on the tray.

10

Bring the cream and milk to a boil and remove immediately from the heat.

11

Place the chocolate in a heatproof bowl and pour over the hot cream mixture. Stir until melted and smooth. Cover and set aside in a warm place to keep warm or refrigerate and reheat when needed.

12

Use a serrated knife to slice a quarter off the base of each profiterole.

13

Top each base with a scoop of ice cream and then the tops. Dust with powdered sugar. Spoon over the warm chocolate sauce and serve immediately.