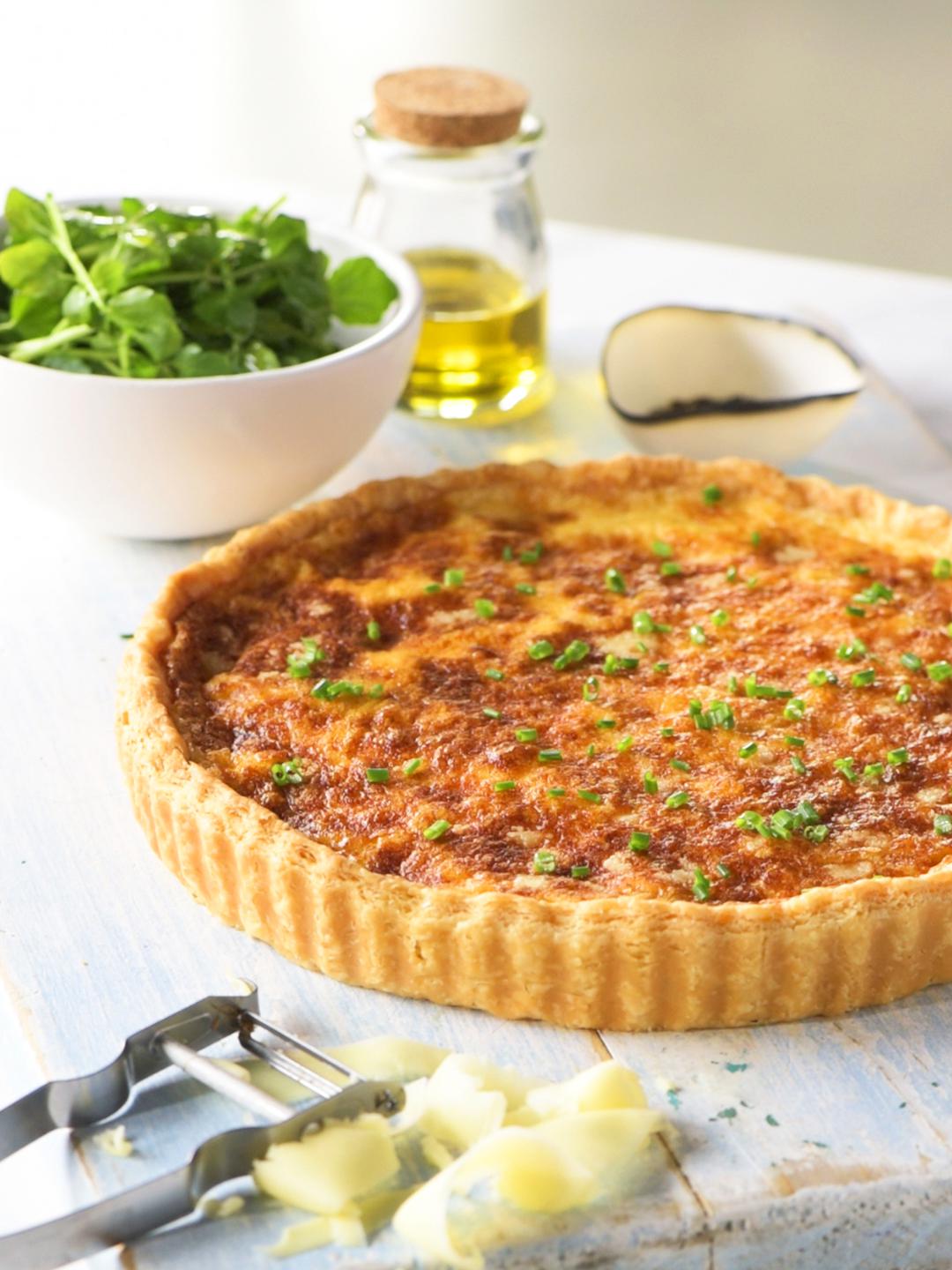 Classic Quiche Lorraine
Sour cream used in the dough produces a beautifully light and flaky crust that just melts in your mouth.
Ingredients
---
For the sour cream dough:
1¾ cups (9 oz) all-purpose flour

7 oz chilled salted butter

chopped
For the filling:
1 yellow onion

finely chopped

2 cups (16 fl oz) heavy cream

Freshly ground black pepper

to season

⅔ cup (2½ oz) finely grated Gruyere cheese
Instructions
1

Pulse the flour, salt and butter until it resembles coarse crumbs.

2

Add the sour cream and pulse until it just comes together. Overworking the dough can cause it to shrink and become tough during cooking. Remove the blade and bring together.

3

Turn onto a sheet of plastic wrap and shape into a disc, wrap and refrigerate for 2 hours. Meanwhile, continue to the next step.

Tip: The dough can be made up to 2 days in advance, or frozen for up to 3 months.

4

Heat the oil in a pan over medium heat. Add the onion and cook stirring, for 3 minutes, or until softened. Add the pancetta and cook, for 3 minutes, or until lightly browned. Transfer to a paper towel lined plate and cool.

5

Whisk the eggs, cream, salt and pepper together.

6

Grease a 9½-inch round (1½-inch deep) tart pan with a removable base.

7

Roll on a lightly floured countertop until large enough to line the pan.

8

Gently ease the dough into the pan without stretching to prevent it from shrinking during cooking. Trim the excess and refrigerate for 30 minutes.

9

Insert the wire rack into position 6. Meanwhile, continue to the next step.

10

Line with parchment paper and fill with pie weights or dried beans. This prepares the dough for blind baking, which prevents air pockets and a soggy crust.

11

Once preheated, place in the oven and start the timer.

12

Adjust the oven temperature. Carefully remove the parchment paper and pie weights and brush the hot crust with the egg yolk. Brushing while hot ensures the egg yolk cooks and seals the crust.

13

Spread the onion and pancetta mixture over the base. Pour in half the custard and sprinkle with half the cheese.

14

Place the quiche on the rack and carefully pour in the remaining custard. Sprinkle with the remaining cheese. Slowly slide the rack into the oven and start the timer.

15

The quiche should be browned. If not, give it a bit more.

16

Cool for 30 minutes. Sprinkle with chives and serve.