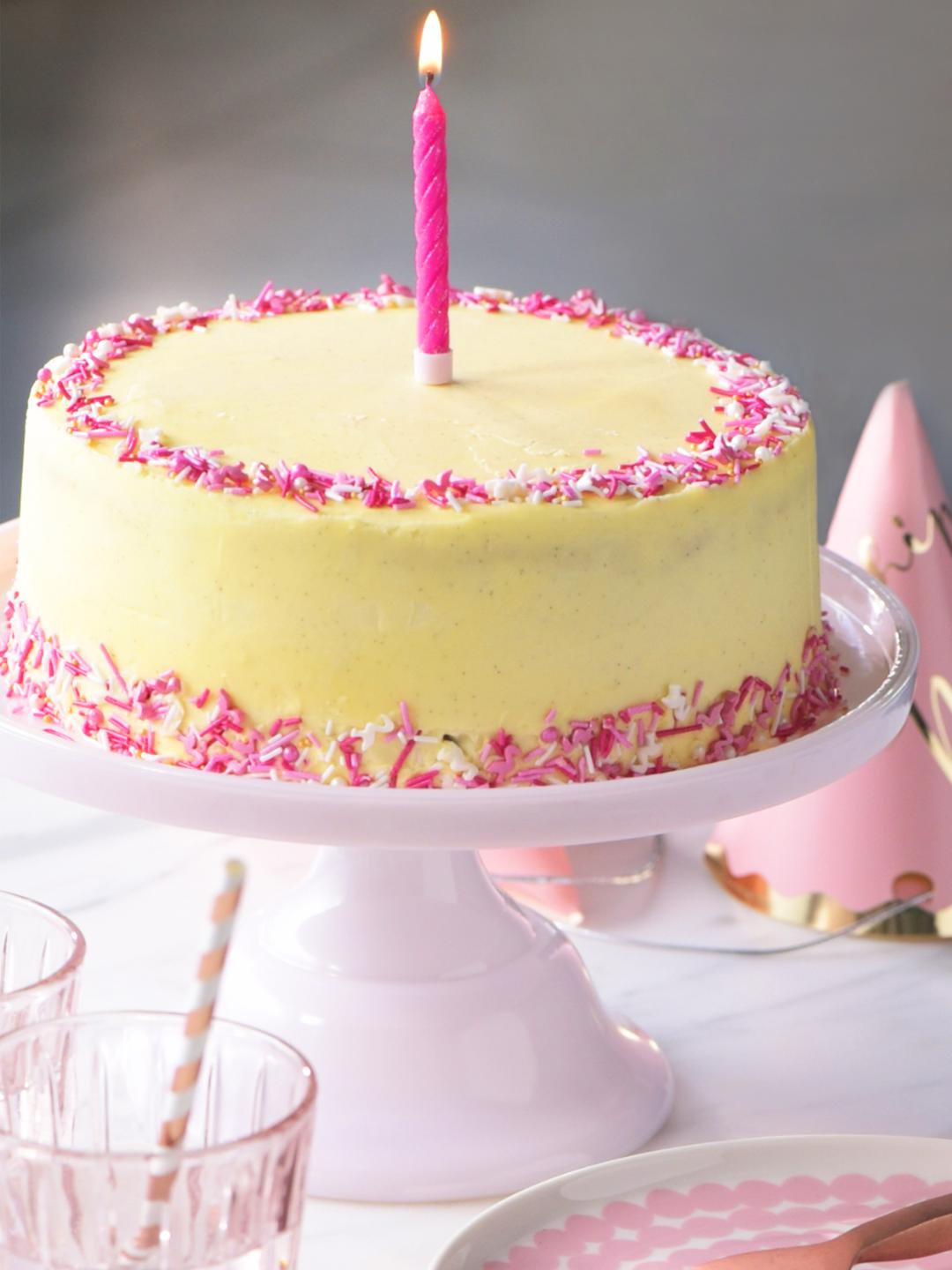 Classic Vanilla Cake
Smothered in vanilla bean frosting, this classic cake is light and moist and perfect for any celebration.
Ingredients
---
2¼ cups (11½ oz) all-purpose flour

8 oz unsalted butter

chopped, at room temperature

1½ cups (10½ oz) superfine sugar

1 tbsp vanilla bean paste

3 large eggs

at room temperature

1½ cups (12 fl oz) milk

at room temperature
Vanilla buttercream frosting:
8 oz unsalted butter

chopped, at room temperature

3½ cups (1 lb) powdered sugar

sifted

3 tbsp heavy cream

at room temperature
Instructions
1

Insert the wire rack into position 6. Meanwhile, continue to the next step.

2

Grease and line the base of two 8-inch round cake pans with parchment paper.

3

To remove lumps and aerate.

4

Beat on medium speed for 3 minutes, until pale and fluffy. Scrape down the bowl, if necessary.

5

One at a time until well combined.

6

Stir in a third of the flour, followed by half the milk. Continue to alternate ending with the flour. Alternating the ingredients prevents the batter from separating.

7

Divide evenly between the pans and level the top.

8

Once preheated, place in the oven and start the timer.

9

Cakes are ready when a skewer inserted into the center comes out clean. If not, give it a bit more.

Tip: Don't insert the skewer into any of the cracks as this will give an inaccurate reading.

10

Stand in the pans for 15 minutes, then turn onto a wire rack, top-side up, to cool completely.

11

Beat the butter on medium-high speed until pale and creamy. Add the vanilla, sugar and salt and beat, slowly pour in the cream and beat until combined.

12

Use a serrated knife to level the tops. Place one cake, top-side up on a cake board or serving plate. Spread with a third of the frosting and sandwich with the remaining cake, top-side down, to create a flat top. Spread the remaining frosting over the top and side. A turntable and cake scraper makes it easier to spread the frosting over the cake.

13

Cake can be served plain or decorated for any occasion.