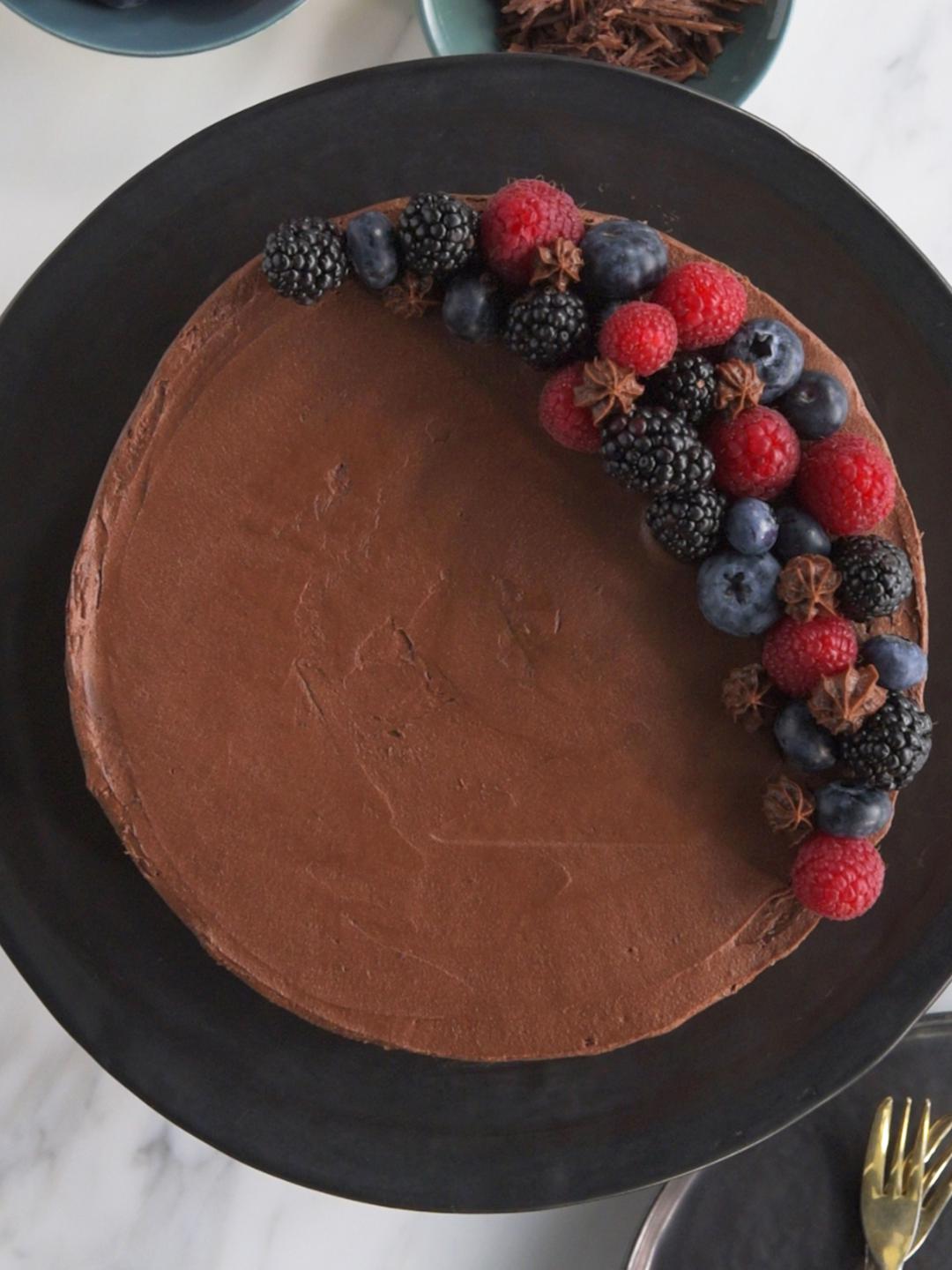 Double Chocolate Cake
Buttermilk gives this cake an incredibly moist and light crumb. Layered with a heavenly chocolate frosting makes this recipe the perfect, decadent, go-to celebration cake.
Ingredients
---
For the cake:
⅔ cup (2½ oz) Dutch-processed cocoa powder

1 cup (8 fl oz) boiling water

1 cup (8 fl oz) buttermilk

at room temperature

½ cup (4 fl oz) grapeseed oil

2 large eggs

at room temperature

2 cups (10½ oz) all-purpose flour

2 cups (14 oz) white sugar
For the frosting:
3¼ cups (1 lb) powdered sugar

½ cup (1¾ oz) Dutch-processed cocoa powder

8 oz unsalted butter

at room temperature

3 tbsp heavy cream

at room temperature
Instructions
1

Whisk the cocoa and boiling water until well combined. Stand for 5 minutes. "Blooming" the cocoa makes it silky smooth and intensifies the chocolate flavor. Meanwhile, continue to the next step.

2

Grease and line the base of two 9-inch round cake pans with parchment paper.

3

Insert the wire racks into positions 8 and 4. Meanwhile, continue to the next step.

4

Add the buttermilk, oil, eggs and vanilla to the cocoa mixture, whisking between each addition.

5

Place the dry ingredients in the bowl of a stand mixer and mix on low speed to combine.

6

Mix until just combined.

7

Divide the batter evenly between the pans.

8

Once preheated, place the pans in the oven, one on each rack and start the timer. When the Rotate Remind signals, swap the pans and continue cooking.

9

The cakes are ready when a skewer inserted into the center comes out clean. If not, give it a bit more.

Tip: Don't insert the skewer into any of the cracks as this will give an inaccurate reading.

10

Stand in the pans for 10 minutes, then turn onto wire racks to cool completely.

11

Sift the powdered sugar and cocoa together.

12

Beat on medium-high speed until pale and creamy. Add the sugar mixture and salt and beat until combined. Slowly pour in the cream and beat until combined. Reserve a 1/3 cup of the frosting.

Tip: Add a little more cream if the frosting is too thick.

13

Use a serrated knife to level the tops.

14

Place one cake, top-side up on a cake board or serving plate. Spread with a third of the frosting and sandwich with the remaining cake, top-side down, to create a flat top. Spread the remaining frosting over the top and side. A turntable and cake scraper makes it easier to spread.

15

Can be served plain or decorated. To decorate, place the reserved frosting in a piping bag fitted with a small start tube. Arrange the berries on the cake and pipe small rosettes between the berries.

Tip: Un-iced cakes can be made a day ahead and stored in an airtight container or frozen for up to 3 months.