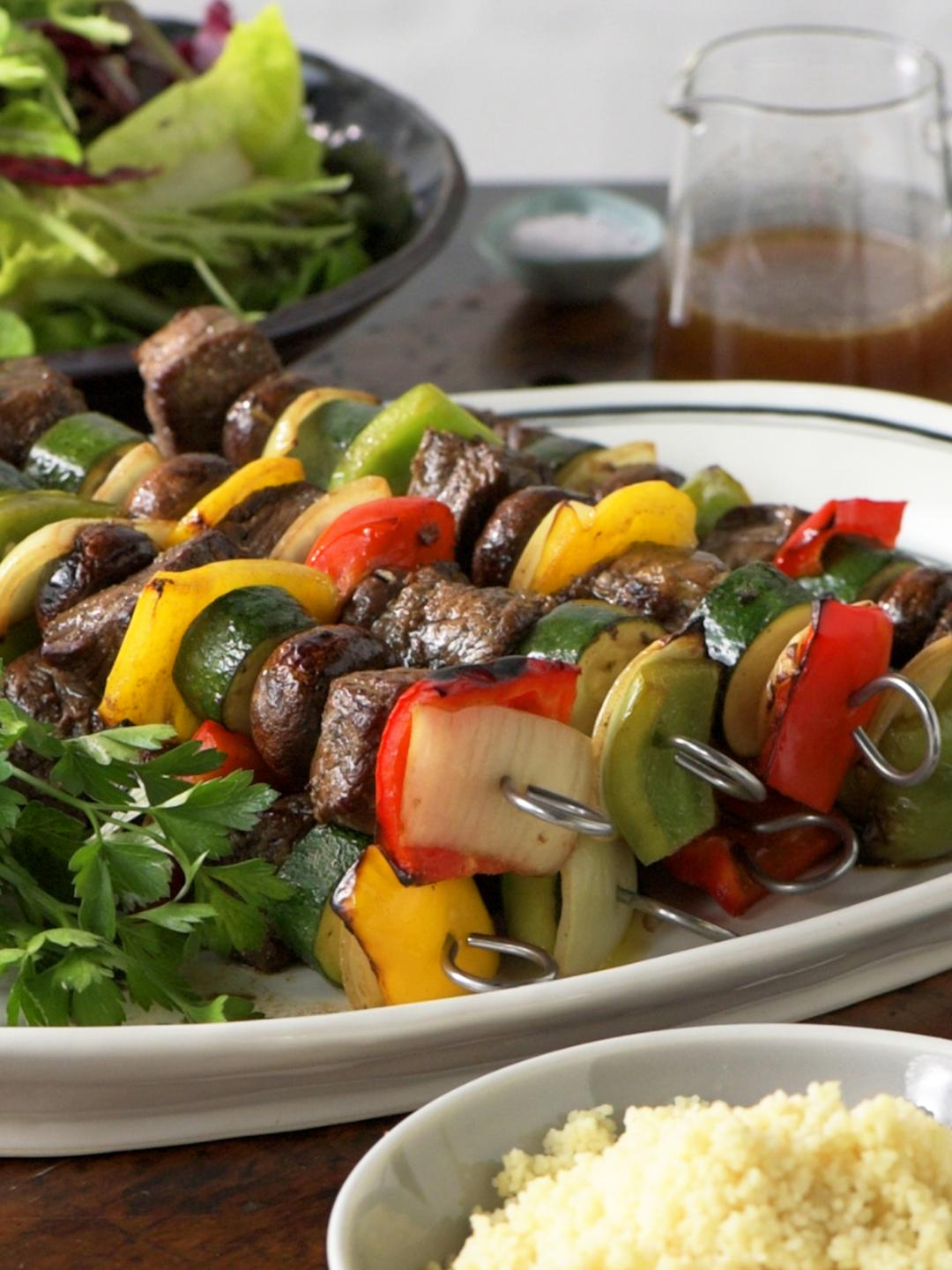 Grilled Beef and Pepper Kebabs
These marinated kababs get their deliciousness from the richly flavored marinade. It's the perfect balance of sweet, sour and saltiness. They can be marinated for a quick 10 minutes if you're in a hurry, or overnight for a deeper, richer flavor.
Ingredients
---
1 medium green bell pepper

1 medium yellow bell pepper

1 large yellow onion

peeled

8 oz brown cremini mushrooms
For the marinade:
⅓ cup (2¾ fl oz) balsamic vinegar

⅓ cup (2¾ fl oz) soy sauce

¼ tsp ground black pepper
Instructions
1

If using wooden skewers, soak them in water for 10 minutes to prevent them from burning. Meanwhile, make the marinade.

2

Place all the marinade ingredients listed below in a large bowl and whisk to combine.

3

Cut the beef into 1½-inch pieces, trim off any fat and add to the marinade.

4

Cut the zucchini into ½-inch slices. Cut the peppers and onion into 1½-inch pieces. Remove the small center core from the onion. Trim the base off the mushrooms. Add the vegetables to the marinade.

5

Toss to coat and stand for 10 minutes to soak up the flavor and help tenderize the meat.

Tip: Can be marinated in the refrigerator overnight.

6

Thread the beef and vegetables onto the skewers.

7

For easy cleaning and to avoid burning, line the roasting pan with foil and place the broiling rack on top. Place the skewers on the rack.

8

Insert the wire rack into position 3. Place the pan in the oven and start the timer. When the oven signals, turn the kebabs over and broil the other side.

9

The beef and vegetables should be lightly charred and tender. If not, give it a bit more.

10

Drizzle with the pan juices and serve with couscous and salad.