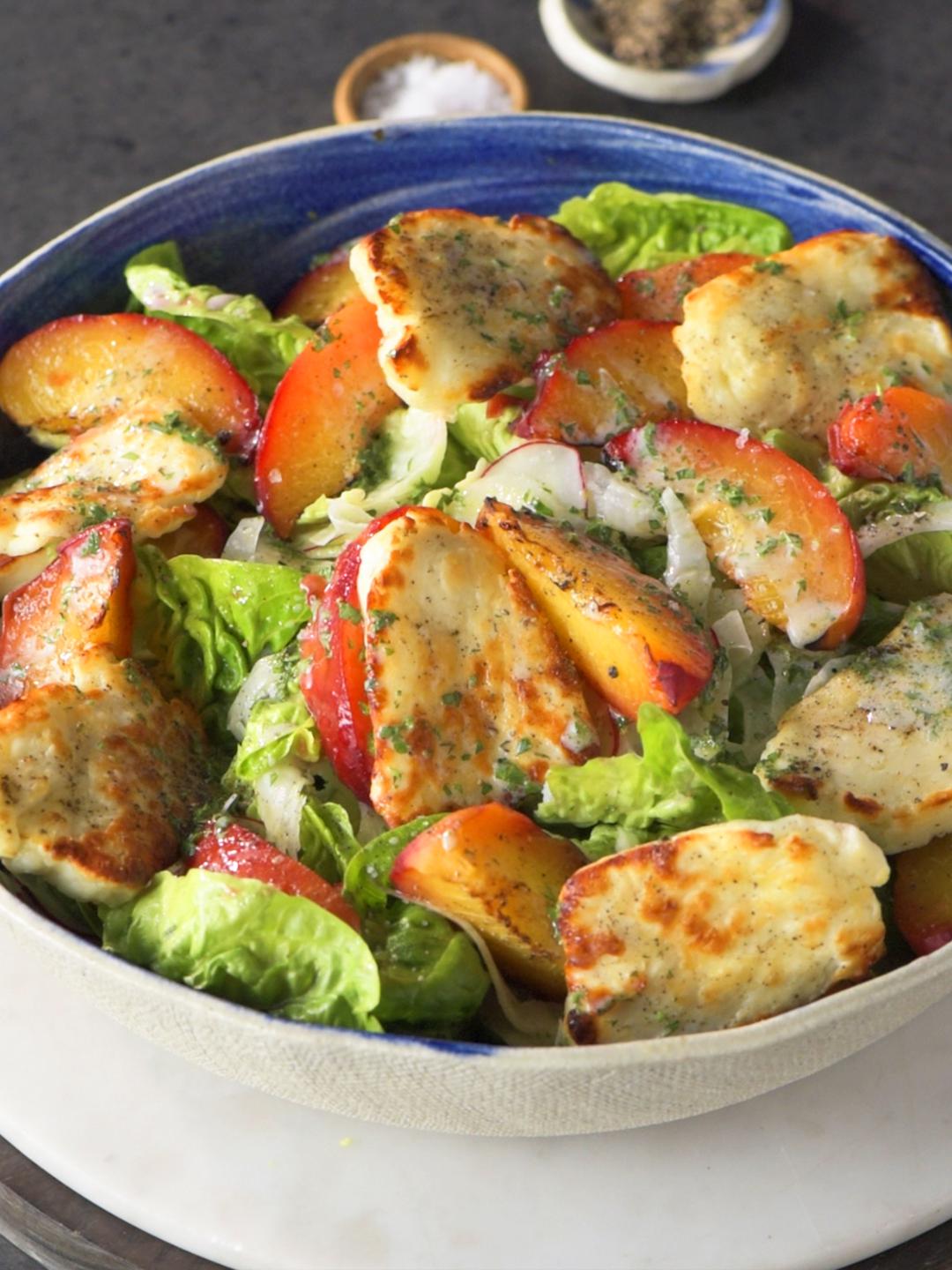 Grilled Peach and Halloumi Salad with Buttermilk Vinaigrette
Fresh, light and deliciously simple, broiled peaches and halloumi are the stars of this salad with wafer thin slices of fennel and red radish. It's great for a vegetarian meal or light lunch.
Ingredients
---
For the buttermilk vinaigrette:
1 tbsp white wine vinegar

2 tbsp extra-virgin olive oil

2 tbsp finely chopped tarragon
For the salad:
2 heads little gem lettuce

2 tbsp extra-virgin olive oil

divided

Freshly ground black pepper

to season

8 oz halloumi

cut into ¼-inch slices

Cracked black pepper

to serve
Instructions
1

Whisk all the vinaigrette ingredients together and set aside.

2

Cut the base and separate the leaves. Wash and drain.

3

Using a mandoline, very thinly slice the fennel and radish and place in a large bowl. Add the lettuce to the bowl.

4

Cut in half, remove the seeds and cut each half into 4 even pieces.

5

For easy cleaning and to avoid burning, line the roasting pan with foil and place the broiling rack on top. Place the peaches, skin side down, on the rack. Brush with 1 tablespoon of the oil and sprinkle with freshly ground pepper.

6

Insert the wire rack into position 2. Place in the oven and start the timer.

7

The peaches should be lightly charred and starting to soften. If not, give it a bit more.

8

Transfer the peaches to a plate. Pour any pan juices into the vinaigrette.

9

Brush with the remaining tablespoon oil and season with freshly ground pepper.

10

Place in the oven and start the timer.

11

The halloumi should be golden brown. If not, give it a bit more.

12

Dress the salad with half the vinaigrette. Top with the peaches and halloumi and drizzle with the remaining vinaigrette. Sprinkle with sea salt and cracked pepper and serve.