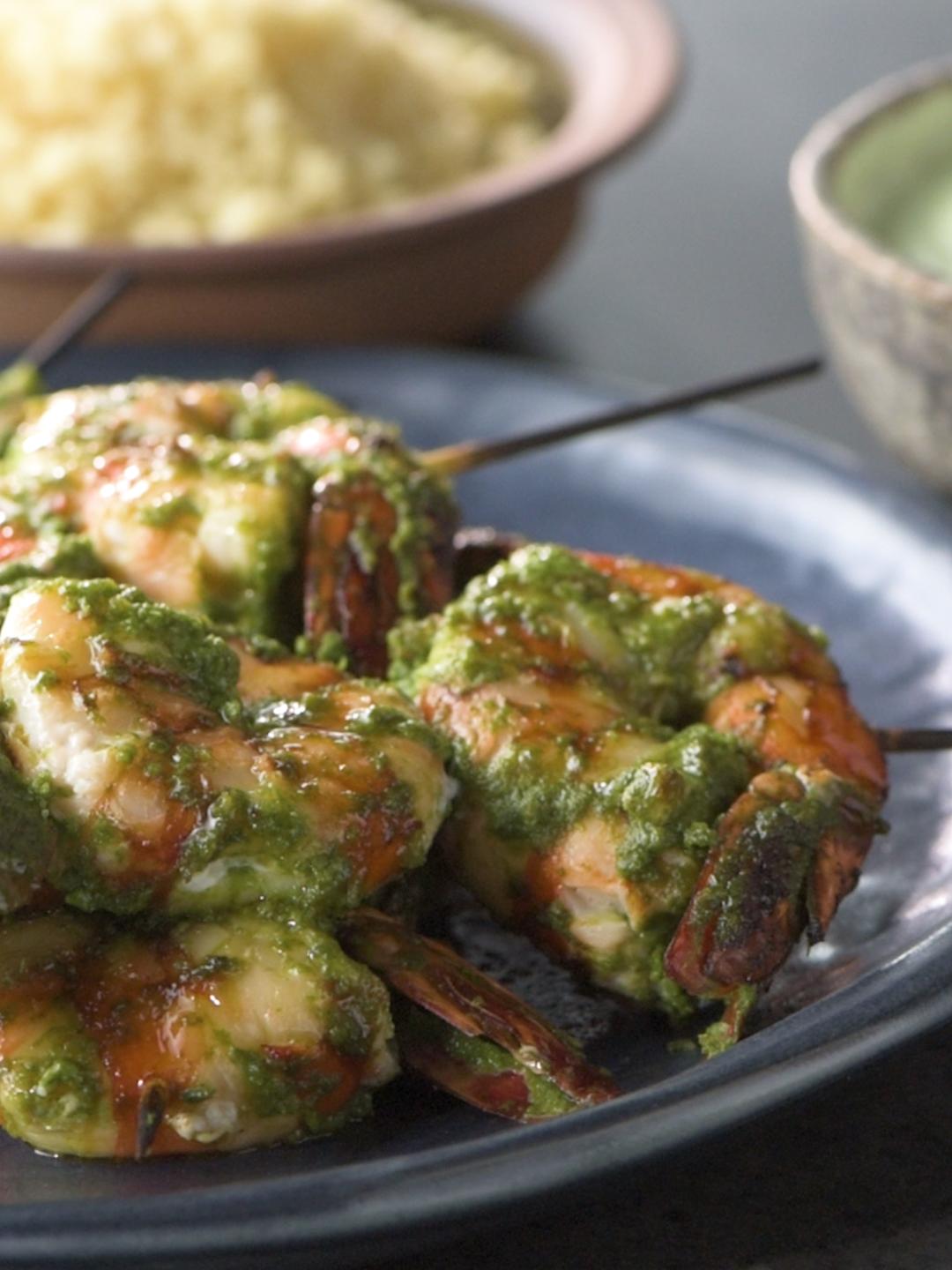 Grilled Shatta Shrimp Skewers
Shatta is a deliciously hot and spicy Middle Eastern sauce full of jalapenos and fresh herbs. It's been used as a marinade here, but it's also great served as a dip or condiment.
Ingredients
---
3 (1½ oz) serrano chilies

deseeded, coarsely chopped

2 (1 oz) jalapeño peppers

deseeded, coarsely chopped

⅓ cup (½ oz) flat-leaf parsley leaves

⅓ cup (½ oz) cilantro leaves

1 large clove garlic

peeled

½ tsp freshly ground black pepper

1 lb U15 raw peeled shrimp

deveined, tails attached
Instructions
1

Blend all the marinade ingredients listed below into a smooth paste, scraping down the side of the blender when necessary.

2

Reserve 1 tablespoon of the marinade for the yogurt sauce. Place the shrimp in a resealable bag, pour over the marinade, seal and massage the bag to evenly coat the shrimp. Refrigerate for 2 hours to overnight.

3

Whisk the yogurt and reserved marinade together. Cover and refrigerate.

4

To prevent the skewers from burning, soak in water for 15 minutes prior to using.

5

Evenly divide the shrimp onto each skewer.

6

For easy cleaning and to avoid burning, line the roasting pan with foil and place the broiling rack on top. Place the skewers on the rack, evenly spaced apart.

7

Insert the wire rack into position 2. Place the pan in the oven and start the timer.

8

The shrimp should have changed color and be cooked through. If not, give it a bit more.

9

Serve the skewers with the yogurt sauce.