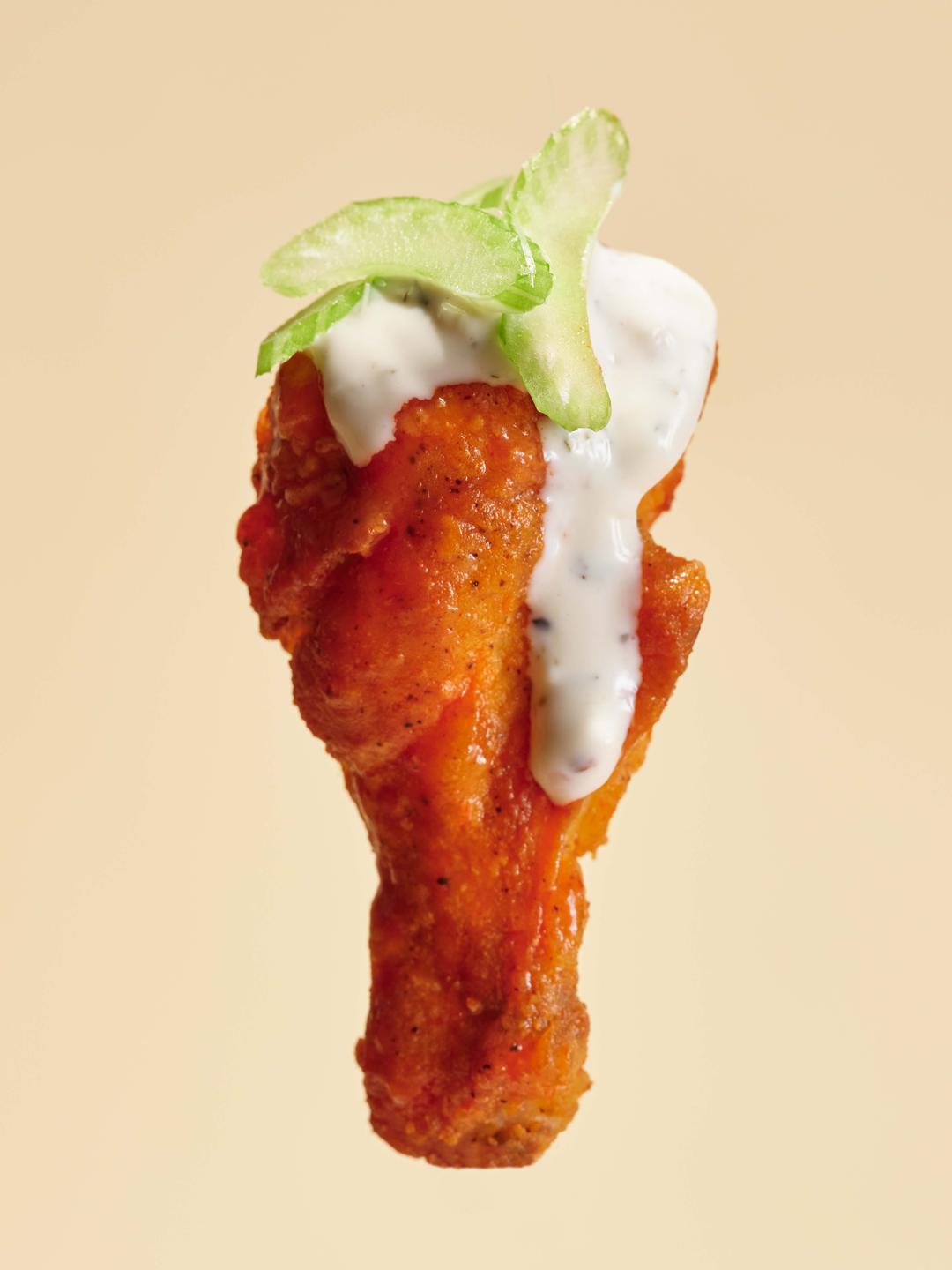 Leveled-Up Air-Fried Chicken Wings
Crispy, juicy, falling off the bone, tossed or dipped in your favorite sauce, wings are a delight, and these air-fried wings are the best you'll find. The secret to maximizing crispy texture? Dredge the wings in flour and baking powder, and precook them in the oven. This step cooks the meat more efficiently than a long time in the air fryer would, and hydrates the starches in the coating, so the air frying can do its best work, giving the wings a nice, crispy skin.
Ingredients
---
3 tbsp (¾ oz) all-purpose flour

½ tsp ground black pepper

2 tsp (½ oz) baking powder

2 lb chicken wing drummettes and flats
Instructions
1

Whisk together the dry ingredients until well combined and evenly dispersed.

2

Put the wings in a large bowl. Sprinkle the dry ingredients over them and toss to coat, making sure to cover all those nooks and crannies. Let sit for a few minutes, then toss again. At this point, the wings should be completely coated, with no dry mixture remaining.

3

Using the roasting pan and broiling rack, lay the wings out evenly. Cover with parchment paper and foil.

Tip: Using the broiling rack will let air flow around the wings, allowing the coating to hydrate evenly.

4

Insert the wire rack into position 6 and start the preheat.

5

Once preheated, put the pan in the oven and start the timer.

6

Carefully unwrap the pan (use caution, as steam may escape). Transfer the wings to the air fry basket, leaving a bit of space between each piece for air circulation and even cooking. Flip the oven rack into position 7 and place the roasting pan on the rack, so it sits beneath the basket, to catch any drips that could make a mess or cause the oven to smoke. Place the basket in rack position 3 and start the timer.

Tip: Placing the dry side of the wings down on the basket will keep the wings from sticking to the basket. Smooth skin side up, the wings will get to their crispiest and most golden brown.

7

The wings should be golden. If they're a little pale, use the a bit more button to give them more time.

8

Enjoy these wings plain (yep, they're that good), or go all-in with your favorite sauce. Level them up with a sprinkle of chopped fresh herbs or sesame seeds.