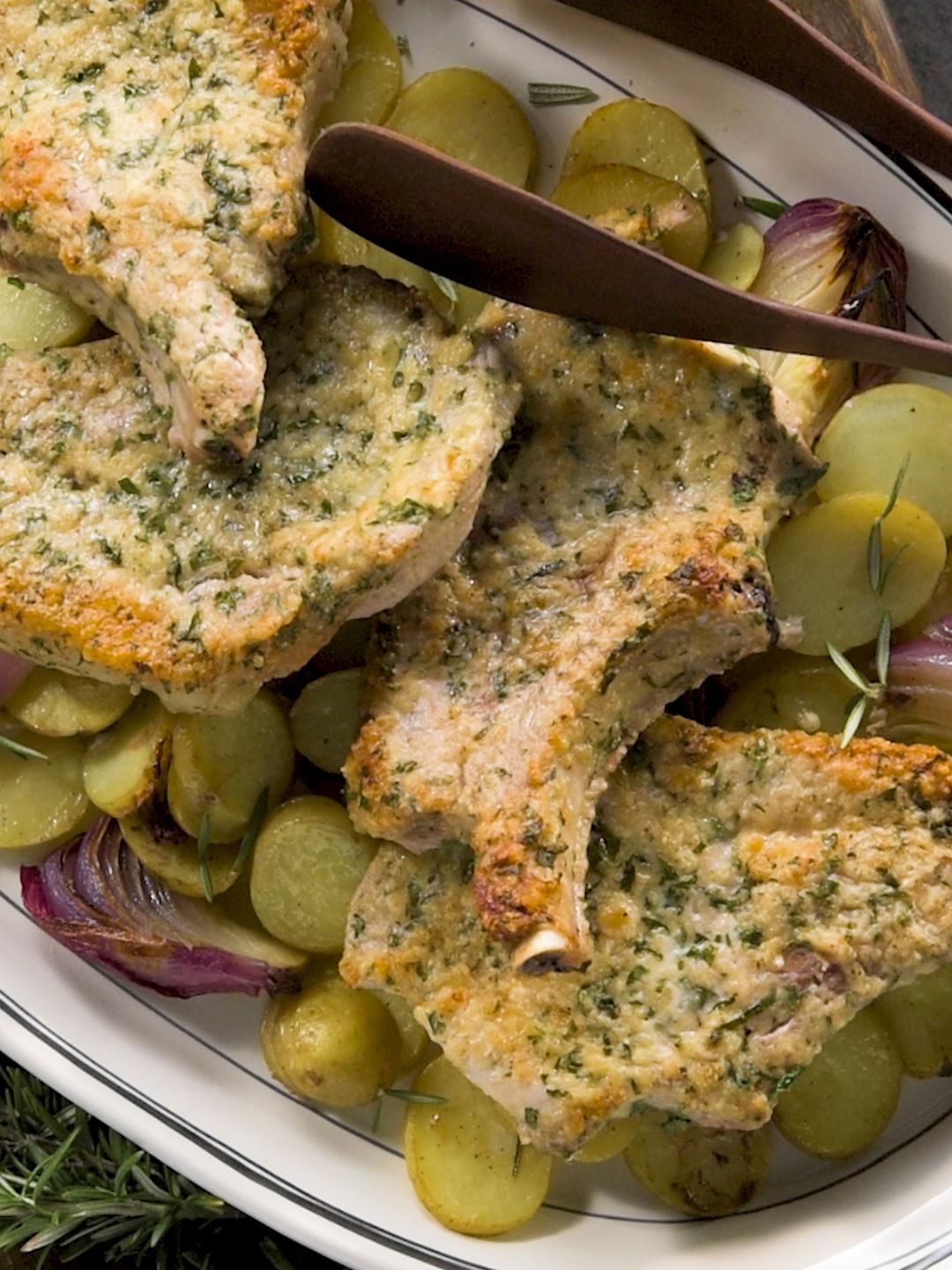 Parmesan Crusted Pork Chops with Rosemary Baby Potatoes
This sheet pan inspired meal has the pork chops breaded in parmesan instead of breadcrumbs making it an ideal gluten-free dinner. Not only are the pork chops beautifully moist and tender the potatoes are full of flavor from the cooking juices.
Ingredients
---
2 long rosemary sprigs

6-inch, leaves picked

1½ tsp cracked black pepper

divided

3½ oz parmesan cheese

finely grated

¼ cup (¼ oz) flat-leaf parsley leaves

coarsely chopped

4 x 10½ oz pork loin chops bone in
Instructions
1

Cut the potatoes into 1/8-inch thick slices and place in a bowl. Cut the onions into wedges with the root attached so they hold their shape and add to the bowl.

2

Add the rosemary, oil, salt and pepper and toss to coat. Place them in the roasting pan.

3

Combine the parmesan, remaining pepper and parsley in a shallow dish.

4

Place the egg in a shallow dish and whisk.

5

Working with one piece at a time, dip one side into the egg, allowing the excess to drain and place the same side into the parmesan mixture pressing onto the sides. Place coated side up on a tray, sprinkle with some of the remaining parmesan mixture and gently press. Refrigerate until required.

6

Insert the wire rack into position 4.

7

Once preheated, place the pan in the oven and start the timer. After cooking, stir and spread out in the pan.

8

Place the pork, crumb side up, on top of the potatoes and onions and start Autopilot.

9

The pork is ready when a meat thermometer inserted into the thickest part reads 165°F. If not, give it a bit more.

10

Remove the pork from the pan to rest for 10 minutes. Return the potatoes to the oven and start the timer.

11

The potatoes should be crisp. If not, give it a bit more.

12

Squeeze over the lemon and serve.