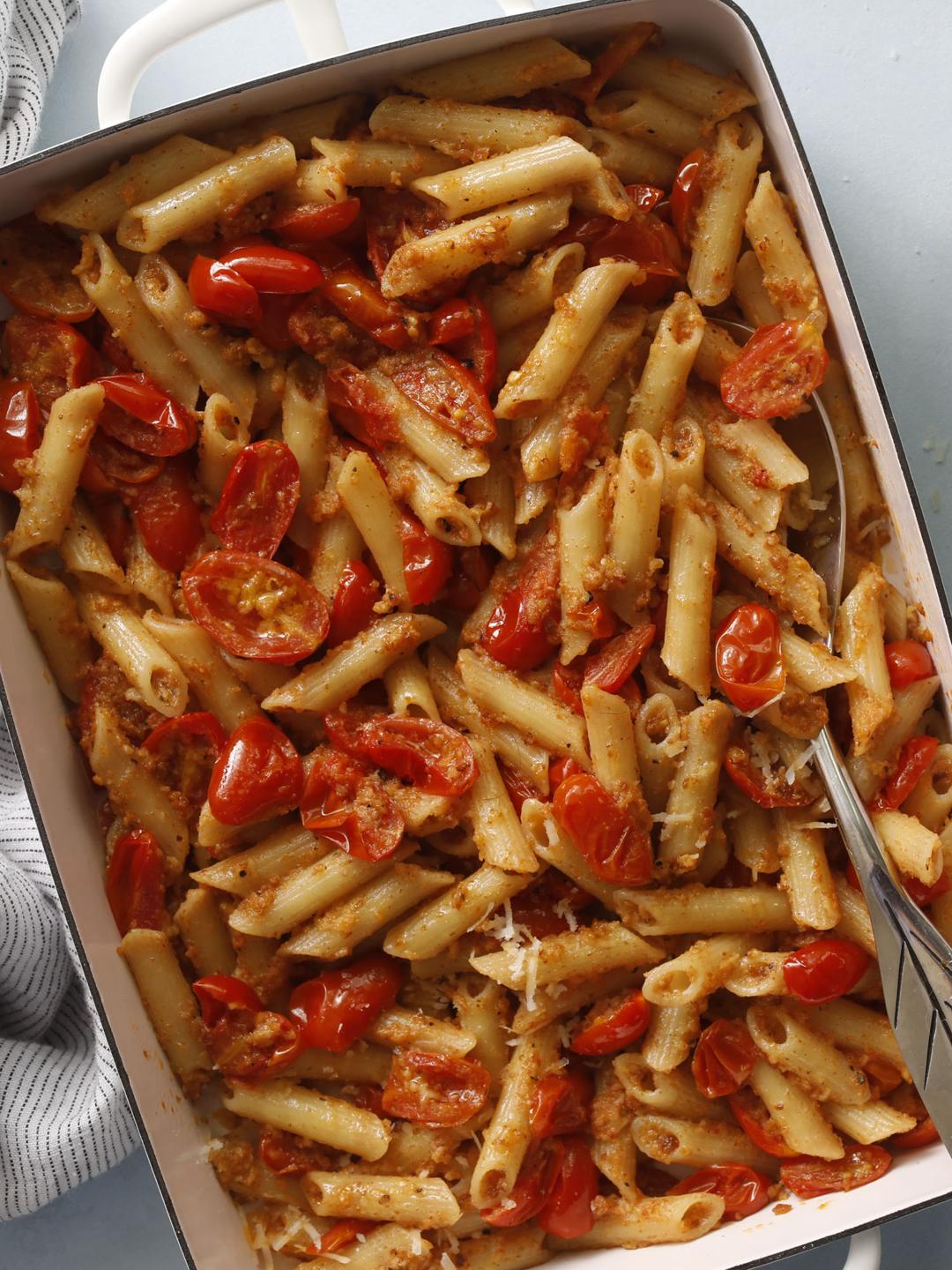 Penne with Roasted Cherry Tomatoes
This exquisitely simple recipe came to The Times in a 2001 article about Paola di Mauro, an Italian winemaker in Marina, a small town southeast of Rome. She was one of a band of cooks who helped distinguish "cucina casalinga," roughly translated as "housewives' cooking." From her humble kitchen, Ms. di Mauro mentored some of the best Italian chefs and restaurateurs in the United States, including Mario Batali, Lidia Bastianich, Piero Selvaggio and Tony May. Her recipe is easy and calls for just five ingredients — cherry tomatoes, olive oil, pecorino romano, bread crumbs and penne pasta — but get your hands on the best ingredients you can afford. Ms. di Mauro intended this to serve four as a first course, but if you're making this for dinner, double the recipe.
Ingredients
---
1 lb cherry tomatoes

halved

⅓ cup extra-virgin olive oil

plus 2 to 3 tablespoons for tossing

Freshly ground black pepper

¼ cup freshly grated pecorino romano

and more for serving
Instructions
1

Insert the wire rack into position 7 and set oven to 425°F Bake. While the oven heats, continue to the next step.

2

Line bottom of casserole dish with cherry tomatoes in a single layer, halved side up. Pour oil on top, season with salt and pepper. Sprinkle cheese and breadcrumbs on top.

3

Once the oven is preheated, place the pan in the oven and start the timer. Bake until tomatoes have wilted, about 15 minutes.

4

While the tomatoes bake, bring a large pot of water to a boil. Season with enough sea salt so that water tastes mildly of salt.

5

Are the tomatoes wilted? If not, give them a bit more time.

6

When tomatoes are just about done, add penne to water and cook until al dente (it should be pliable, but still firm in center). Scoop out about a cup of pasta water and reserve. Drain pasta and add to casserole.

7

Fold tomatoes and pasta together, adding another 2 to 3 tablespoons olive oil, to coat. Taste and adjust seasoning. If it is dry, add a little reserved pasta water.

8

Serve, passing more grated cheese at the table.