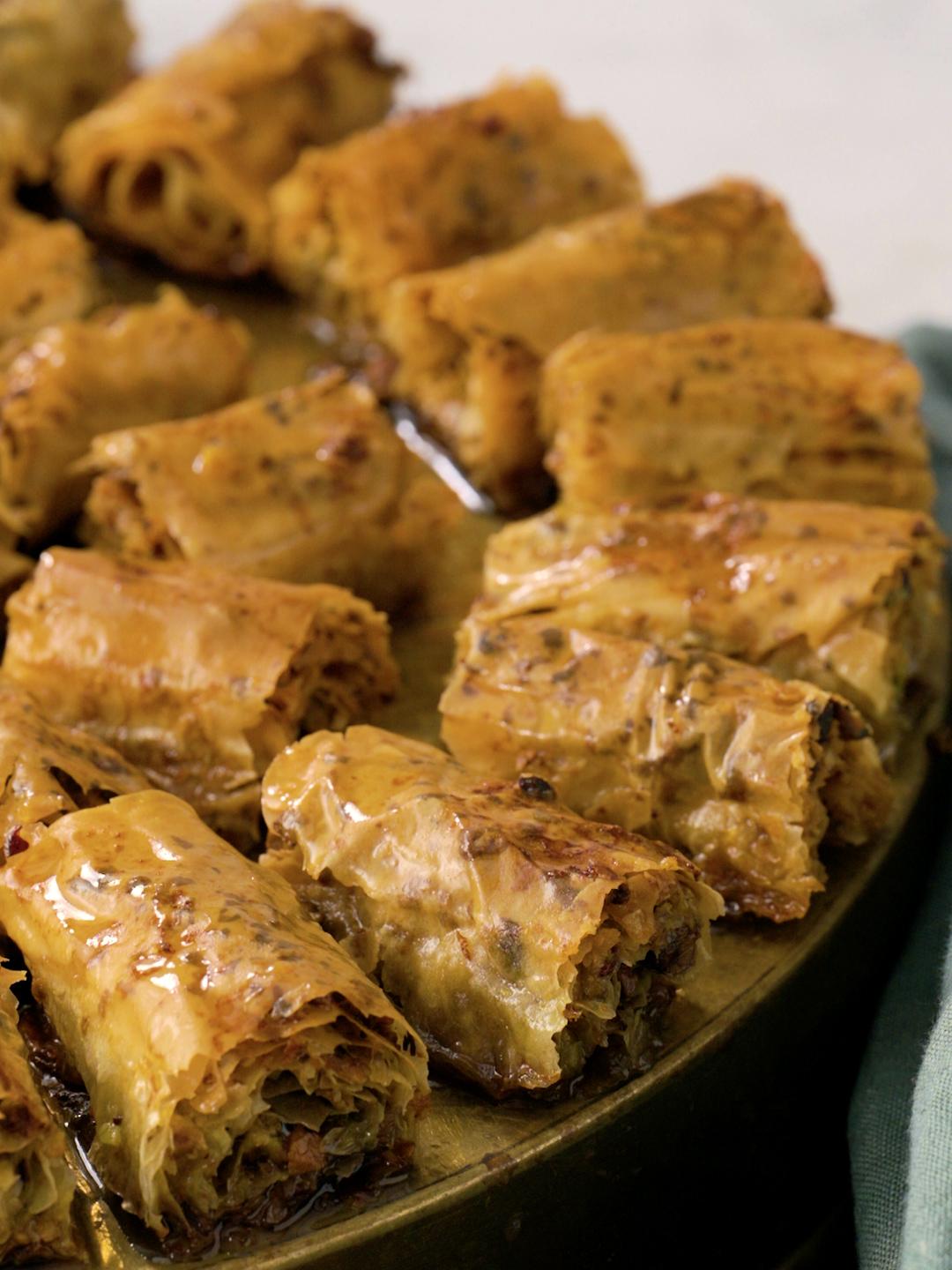 Pistachio and Orange Baklava Rolls
A simple combination of pastry, nuts and syrup come together to create this layered, crisp, decadent traditional sweet. Fresh orange gives it a citrus kick, though make it your own by using your favorite combo of nuts and spices. Serve it with a rich espresso or a fragrant herbal tea.
Ingredients
---
For the baklava:
1½ cups (7 oz) shelled pistachios

1½ tbsp finely grated orange zest

8 oz unsalted butter

melted
For the syrup:
1¼ cups (8¾ oz) granulated sugar

¼ cup (2 fl oz) fresh orange juice
Instructions
1

Place the pistachios, ginger, orange zest and salt in a food processor and pulse to form coarse crumbs.

2

Insert the wire rack into position 6. Meanwhile, continue to the next step.

3

Place the pastry flat on the countertop and cover with a damp towel to prevent it from drying out.

Tip: Make sure to squeeze out as much water as possible from the towel.

4

Working with one sheet at a time, arrange the pastry vertically on the countertop, with the short side facing you. Brush with some of the butter and sprinkle evenly with 3 heaped tablespoons of the pistachio mixture.

5

Place 2 skewers, end to end, horizontally halfway on the pastry, with the ends sticking out. Fold the pastry in half over the skewers. Roll up the pastry from the fold, using the skewers as a guide. Remove the skewers. Repeat with the remaining pastry.

6

Brush the roasting pan with some of the butter. Place the rolls in the pan, brush with butter and pour any remaining over the rolls.

7

Once preheated, place the pan in the oven and start the timer. Meanwhile, make the syrup.

8

Place the sugar, water and orange juice in a saucepan over medium heat and stir until the sugar dissolves. Remove the pan from the heat and set aside to cool.

9

The pastry should be brown and crisp. If not, give it a bit more.

10

Cut each roll into 6 pieces and return to the pan. Pour the syrup over the baklava and allow to cool and absorb the syrup.

11

Serve drizzled with any syrup from the pan.