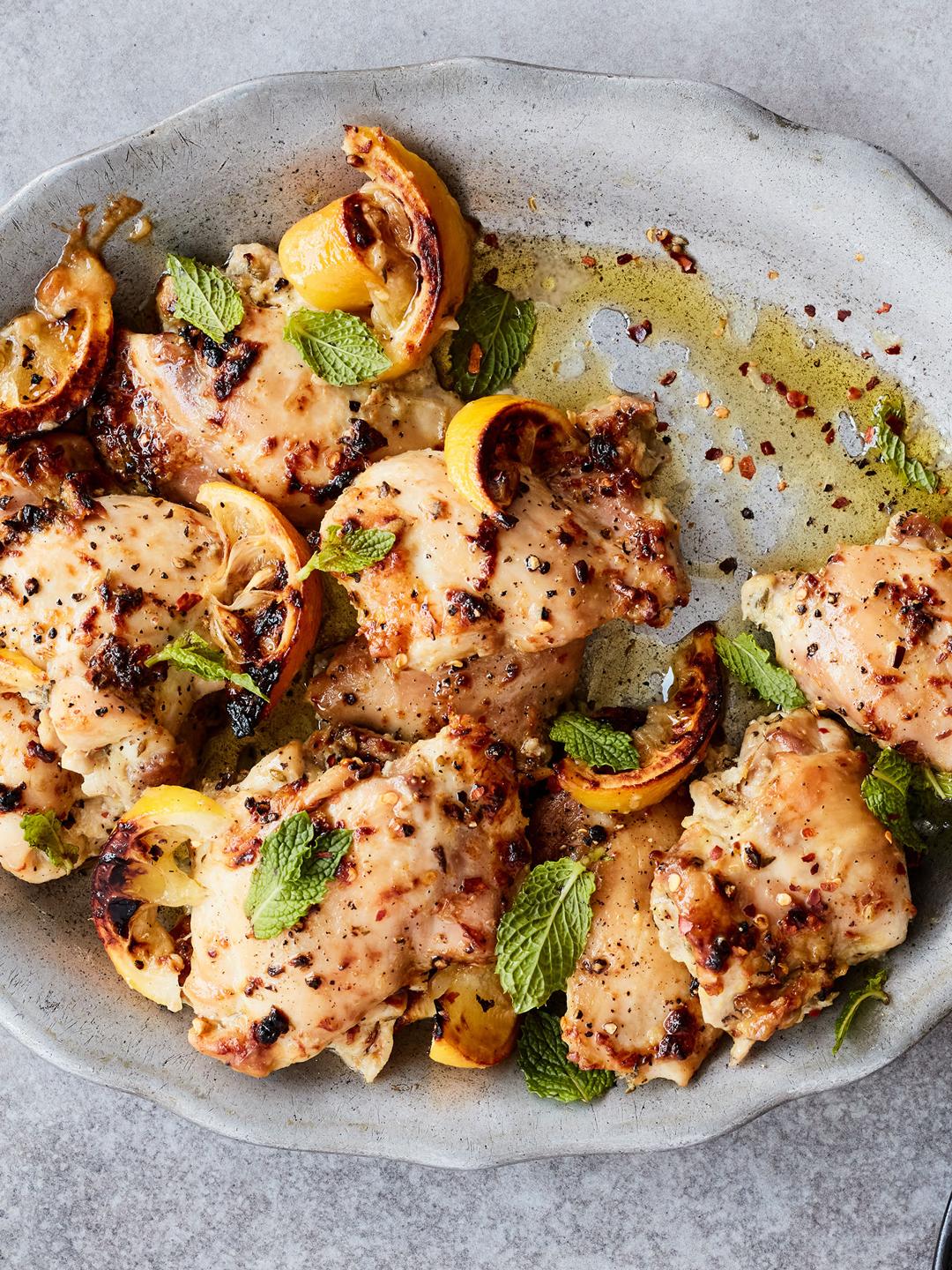 Roasted Chicken Thighs with Garlicky Cucumber Yogurt
In this simple, homey weeknight dinner, boneless chicken thighs are tossed with garlic, herbs and red-pepper flakes, then roasted along with lemon wedges in the pan. As the lemons brown, their acids mellow, becoming softer and sweeter. When squeezed over the chicken for serving, they offer a rounded tang that's complemented by dollops of cucumber-flecked yogurt and chopped fresh mint. The combination of cucumbers and yogurt is a classic across many cultures, from Indian raita to Persian mast-o khiar to Greek tzatziki and beyond. For this recipe, be sure to use thick Greek-style or other strained yogurt (such as labneh) or substitute sour cream. Thinner yogurt will make the sauce runny. Serve this over rice or with flatbread to catch the juices and the cucumber yogurt. CHEF TIP: If you are starting with seeded cucumbers, halve them lengthwise, then use a spoon to scrape out the seeds before grating.
Ingredients
---
2½ lb boneless and skinless chicken thighs

Freshly ground black pepper

4 cloves garlic

finely grated, minced, or passed through a press

1 tbsp finely chopped fresh thyme

or oregano leaves, or 1 tsp dried thyme or oregano

Large pinch of red-pepper flakes

plus more for serving

3 tbsp extra-virgin olive oil

plus more as needed

1 lemon

cut lengthwise into thin wedges

½ cup plain Greek yogurt

or other strained, thick yogurt (or substitute labneh or sour cream)

½ cup grated seedless cucumber

such as Persian or hothouse cucumbers

2 tbsp chopped fresh mint

(or use parsley or cilantro), for serving
Instructions
1

Insert wire rack to position 6 and set the oven to 425°F Roast. While the oven heats, continue to the next step.

2

Season chicken generously with salt and pepper. In a large bowl, combine 3 of the grated garlic cloves, thyme or oregano, red-pepper flakes and olive oil. Add the chicken and lemon wedges and toss until well coated. (If you want to work ahead, you can refrigerate the chicken for up to 12 hours before roasting.)

3

Arrange the chicken and lemons on a sheet pan in a single layer. Drizzle with a little more oil.

4

Place the sheet pan in the preheated oven and start Autopilot.

5

As the chicken roasts, stir together yogurt, grated cucumber and remaining minced garlic clove in a small bowl. Season to taste with salt and pepper. Cover and keep in refrigerator until ready to serve.

6

Roast until chicken is lightly charred in places and cooked through. An instant-read thermometer inserted into the thickest part of the thigh should register 165 ˚F (74 ˚C). If not, give it a bit more time.

7

Squeeze roasted lemon wedges all over chicken, and sprinkle with mint and more red-pepper flakes, if you like. Serve chicken accompanied by cucumber-yogurt sauce and a drizzle of olive oil over everything.