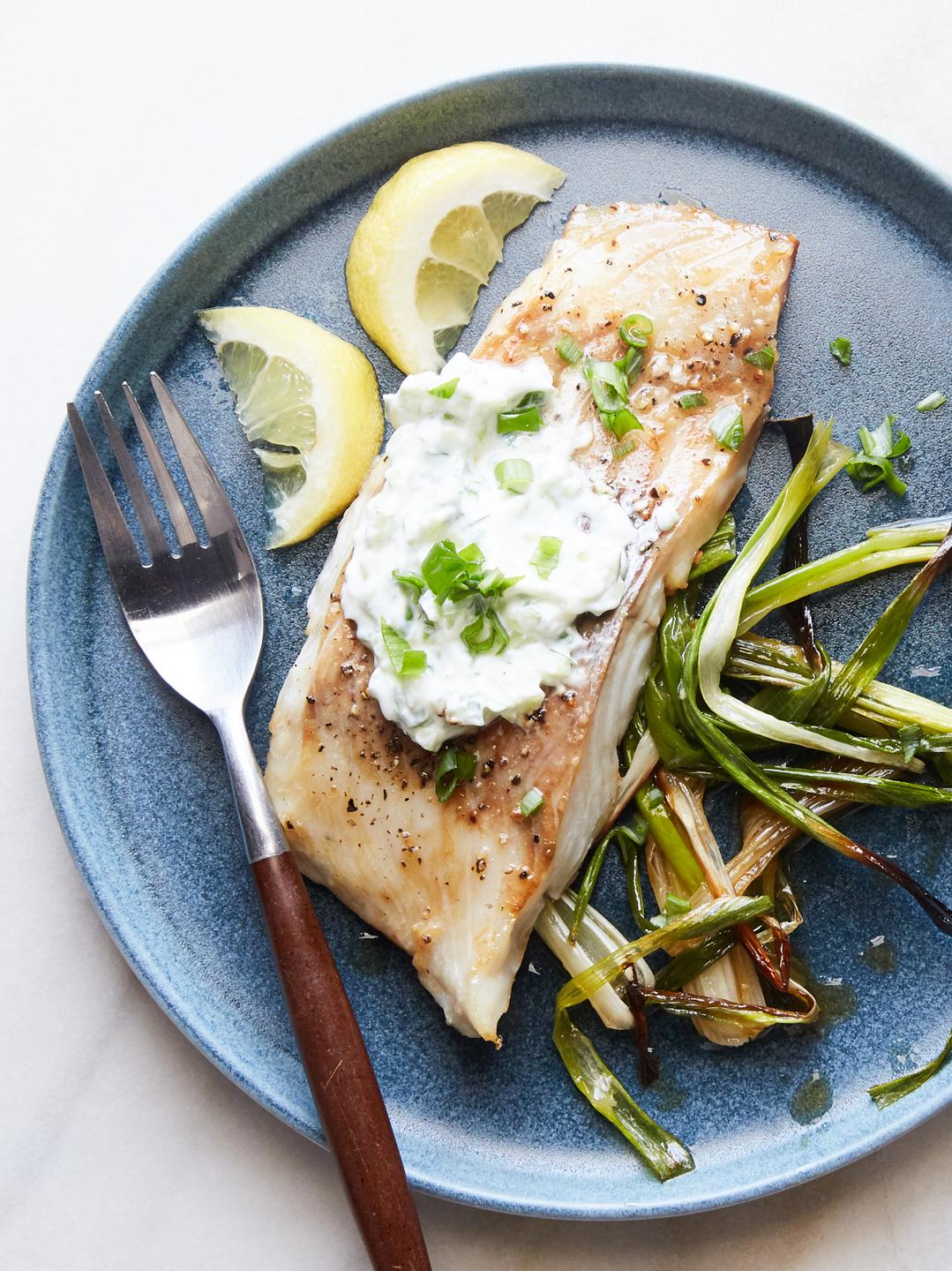 Sheet-Pan Cod and Scallions with Cucumber Yogurt
You can use any mild, flaky fish for this quick, weeknight-friendly recipe. The scallions add sweetness and crunch to the delicate fish, flavored with soy sauce and fish sauce for an extra salty depth. Then it's all dolloped with a tart, creamy yogurt sauce that's both pungent from the garlic and cool and crisp from the chopped cucumber. Serve this dish with more sliced cucumber on the side and some pita bread or a baguette to soak up any remaining sauce. You won't want to waste even a drop.
Ingredients
---
1 bunch scallions

green and white parts separated

3 tbsp extra-virgin olive oil

plus more for drizzling

Freshly ground black pepper

4 (6- to 8-oz) boneless, skinless cod fillet

⅔ cup finely chopped Persian or English (hothouse) cucumber

1 tbsp minced fresh dill or mint

2 tsp fresh lemon juice

plus more for serving

1 clove garlic

finely grated or mashed to a paste

Red-pepper flakes

preferably Urfa or Espelette

Flaky sea salt

for serving (optional)
Instructions
1

Insert wire rack to position 5 and set oven to 450°F Roast. While the oven heats, continue to the next step.

2

Mince enough of the scallion greens to equal 2 tablespoons and reserve. Halve remaining scallion whites and greens lengthwise to make ribbons. Place scallion ribbons in a bowl and toss with 1 tablespoon oil and a pinch of salt; set aside.

3

Season cod with salt and pepper, and place on a rimmed sheet pan. Drizzle cod with a little oil, soy sauce and fish sauce.

4

Once the oven is preheated, transfer sheet pan to the oven and press Start. When the rotate remind signals, add scallion ribbons to the sheet pan, spreading them out in one layer around the fish. Continue to roast.

5

Roast until the fish is opaque in the center and golden at the edges, and scallions are browned in spots. If not, give it a bit more time.

6

While fish roasts, make the sauce: In a small bowl, mix together remaining 2 tablespoons olive oil with 1 tablespoon minced scallion greens, the yogurt, cucumber, dill, lemon juice, garlic and salt and pepper to taste.

7

To serve, arrange cod and scallions on serving plates and squeeze lemon over the top. Dollop yogurt sauce over cod and garnish with remaining scallion greens, red-pepper flakes, more black pepper, and sea salt, if you like.