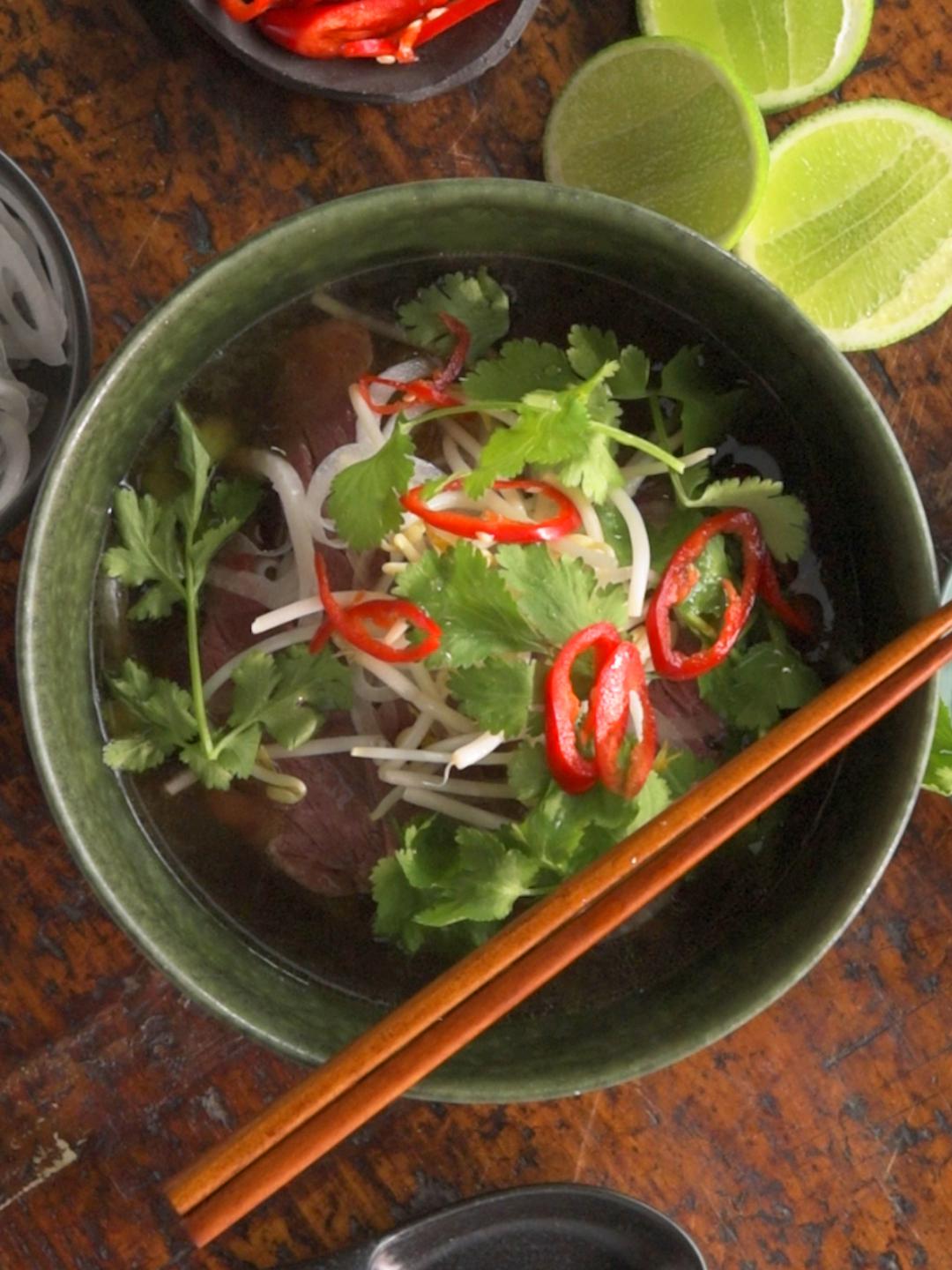 Slow Cooked Beef Pho
This quintessential pho starts with a beautifully cooked broth, cooked low and slow for an incredibly rich and aromatic base. The hot broth is ladled over the thinly sliced beef just before serving so it remains nice and tender.
Ingredients
---
2 yellow onions

coarsely chopped

1 head of garlic

cut in half

1 bunch (3 oz) cilantro

stems and roots (if attached) and leaves separated

2 quarts (64 fl oz) chicken stock

3 tbsp (1½ oz) hoisin sauce

3 tbsp fish sauce

plus extra to season

½ white onion

thinly sliced

Red chili

thinly sliced to serve
Instructions
1

Place a 5½-quart (10-inch) Dutch oven over high heat, once hot, add the oil and ribs and cook until well browned all over. This gives the stock a richer flavor. Remove and set aside.

2

Cook, stirring occasionally for 4 minutes, or until starting to color.

3

Add the cinnamon, star anise and cilantro stems and roots. Return the ribs and add the stock, water, hoisin sauce, fish sauce and sugar. Mix to combine and bring to a boil. Skim the surface, cover and remove from the heat.

4

Insert the wire rack into position 8. Place in the oven and start the timer. Meanwhile, continue to the next step.

5

Very thinly slice, cover and refrigerate until ready to serve.

6

Once the stock is cooked, remove from the oven and skim off the fat for a less oily tasting soup.

7

Strain the stock into a saucepan and place over low heat to keep hot. The meat can be picked off the ribs and served in the pho or discarded.

8

Just before serving, cook the noodles in a pot of boiling water for 7 minutes, or until just tender. Drain and rinse under cold water.

9

Divide the noodles and beef among serving bowls. Pour over the hot stock to cook the beef. Serve topped with onion, sprouts, cilantro and chili. Season with fish sauce and squeeze over lime.