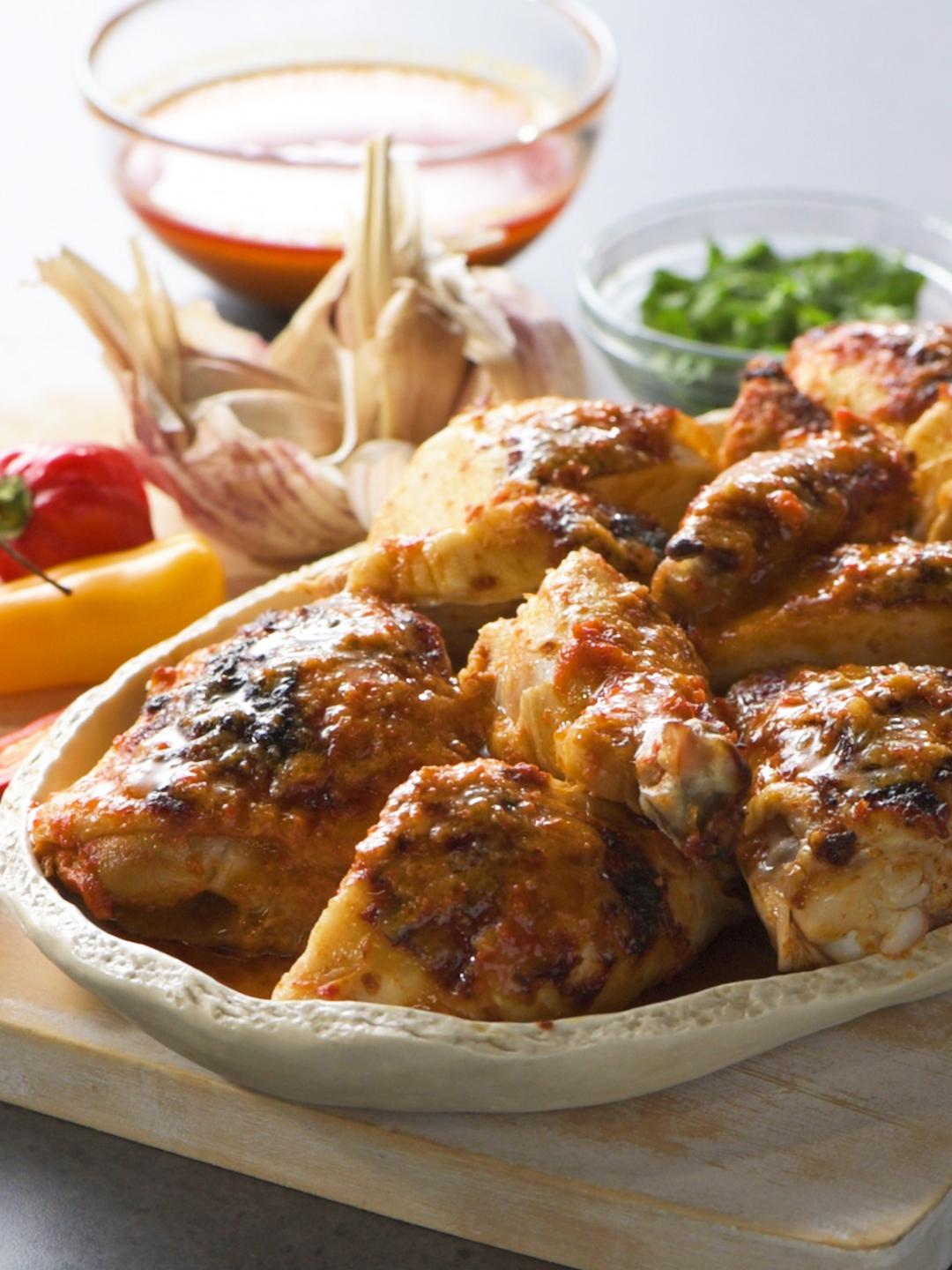 Spatchcock Piri-Piri Chicken
Spicy and delicious, there's only one way to eat piri-piri chicken and that's with your fingers. The oven's consistently even heat produces the most succulent chicken you'll ever cook.
Ingredients
---
2 shallots

peeled, quartered

5 large red chilies

deseeded, coarsely chopped

2 habanero peppers

deseeded, coarsely chopped

½ cup (4 fl oz) red wine vinegar

⅓ cup (2¾ fl oz) extra-virgin olive oil

¼ cup (¼ oz) cilantro leaves

coarsely chopped
Instructions
1

Blend the shallots, chilies, garlic, salt, paprika and vinegar until smooth. With the motor running, add the oil in a thin stream to emulsify.

Tip: For a hotter sauce, leave the chili seeds in.

2

Using kitchen shears, cut along each side of the backbone, remove and discard. Snip the top of the breastbone and open out to flatten.

3

Place the chicken in a large resealable bag, pour over the sauce, seal and massage to coat. Chicken can be cooked straight away or refrigerated overnight.

4

Insert the wire rack into position 6. Meanwhile, continue to the next step.

5

Place the chicken skin side up in the roasting pan. Squeeze the sauce over the top and cover with foil.

6

Once preheated, place the pan in the oven and start Autopilot. When the Rotate Remind signals, rotate the pan, remove the foil and continue cooking. The oven will switch to broil to brown and crisp the skin.

7

To test if the chicken is ready, insert a meat thermometer into the thickest part, away from the bone, it should read a minimum of 167°F. If not, give it a bit more.

8

Rest for 10 minutes before cutting into pieces. Reserve the sauce in the pan.

9

Spoon over the reserved sauce and sprinkle with cilantro.