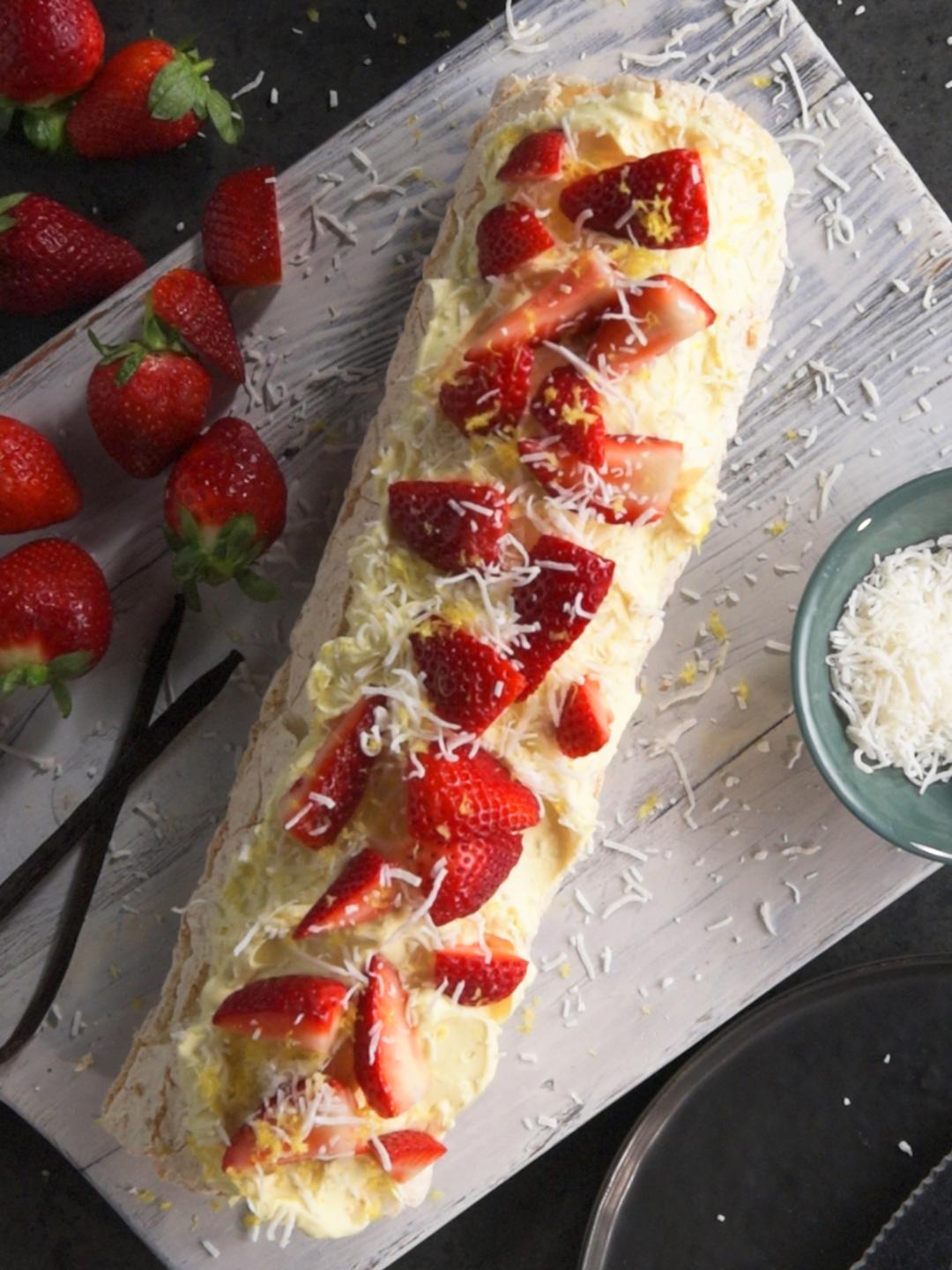 Strawberry, Mascarpone and Coconut Roulade
This dreamy dessert is crisp on the outside with a beautifully soft and light marshmallow centered meringue, entwined with strawberries and mascarpone.
Ingredients
---
1¼ cups (8½ oz) superfine sugar

1 cup (2½ oz) desiccated coconut

1 cup (8 fl oz) heavy cream

2 tsp finely grated lemon zest

plus extra to garnish (about 2 lemons)

8 oz strawberries

hulled, quartered, divided

Unsweetened shredded coconut

to garnish
Instructions
1

Insert the wire rack into position 6. Meanwhile, continue to the next step.

2

Spray a 14½-inch x 9½-inch x 1-inch jelly roll pan with cooking spray, line with parchment paper allowing the paper to extend 1-inch above the edges.

3

Whisk the egg whites on high speed until they begin to foam. Gradually add the sugar, whisking constantly for 5 minutes, or until the sugar has dissolved and the meringue is thick and glossy.

4

Gently fold in the vinegar and cornstarch then the coconut. The vinegar and cornstarch stabilize the meringue and produce a marshmallow center.

5

Spread the meringue into the pan and level the surface.

6

Once preheated, place the pan in the oven and start the timer.

7

The surface of the meringue should be dry and crisp. If not, give it a bit more.

8

Stand in the pan for 20 minutes, or until cooled to room temperature. Meanwhile, continue to the next step.

9

Whisk the mascarpone, cream, vanilla, sugar, and lemon zest until just thickened. Do not overwhip as it can easily split. Refrigerate until required.

10

Turn the meringue out onto a sheet of parchment paper. Gently peel away the lining paper. Spread three quarters of the mascarpone cream over the meringue leaving a 1½-inch border at each long edge. Top with 5½ oz of the strawberries.

11

Use the paper as a guide, start rolling from one long edge.

12

Top with the remaining cream and strawberries. Garnish with coconut and lemon zest.