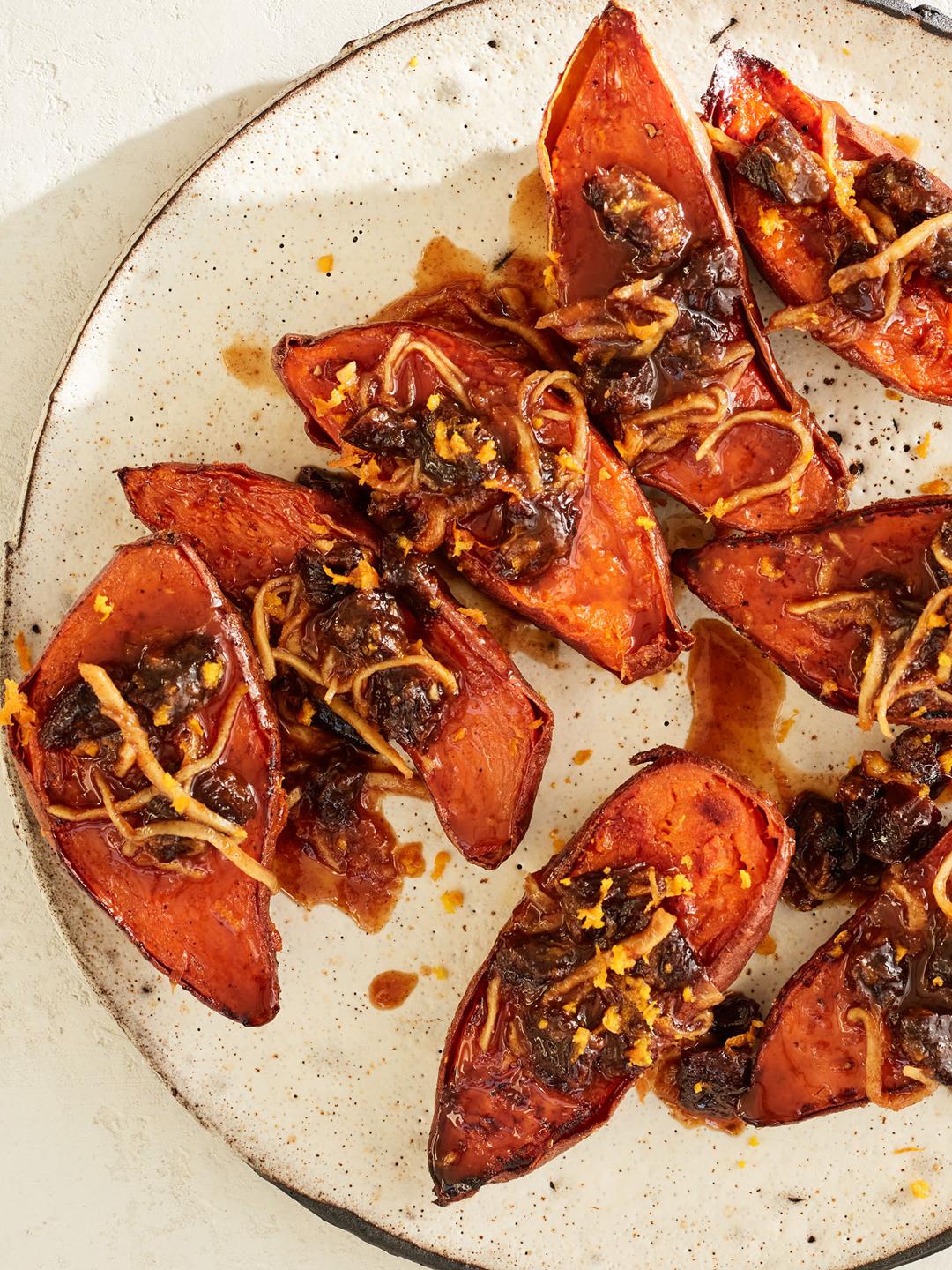 Sweet Potatoes with Tsimmes Glaze
Traditional tsimmes is a stew of sorts that includes sweet potatoes, carrots, one or two kinds of dried fruits, and spices. It's usually served as a side dish at Rosh Hashanah, the Jewish New Year, but it also makes frequent appearances on the Passover Seder table. The word "tsimmes" sometimes means a fuss or commotion, or even a muddle. This version is anything but fussy and definitely not muddled. Here, halved sweet potatoes are simply roasted and served with a scrumptious glaze that includes prunes, orange juice, fresh ginger and a hit of lemon.
Ingredients
---
4 small sweet potatoes

(6 to 8 ounces each), halved lengthwise

1 (1½-inch) piece of fresh ginger

peeled and cut into fine slivers

½ cup bite-size pitted prunes

quartered
Instructions
1

Insert the wire rack to position 6 and set oven to 400°F Roast. While the oven heats, continue to the next step.

2

Line a sheet pan with foil. Rub the sweet potatoes with the oil and season with salt and pepper. Arrange on the pan cut sides down.

3

Place the sheet pan in the oven and start the timer.

4

Combine the orange juice, half of the orange zest, lemon juice, honey, cinnamon, ginger, prunes and a big pinch of salt in a small saucepan. Bring to a boil, then turn down the heat to maintain a steady, low simmer. Cook, stirring and smashing a few prunes against the pan occasionally, until thick and syrupy, about 15 minutes. Cover to keep warm.

5

Roast until nicely browned on the cut sides and a paring knife inserted meets no resistance. If they are getting too dark on the cut sides but are not yet done, turn them over and give it a bit more time.

6

Arrange sweet potatoes on a serving platter cut sides up and spoon the glaze over top, rewarming with a splash of water to loosen, if needed. Sprinkle the remaining orange zest over the top.