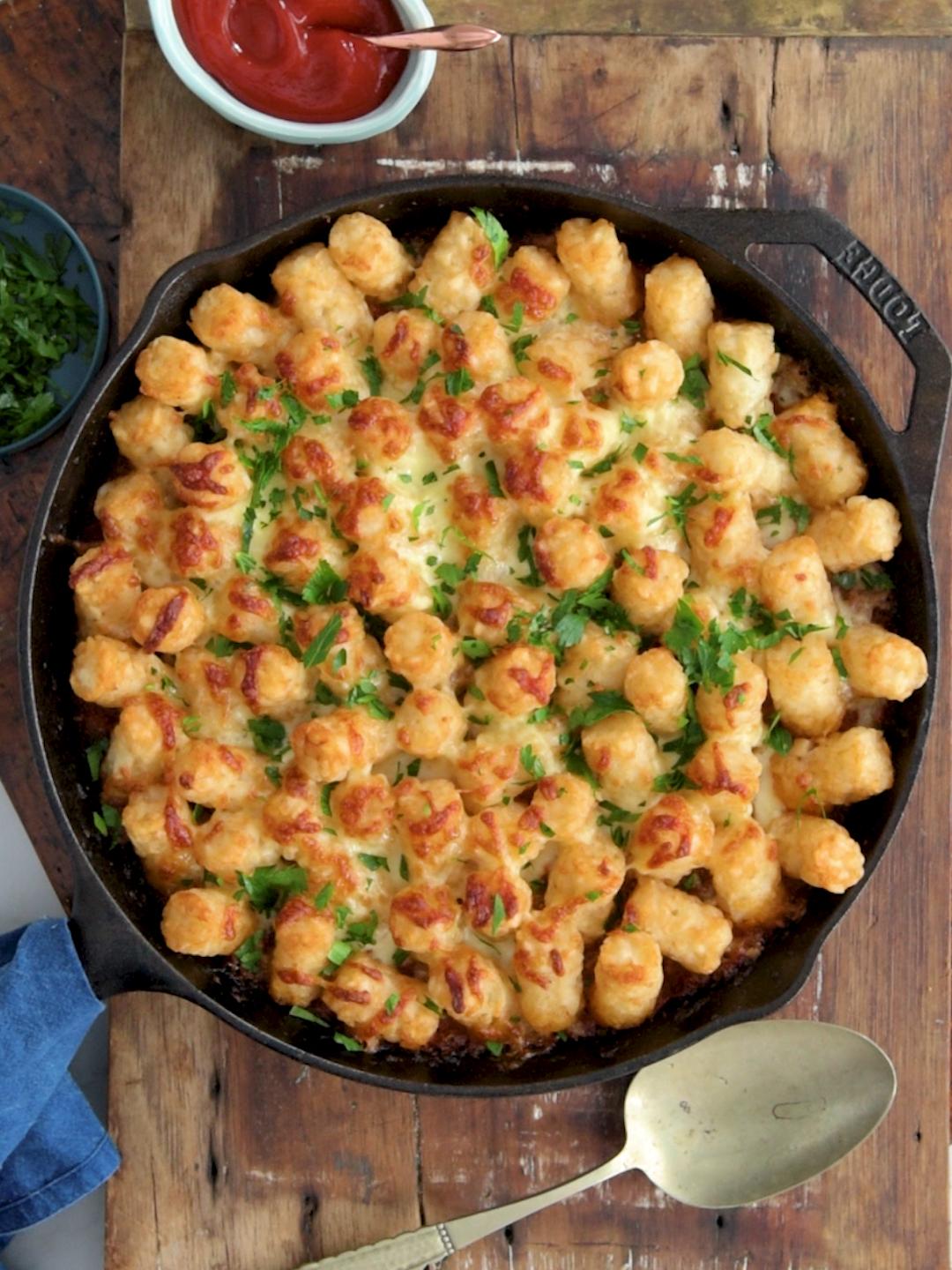 Tater Tot Casserole with Hidden Veggies
This is a winning combination of an easy Bolognese-style sauce topped with tater tots and cheese. Adults and kids will love it even if they don't realize there're hidden veggies in it. If you don't have a cast iron skillet, you can use a shallow casserole dish or ovenproof pan. If you like to plan ahead, make the sauce and keep it in the fridge, and top with the tater tots just before cooking.
Ingredients
---
4 oz baby bella mushrooms

¼ small (4 oz) cauliflower

coarsely chopped

1 large zucchini

coarsely chopped

1 medium carrot

coarsely chopped

1 yellow onion

coarsely chopped

28 oz can crushed tomatoes

Freshly ground black pepper

to season

1 cup (3½ oz) shredded mozzarella cheese

Chopped flat-leaf parsley

to serve (optional)
Instructions
1

Place the mushrooms, cauliflower, zucchini and carrot in a food processor. Pulse until finely chopped, scrapping down the side as needed. Transfer to a bowl. Add the onion and garlic to the processor and pulse until finely chopped scrapping down the side. Alternatively, finely chop by hand.

2

Heat the oil in a 12-inch cast iron skillet over medium heat. Add the onion and garlic and cook, stirring for 3 minutes, or until soft.

3

Increase the heat to high, add the beef and cook, stirring to break up the lumps, for 3 minutes, or until browned.

4

Add the chopped vegetables and tomato paste and cook, stirring for 1 minute. Add the tomatoes, salt and pepper and bring to a boil. Reduce the heat to low and simmer, stirring occasionally, for 10 minutes, or until reduced slightly. Meanwhile, continue to the next step.

5

Insert the wire rack into position 6.

6

Using a spatula, level the top of the casserole and place the tater tots on top.

7

Once preheated, place the skillet in the oven and start the timer.

8

Sprinkle with the mozzarella and start the timer.

9

The tater tots should be browned and crisp. If not, give it a bit more.

10

Sprinkle with parsley and serve.