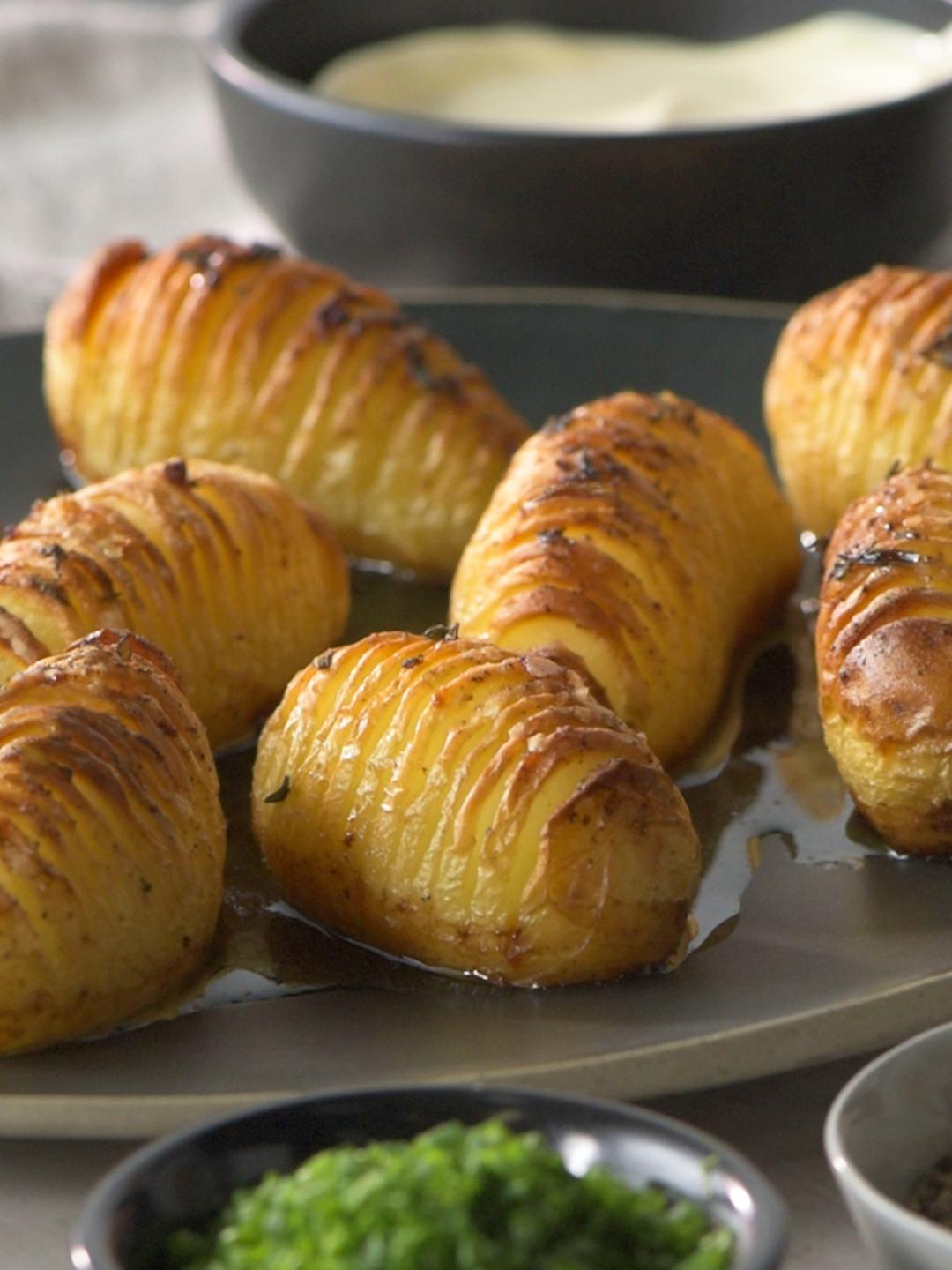 Ultimate Hasselback Potatoes
This recipe combines the classic fanned Swedish hasselback potato with the taste of the French fondant. Cooked in butter and stock, these richly flavored potatoes are crunchy on the outside and beautifully soft and buttery on the inside.
Ingredients
---
1 cup (8 fl oz) chicken stock

divided

1 tbsp fresh thyme leaves

2 lb small white potatoes

scrubbed

Freshly ground black pepper

to season
Instructions
1

Melt the butter and oil in a saucepan, add the stock, garlic, thyme and salt, and stir. Remove from the heat and set aside.

2

Trim the base so they are stable and don't roll. Place a potato between two chopsticks. This prevents the knife from cutting all the way through the base. Cut into 1/8-inch thick slices. Repeat with the remaining potatoes.

3

Insert the wire rack into position 6. Meanwhile, continue to the next step.

4

Line the roasting pan with foil. Pour the butter mixture into a bowl. Gently press the potatoes to separate the slices a little then dip into the butter mixture and turn to coat. Place flat side down in the pan, ensuring they are not touching.

5

Spoon the butter mixture over each potato and pour any remaining into the pan. Season with salt and pepper.

6

Once preheated, place the pan in the oven and start the timer. When the Rotate Remind signals, rotate the pan. Pour the remaining stock in the pan and continue cooking.

7

The potatoes should be browned and crisp. If not, give it a bit more.

8

Serve with creme fraiche and chives.