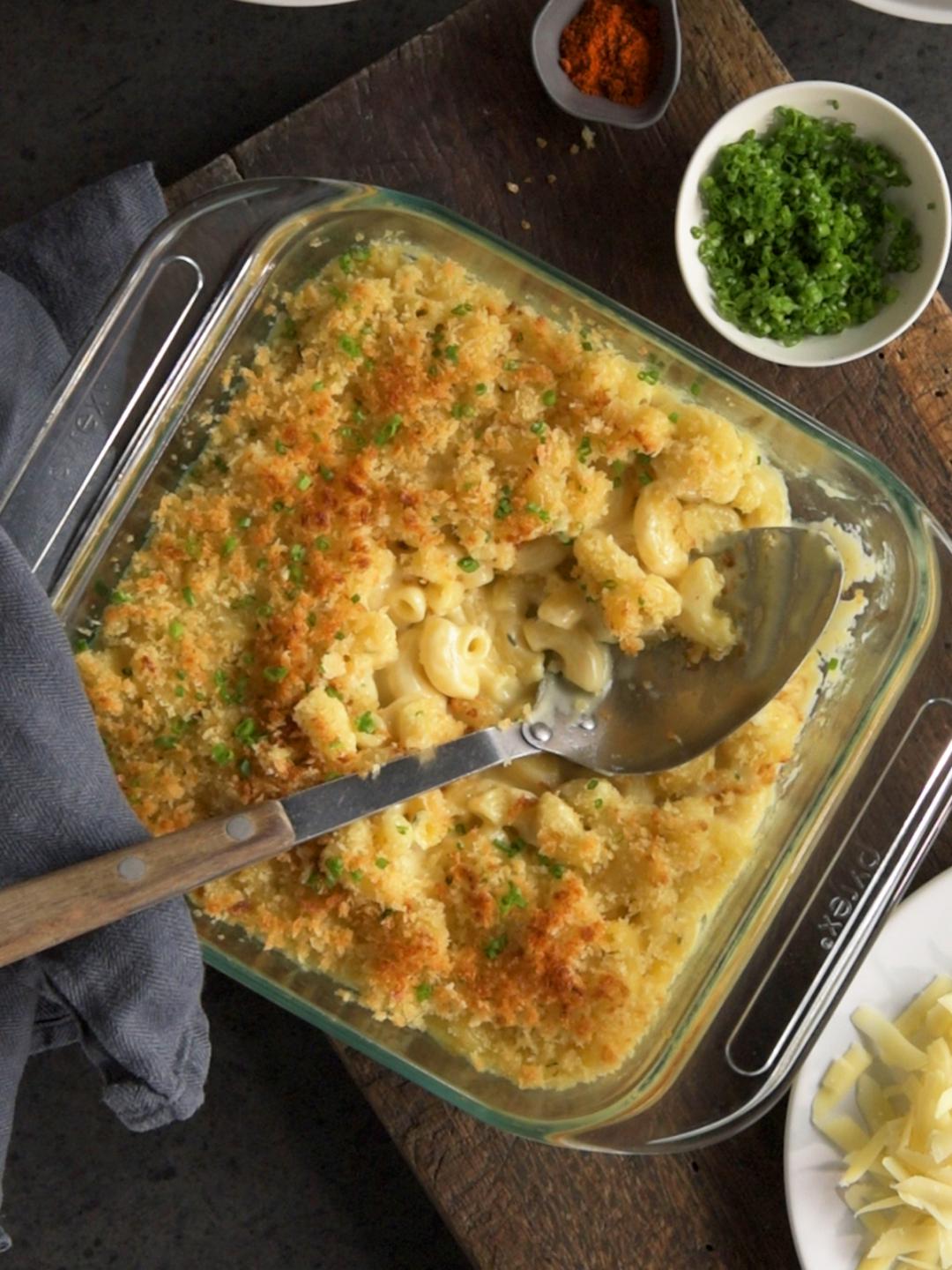 Ultimate Mac and Cheese
This baked mac and cheese recipe ticks all the boxes, it's oh so cheesy and creamy with a delicious crunchy buttery topping. The combination of gruyere and cheddar injects a superior richness that takes this mac and cheese to the next level.
Ingredients
---
4 tbsp (2 oz) unsalted butter

divided, plus extra for greasing

½ cup (1 oz) panko breadcrumbs

2 tbsp (½ oz) all-purpose flour

2 cups (16 fl oz) milk

warmed

½ tsp kosher salt

plus extra for cooking pasta

Pinch cayenne pepper (optional)

8 oz sharp cheddar cheese

shredded

4 oz Gruyere cheese

shredded
Instructions
1

Bring a large pot of water to a boil over high heat and season well with salt. Add the pasta and cook for 1 minute less than the package instructions. Drain and set aside. Meanwhile, continue to the next step.

2

Melt 2 tablespoons of the butter and add to the crumbs, stir to coat and set aside.

3

Grease a 8-inch square baking dish with softened butter.

4

Heat a pot over medium heat. Add the remaining 2 tablespoons butter and melt. Add the flour and whisk constantly for 2 minutes, or until it bubbles. Gradually add the milk whisking constantly to prevent lumps. Add the thyme and reduce the heat to medium-low and cook, whisking for 5 minutes, or until it boils and thickens slightly.

5

Remove from the heat. Add the salt, mustard powder, pepper and both cheeses. Whisk until the cheese has melted and the sauce is smooth. Remove and discard the thyme sprigs.

Tip: If the cheese is not fully melted, return the pot to low heat and whisk until just melted, do not overheat as the cheese will split and become grainy.

6

Insert the wire rack into position 6. Meanwhile, continue to the next step.

7

Add the pasta to the cheese sauce and stir until well combined.

8

Spread the mixture into the prepared dish and sprinkle with the crumbs.

9

Once preheated, place in the oven and start Autopilot. When the Rotate Remind signals, rotate the dish and continue cooking.

10

The crumb topping should be golden. If not, give it a bit more. When it's ready, remove from the oven and stand for 10 minutes.

11

Serve sprinkled with chives.