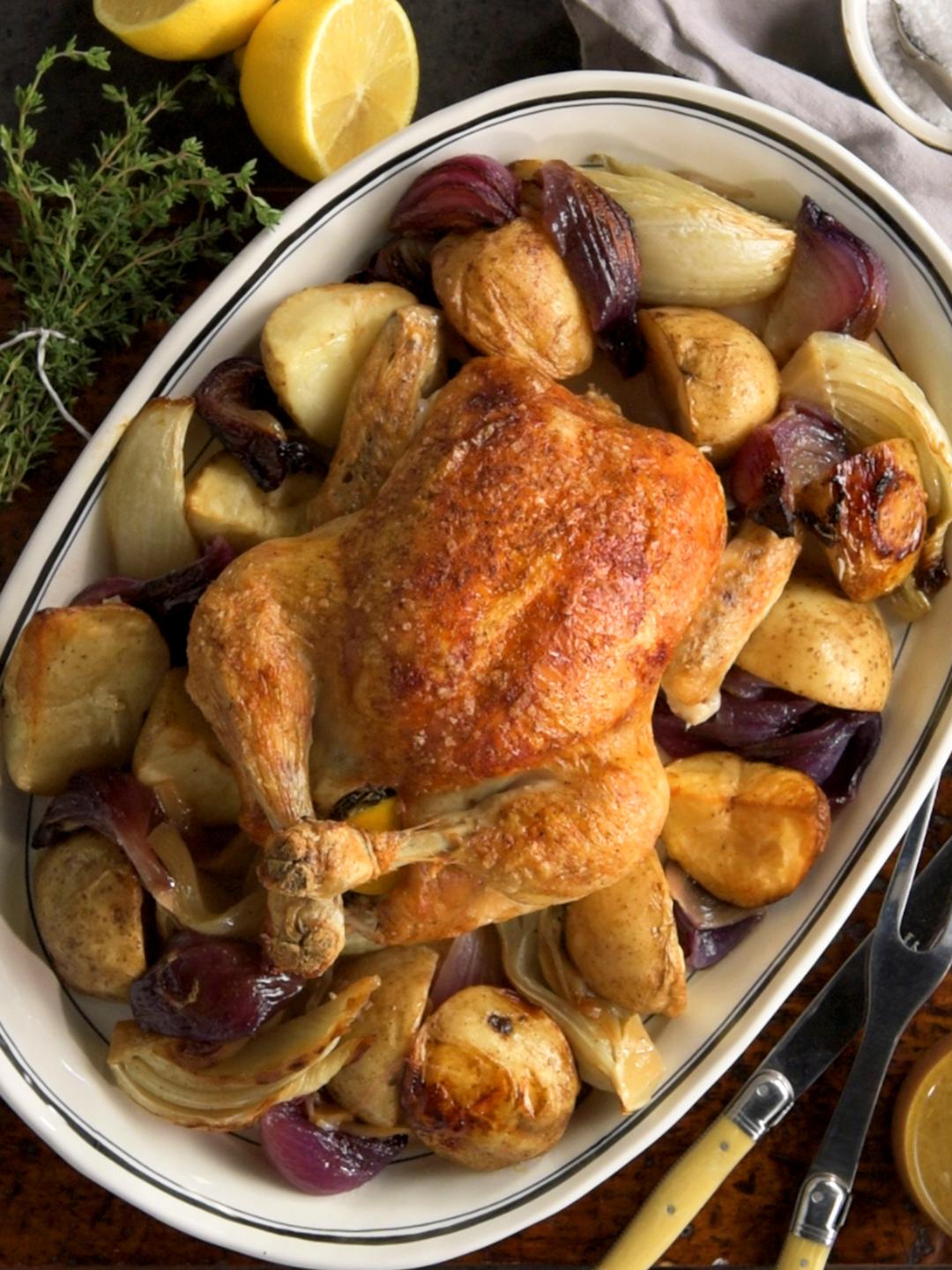 Ultimate Roast Chicken with Fennel and Potatoes
Lemon, thyme and garlic infused chicken, is roasted to perfection. Cooked on a bed of vegetables the chicken is beautifully golden on the outside, and tender and juicy on the inside.
Ingredients
---
1 head of garlic

cut in half

Freshly ground black pepper

to season
Instructions
1

Insert the wire rack into position 7. Meanwhile, continue to the next step.

2

Using paper towel, dry the skin to remove any excess moisture. Place the garlic, lemon and thyme in the cavity to infuse the chicken during cooking.

3

Tuck the wing tips under the chicken. Cross the legs and tie together to secure. Set the chicken aside to dry while preparing the vegetables.

4

Cut each onion into six wedges, leaving the root intact. Peel and trim each end and place in a large bowl.

5

Cut the potatoes into quarters and place in the bowl. Trim the fennel top and cut into six wedges, add to the bowl.

6

Add the oil, salt and pepper, and toss to coat. Place the vegetables in the roasting pan and create a nest for the chicken to sit in.

7

Place the chicken on the vegetables, breast side up and rub with the remaining oil. Sprinkle with the remaining salt and pepper.

8

Once preheated, place the pan in the oven and start Autopilot.

9

To test if the chicken is cooked, insert a meat thermometer into the thickest part of the breast, away from the bone, it should read a minimum of 167°F. If not, give it a bit more.

10

Cover loosely with foil, to keep warm and stand for 15 minutes to rest.

11

Tilt the chicken to drain. Remove the kitchen twine and cut into pieces.

12

Drizzle the vegetables with the pan juices and serve with the chicken.