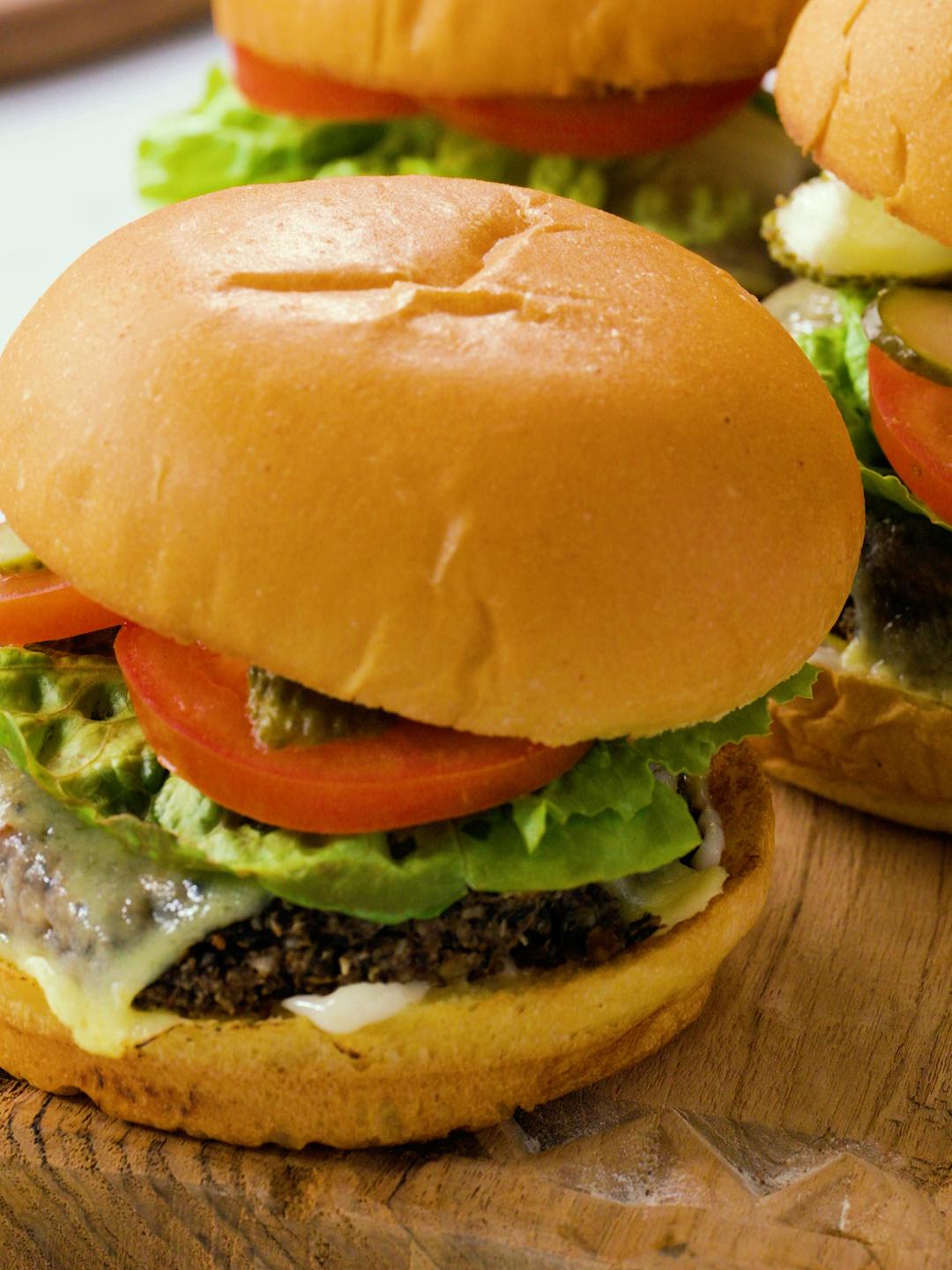 Ultimate Veggie Burger
Super moist and tasty, totally hearty and satisfying… and what's more, these epic veggie burgers are high in fiber and flavor. Go meat-free for a night and put these winners on the menu!
Ingredients
---
For the patties:
12 oz baby bella mushrooms

2 cloves garlic

coarsely chopped

15 oz can black beans

drained and rinsed

½ cup (2½ oz) raw cashews

½ cup (1 oz) panko breadcrumbs

Freshly ground black pepper

to season

4 slices mild cheddar cheese
For the burger:
4 burger buns

cut in half horizontally

Pickles (optional)

sliced
Instructions
1

Insert the wire racks into positions 7 and 4.

2

Slice the mushrooms and place in a bowl. Add the onion, garlic, 2 tablespoons oil and salt and toss to combine. Place in the roasting pan.

3

Once preheated, place the pan on rack position 4 and start the timer. When the Rotate Remind signals, spread the beans onto the pizza pan and place on rack position 7 and continue cooking.

4

The mushrooms should be golden. If not, give it a bit more. Remove the vegetables and beans from the oven and set aside. Transfer the beans to a plate and wipe the pan clean.

5

Place the cashews in the food processor and pulse to form coarse crumbs. Add the vegetables, beans and the remaining patty ingredients listed below and pulse to combine.

6

Grease the pizza pan with some of the remaining oil. Shape the mushroom mixture into four patties, approximately 4-inch wide and ½-inch thick. Place the patties on the pan and brush with the remaining oil.

7

Place the pan on rack position 4 and start Autopilot.

8

Patties should be browned. If not, give it a bit more.

9

Place a slice of cheese on each patty. Return to the oven and start the timer to melt the cheese.

10

Remove the wire rack from position 4. Place the buns cut side up in the air fry basket. Insert the basket into rack position 3 and start the timer.

11

The buns should be lightly toasted. If not, give it a bit more.

12

Spread a little mayonnaise and mustard over the base of each burger bun. Top with the patties, lettuce, tomato, pickles and burger bun tops and serve.