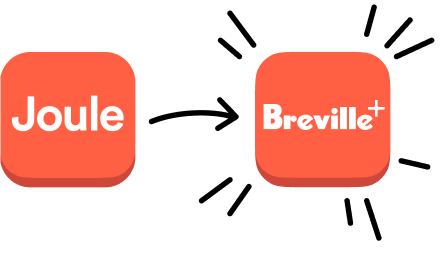 Hey Friends,
My teammates and I are constantly working to make home cooking better, faster, easier, and more fun. Which is why I'm thrilled to tell you that the Joule app is now Breville+.
Breville+ has everything you (and I) love about the Joule app: step-by-step video recipes and easy-to-use cook guides, all tested and tuned for your specific appliance. But the super cool addition is our new and growing collection of live and on demand classes.
Our classes offer everything you need to get started setting up your machine, make the most of those magical modes (hello Pizza!), and keep your appliances in tip top shape. Instant Mastery classes help you air fry, roast, bake, and more like the pros. Tune into our live Ask An Expert sessions where you can connect with our experts directly and ask us your burning cooking questions.
And it's all still free. Simply add a compatible appliance (ones you may already have in your kitchen) to unlock all that Breville+ has to offer. We can't wait to see what we can cook up together.

Dawn Perry,
Editorial Director, Breville+