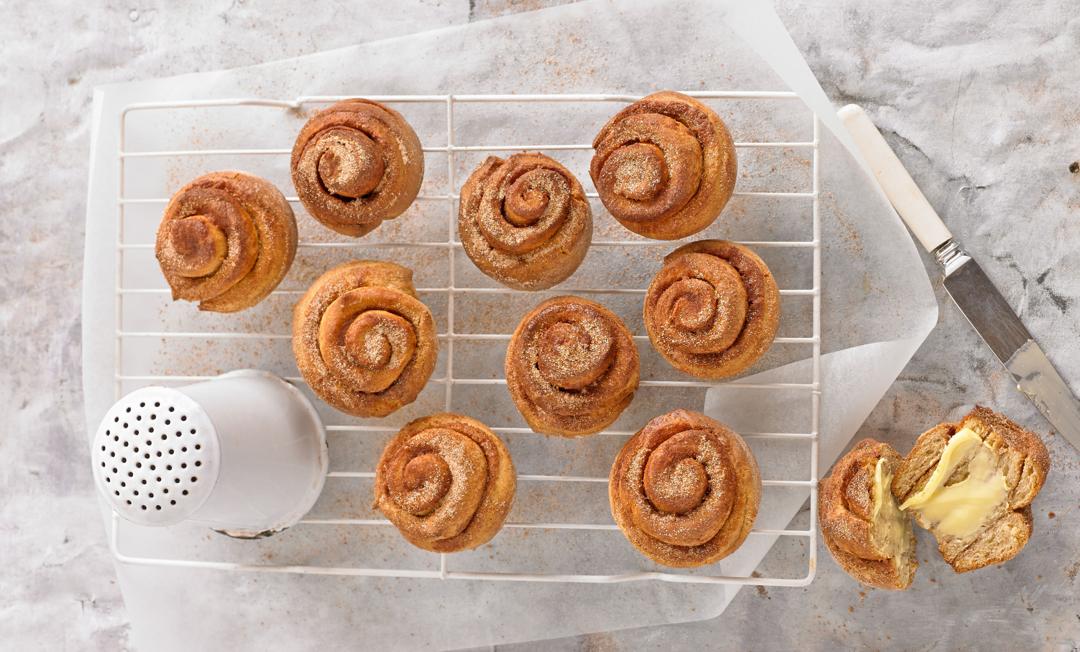 Ingredients
---
1½ tsp active dried yeast

¼ cup (2 fl oz) warm milk

¼ cup (1¾ oz) superfine sugar

divided

2¼ cups (11¾ oz) bread flour

3 large eggs

lightly beaten

4 oz unsalted butter

at room temperature, cut into cubes
For the cinnamon filling:
¾ oz unsalted butter

at room temperature
Instructions
1

Preheat the oven to 425°F. Grease a 12-cup muffin pan (1/3 cup capacity).

2

Combine the yeast, milk and 1 teaspoon of the sugar in a bowl. Let sit in a warm place for 5 minutes until frothy.

3

Assemble the mixer using the glass mixer bowl and dough hook. Add the flour, cinnamon, salt, eggs, remaining sugar and yeast mixture to the bowl. Slowly turn the mixer to FOLDING/KNEADING setting and mix until almost combined. Add the butter, a few cubes at a time, until incorporated.

4

Turn the dough out onto a floured surface and lightly knead until smooth. Place in an oiled bowl and cover with plastic wrap. Allow the dough to rest in a warm place for 45 minutes until dough doubles in size.

5

Meanwhile to make cinnamon filling, combine the sugars and cinnamon and set aside.

6

Put the dough on a floured surface and roll out to form a 9 ¾ x 17 ¾-inch rectangle. Using your fingers or a spatula spread the softened butter over the dough. Reserve 1 tablespoon of the cinnamon filling. Sprinkle remaining cinnamon filling over the dough.

7

Starting from the long side, roll the dough up to form a log. Trim the ends then cut the log into 12 equal portions. Place each scroll, cut side up, into a muffin cup. Sprinkle with the reserved cinnamon filling.

8

Bake for 20 minutes until golden and cooked through. Serve.